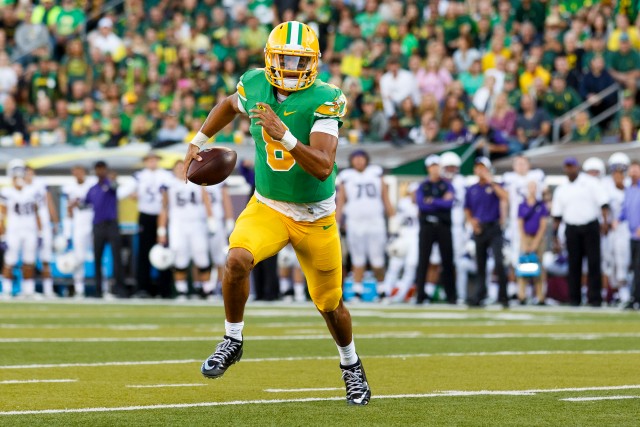 2015 NFL Draft: Which Team Will Select Marcus Mariota?
The 2015 NFL Draft begins on Thursday, April 30th and it could be one of the most interesting drafts in years. Although there are two potential franchise quarterbacks available at the top of the draft, there is still some debate among analysts about which one will be selected first.
The general consensus seems to be that the Tampa Bay Buccaneers will select Florida State quarterback Jameis Winston with the first overall pick, although there has been a recent movement — led by ESPN's Ron Jaworski — who believe that Oregon QB Marcus Mariota could be the pick.
This debate has been raging for several months now and luckily a vast number of prop bets have allowed us to track the ever-changing stock of both players. On February 5th Mariota was actually listed as a -140 favorite to be drafted ahead of Winston, however, just two days later the odds were flipped with Winston listed as the -160 favorite.
After that, Mariota's stock began to slip with experts questioning his leadership, pocket presence, footwork and his lack of experience in a pro-style offense. In fact, these supposed weaknesses led oddsmakers to question whether the mobile quarterback was even worthy of a top ten pick.
Will #Oregon QB Marcus Mariota be a Top-10 pick in the NFL Draft?

Yes -175 | No +145

— Sports Insights (@SportsInsights) March 26, 2015
Since that time, the experts have changed their tune and Mariota is once again being viewed as a surefire top ten pick. On Wednesday (4/22) Mariota was listed at -235 to be selected with a top three pick (+170 that he's picked 4th or later).
The implied probability of Marcus Mariota being selected within the first three picks of the #NFLDraft is 66.94%.

— Sports Insights (@SportsInsights) April 22, 2015
So if Mariota looks like a safe bet to be selected within the top three picks, which team will ultimately select him? On Tuesday afternoon, Sportsbook.com posted a prop bet regarding which team would select the 6'5″ signal caller.
Although the Bucs were listed at +400 to select Mariota with the first pick, this is actually an awful price. Jameis Winston is currently listed at -700 to be selected first overall and +425 that he is selected second or later. That means you can bet that Tampa Bay will draft anybody except Winston (which obviously includes Mariota) for a better price than simply betting Tampa Bay will select the Heisman winner.
Sure it's unlikely that anybody outside Winston or Mariota will be selected with the top pick, but most fans probably thought the same thing during the 2006 NFL Draft before Houston selected Mario Williams over Reggie Bush.
https://twitter.com/Sportsbook_com/status/590942119654621184
What's fascinating about this prop bet is how quickly the odds have shifted. Within 24 hours of this prop being posted, a number of teams saw their odds change dramatically, led by the San Diego Chargers. Over the past week, rumors have started to circulate about a potential Philip Rivers trade.
One hot rumor has the Tennessee Titans trading away the second overall pick for the Pro Bowl QB. While some have questioned the validity of this rumor, clearly oddsmakers and bettors alike believe this rumor has legs. In the first 24 hours that this prop was posted, San Diego jumped from +1500 (7th best odds) to +250 (2nd best odds).
Another significant development involves the Eagles who are coached by Chip Kelly — Marcus Mariota's former college coach. Philadelphia was not listed as an option when this prop was first posted, but have since moved to +400 (3rd best odds). Other major moves include:
Browns +350 to +800
Jets +350 to +600
Rams +750 to +1500
Bills +2,000 to +3,500
Texans +2,000 to +3,500
Essentially, oddsmakers believe that Mariota will be selected with the number two overall pick — the only question is which team will be selecting him. While the easiest solution is that the Titans will stand pat and choose a new franchise quarterback, the Chargers and Eagles are strong possibilities to trade up.
It's also worth noting that the over/under for Mariota's draft position has been taken off the board which further indicates that oddsmakers think Mariota will be taken with the second pick.
Which team do you think will ultimately take Mariota? Is there any chance he's selected with the first pick? Does Chip Kelly have the ammo to trade up? Hit us up on twitter @SportsInsights to share your thoughts.
Have any questions for the staff at Sports Insights? Utilize our live chat to speak with a customer service representative or e-mail us at help@sportsinsights.com.
David Solar is the Content Manager for Sports Insights and can be reached directly at David@sportsinsights.com.