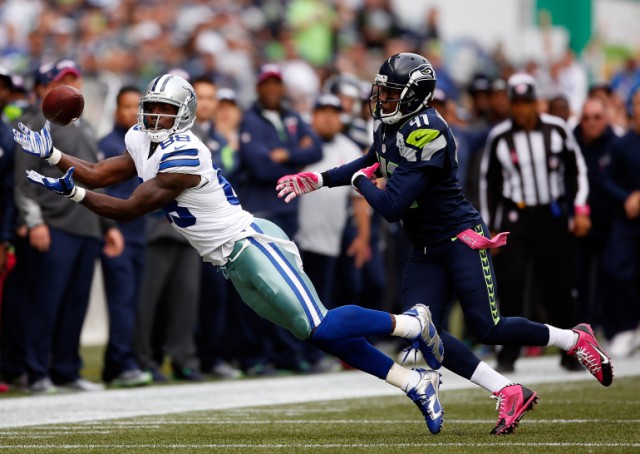 2015 NFL Betting: Week 8 Line Moves That Matter
Every week in this space we highlight the most interesting line moves at the market-setting offshore sportsbooks (typically CRIS, Pinnacle and 5Dimes) to determine the impact that public betting has on the week's biggest games.
In recent weeks we have started to compare these betting trends with ticket count and total dollars wagered at William Hill — one of the most prominent Las Vegas sportsbooks.
Although the only picks we fully endorse are our Best Bets, sharp money indicators like reverse line movement help offer insight into which teams are offering value and whether public perception is creating artificial line value.
This week's analysis examines three interesting matchups, and helps to explain how public betting is impacting the line across the sports betting marketplace.
Minnesota Vikings at Chicago Bears (Sunday at 1:00 PM eastern)
In this NFC North showdown, the 4-2 Vikings opened as 2.5-point favorites at the market-setting Pinnacle sportsbooks and have received 72% of spread bets. Despite this overwhelming public support, Minnesota has moved from -2.5 to +1.5. This reverse line movement is a strong indicator that sharp money has been pounding the 2-4 Bears.
We constantly preach the importance of buying on bad news and selling on good, and this game is the perfect mixture of both. The Vikings have won their past two games, while the Bears are coming off a loss and have the fourth worst point differential (-59) in the league.
The sharp money indicators are our contributing sportsbooks matches up with the data from William Hill. Although 81% of tickets are taking Minnesota, they're currently receiving just 51% of total dollars wagered. This type of discrepancy indicates that squares are taking the Vikings, but sharps are taking the Bears.
Tampa Bay Buccaneers at Atlanta Falcons (Sunday at 1:00 PM eastern)
After squeaking out a 3-point victory last weekend, Atlanta opened as a 7.5-point home favorite against Tampa Bay. In early betting, the Falcons have received 71% of spread bets, and line movement has varied from sportsbook to sportsbook.
Although Atlanta has dropped to -7 at CRIS, Pinnacle has not moved their line off -7.5. This highlights the importance of having access to multiple sportsbooks and shopping for the best line before placing any bet.
Over at William Hill, public betting has been even more one-sided with 90% of tickets and 96% of total dollars wagered taking the Falcons. This would seem to indicate that there's slight contrarian value on Tampa Bay, but sharp money has not taken a side.
The screenshot below displays the individual breakdown of our seven contributing sportsbooks:
Seattle Seahawks at Dallas Cowboys (Sunday at 4:25 PM eastern)
Before the start of the season, the Seahawks were listed as 1.5-point favorites against the Cowboys in look ahead lines posted by CG Technology. This was expected to be one of the year's best games, and potentially a preview of the NFC Championship game. Flash forward several months, and public opinion about both teams has changed dramatically.
The Seahawks opened the year as the favorite to win the Super Bowl, but have limped to a 3-4 record. The Cowboys won their first two games of the season, but after losing Tony Romo and Dez Bryant they have lost four consecutive games.
When Pinnacle first posted their Week 8 lines, the Seahawks were listed as 5.5-point road favorites. Since then, Seattle has received 75% of spread bets which has pushed the line from -5.5 to -6. This is particularly interesting because earlier this week it was announced that Bryant was expected to return to the field on Sunday.
#NFL #Cowboys – Dez Bryant, Foot – is upgraded to probable Sunday (11/1) vs. Seattle

— Sports Insights (@SportsInsights) October 28, 2015
Over at William Hill, 84% of total tickets and 73% of total dollars wagered have taken Seattle. It's also worth noting that the Seahawks have been significantly worse on the road (45-57 against the spread) than they have been at home (64-41 against the spread).
Want our official Best Bet picks for NFL Week 8?
Sign up for a 4-day trial of our Sportsbook Insider Pro and access all of our picks instantly! That includes NFL, NCAAF, NBA and MLB. Schedule a one-on-one demo with our customer service manager and we'll tack four free days onto your subscription.
These numbers are subject to change before kickoff, so bettors should be sure to visit our free NFL odds page for the latest lines, injuries, public betting trends and more.
Have any questions for the staff at Sports Insights? Utilize our live chat to speak with a customer service representative or e-mail us at help@sportsinsights.com.
David Solar is the Content Manager for Sports Insights and can be reached directly at David@sportsinsights.com