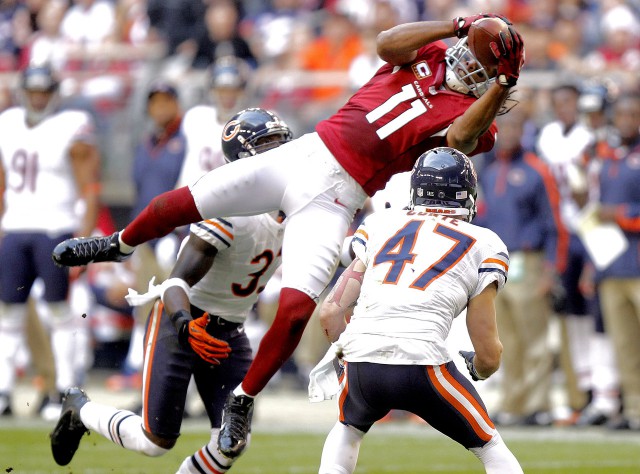 2015 NFL Betting: Week 2 Line Moves That Matter
The first week of NFL action is in the books and, as we explained in our most contrarian betting article for ESPN, that has historically created value based on overreactions from the betting public. Everybody seems to believe that they have gleamed some sort of unique insight, and this can lead to artificially inflated lines.
Yesterday we discussed how bettors have already placed too much stock in Marcus Mariota's Week 1 performance and, with 87% of spread bets taking the Titans, Tennessee has already moved from +4 to -1.5 at Pinnacle. But they're not the only team receiving overwhelming public support based on the results of their season opener. In total five games have moved at least one-point at CRIS and five teams are currently receiving more than 80% of spread bets — all of whom are road favorites.
Since the start of the 2003 season, there have been a total of 158 road favorites who finished with at least 80% of spread bets. That averages out to 13.166 teams per season and less than one match per week. In those games, bettors could have posted an 87-71 ATS record (55.1%) with +11.7 units won by fading those trendy favorites. That includes a 6-2 ATS mark in Week 2 of the season.
These lines and betting trends could change before kickoff, so we recommend bettors bookmark our free NFL odds page for the latest updates. In the meantime, these are the three most interesting line moves for Week 2 of the season.
Arizona Cardinals at Chicago Bears (Sunday at 1:00 PM eastern)
Last weekend the Cardinals looked impressive in their 31-10 victory over the Saints while the Bears lost to the Packers for the tenth time in their last eleven matchups (including a streak of four straight). With two teams seemingly heading in opposite directions, the Cardinals opened as 2-point favorites at CRIS and have received 82% of early spread bets.
Despite this lopsided public betting, the line has actually dropped from Arizona -2 to -1. This reverse line movement indicates that sharp money likes Chicago as a home dog for the second straight game.
Additionally, there have been a number of bet signals triggered on Chicago reverse line movement alerts at Pinnacle, CRIS and 5Dimes — arguably the three sharpest offshore sportsbooks. Combine these sharp money indicators with the handful of Bet Labs system matches that we have tracked and this would appear to be the perfect example of "Pros vs. Joes."
Tampa Bay Buccaneers at New Orleans Saints (Sunday at 1:00 PM eastern)
Last weekend the Buccaneers looked awful in their loss to the Titans, allowing a rookie quarterback to post a perfect quarterback rating in his NFL debut. For bettors, that typically means that it's an excellent time to buy low.
The Saints opened as a 10.5-point home favorite at CRIS and, according to our public betting trends, are currently receiving 66% of spread bets. However, once again we have seen reverse line movement on this game with the spread dropping from New Orleans -10.5 to -10. This is particularly noteworthy since 10 is the third most important key number.
In addition to this sharp money indicator, Tampa Bay fits a number of betting systems that we have previously discussed. Teams coming off a loss of at least 20 points have gone 332-280 ATS, double-digit underdogs have gone 216-186 ATS, and underdogs have performed exceptionally well in division games due to the familiarity between teams. Add in a contrarian system features last year on ESPN and you can see why there may be value on Tampa Bay this week.
The screenshot below displays how the Saints line has moved at CRIS since opening on Sunday.

New York Jets at Indianapolis Colts (Monday at 8:30 PM eastern)
In this week's Monday night contest, the Colts opened as 6-point home favorites against the Jets at CRIS and are receiving 67% of spread bets. With a majority of public support, Indianapolis has moved from -6 to -7. Typically we would explain how this public betting had created a free-point of line value for bettors willing to take the Jets, but there are a few extenuating circumstances.
For starters, we always encourage bettors to buy on bad news and sell on good. Last week the Jets walloped the Browns while the Colts were upset by the Bills. Secondly, CG Technology listed the line at Indy -7.5 before the start of the season, and that half-point is very important. Third of all, playoff teams have gone 332-312 ATS following a loss and 210-182 ATS when their opponent won their previous game. Finally, favorites have been vastly undervalued in prime time games.
We do stress a contrarian strategy but, based on these other factors; we would recommend laying off this game. In fact, the only picks we endorse are our Best Bets which are available with a Pro subscription. We currently have six pending NFL picks and eight pending NCAAF picks, and bettors can receive all fourteen by signing up for a 4-day Pro trial.
Looking to create your own betting systems, test our own hypothesizes or just check on past trends? Be sure to check out the free version of Bet Labs which is now available at BetLabsSports.com.
Have any questions for the staff at Sports Insights? Utilize our live chat to speak with a customer service representative or e-mail us at help@sportsinsights.com.
David Solar is the Content Manager for Sports Insights and can be reached directly at David@sportsinsights.com.