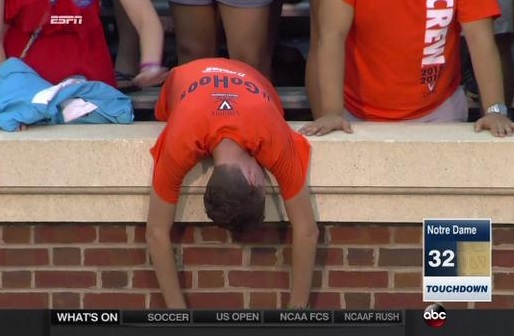 2015 College Football: Week 2 Betting Recap
We're already two weeks into the college football season and we nearly saw the biggest upset in recent memory. Jacksonville State opened as 47-point underdogs on the spread, and 675:1 on the moneyline, and were leading at Auburn by a touchdown with less than 2 minutes remaining. Unfortunately Jacksonville State shanked a punt, giving Auburn great field position, leading to the tying score and eventually avoiding the upset in overtime.
Assuming standard -110 juice, a ten-team spread bet parlay would pay 642:1. Jacksonville State opened at 675:1 on the moneyline.

— Sports Insights (@SportsInsights) September 12, 2015
Online sportsbook @5Dimes took a handful of moneyline bets on Jacksonville St, the largest $25 at 675/1, per Tony W. Would pay $16,875.

— David Payne Purdum (@DavidPurdum) September 12, 2015
– Jacksonville State's near upset comes just a week after Portland State won at Washington State as +5250 moneyline underdogs ($100 to make $5,250)
– Friday night's game was a battle of Utah schools, with Utah defeating Utah State 24-14. Utah State (+12) were able to cover though and are now an NCAA-best 11-2 ATS on Fridays since 2008, while Utah falls to 0-4 ATS on Fridays
– The most bet team on the spread this weekend, Arkansas 89%, lost outright at home to Toledo. Toledo was +22.5 on the spread and +1100 on the moneyline, likely ruining many parlays and square bets
– We highlighted Army as the worst ATS team in our Bet Labs database, including 15 straight ATS losses on the road heading into Saturday's games. Army bettors were rejoicing by the end of the game though, as they scored on a 71-yard TD pass with less than 5 minutes left to lose by 5 and cover the spread of +7
– We'll continue to track the six worst ATS teams from 2014. In Week 1 those teams went 4-2 ATS but in Week 2 were back to their 2014 form going 0-6 ATS (Teams that won 3 or fewer games ATS in 2014 were: FSU, South Carolina, San Jose State, Akron, Connecticut, and Oregon State)
– Oregon closed as an underdog for the first time since 2011, but did cover in their loss at Michigan State. Alabama still holds the longest active streak as a favorite (71 games)
– In Week 2, favorites went 42-32 ATS while home teams went a solid 43-31 ATS.
-More Bad Beats / Crazy Endings:
Anyone sitting on the Wazzou-Rutgers Under 62 got burned. The teams combined for 39 points in the 4th quarter, including two touchdowns in the final two minutes.
Bettors on Tennessee and/or Under. Tennessee looked to be in complete control up 17-3 in the 4th quarter but blew the lead and lost 31-24 in overtime to Oklahoma.
UVA moneyline backers– The Cavs looked poised for an upset over Notre Dame until giving up a long, late touchdown. The cover photo to this post showing a sad UVA fan really encapsulates the feeling.
Notre Dame QB Malik Zaire, ankle, is out for the season
South Carolina QB Connor Mitch, hip/shoulder, will miss 4-6 weeks
Ark St QB Fredi Knighten, groin, is out vs. Missouri State
UCF QB Justin Holman, hand, is doubtful vs. Furman
FAU QB Jaquez Johnson, Utah QB Travis Wilson, Air Force QB Nate Romine and UNLV QB Blake Decker are among the starting QBs who are questionable next week. To view all current injuries, click on the link to Major injuries above
Join us live Saturday mornings at 11am ET
We're now holding our members-only live Sports Betting Hangouts Saturday mornings to prepare you for a full day of College Football. Members, simply log into your account Saturday morning to access the hangout.
Not a member? Start a trial today to join our Sports Betting Hangouts held six days a week, plus all the other Sportsbook Insider Pro benefits.