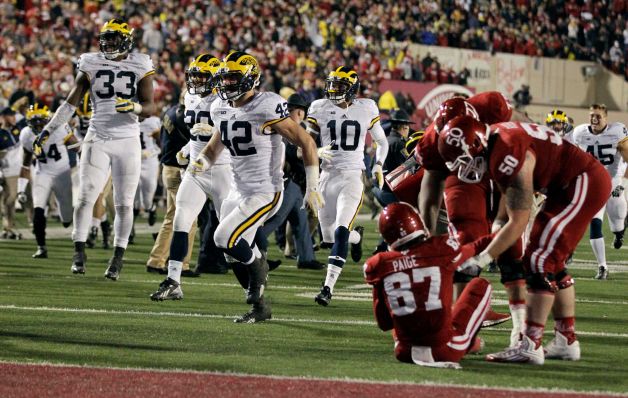 2015 College Football: Week 11 Betting Recap
Week 11 really stirred up the playoff picture for teams like Stanford, Baylor, LSU and Utah, who all lost and are now essentially eliminated from title contention.
Trends and Stats (via BetLabsSports.com):
-First off in a game that few were paying attention to, New Mexico upset Boise State on Saturday night 31-24. The Lobos closed +31 on the spread and 55:1 on the moneyline ($100 to make $5,500) and is the biggest upset of the entire year, just ahead of Portland State +5250 at Washington State.
-Biggest moneyline upsets this weekend:
New Mexico +5500 at Boise
Wash St +367 at UCLA
Oregon +313 at Stanford
Fresno +268 at Hawaii
-Oregon beat Stanford 38-36 and has now covered all 4 games as underdogs this year and 7 straight going back to 2009. They've won 6 of those 7 outright.
-Despite some big dogs winning outright, favorites were better ATS this week going 32-26.
-Road teams went a solid 34-23 ATS this past week.
-UL-Monroe (+14.5) was the least popular bet of the year thus far, getting just 10% of spread bets, and it was clear why: they lost at home 59-21 to Arkansas State and then proceeded to fire head coach Todd Berry. Berry went 33-35 ATS in his 5+ seasons at UL-Monroe.
-Underdogs of at least 45 points have now gone 51-37 ATS since 2005 after Kansas easily covered at TCU, losing just 23-16.
-Every Vanderbilt game this year has gone Under the total, but only on the closing line. Saturday saw the Over/Under jump from 37 to 41 by close and the game ended right in between, 21-17 Vanderbilt. Only 25% of total bets were on the Over so that was sharp money moving the total, but bettors late on the steam were not able to cash in.
-The highest total of the week (Baylor-Oklahoma 77.5) barely went over the total, ending 44-34 Oklahoma. The lowest total of the week (Missouri-BYU 38.5) went under the total, ending 20-16 Missouri.
-The two best ATS teams in the nation squared off on Tuesday, with Toledo (7-1-1 ATS) covering at Central Michigan (8-2 ATS).
-Navy QB Keenan Reynolds set the NCAA rushing TDs record in their romp over SMU.
Futures Watch:
Before the season, Ohio State was listed at +550 to win the NCAAF title while going undefeated. Heading into Week 11 they were down to just +300 to win the title while going undefeated.
Two major conference favorites (Stanford -225, Baylor +145) both lost yesterday, leaving the Pac-12 and Big-12 titles up in the air.
Potential CFB playoff odds before Week 11:
Clemson -2.5 vs. Oklahoma
Alabama -3 vs. Ohio State
Oklahoma -5.5 vs. Iowa
Heisman Watch:
LSU RB Leonard Fournette was still the slight frontrunner around the market heading into the week, but his stock is dwindling rapidly. He put up 91 yards and a TD against Arkansas but another loss, this time at home, really hinders his hopes.
Alabama RB Derrick Henry was the favorite at square books like Bovada and that actually holds a ton of merit now. Henry rushed for over 200 yards again in Bama's blowout win at Mississippi State and should be the favorite around the market going into Week 12.
Key Injuries:
Colorado QB Sefo Liafau is out for the remainder of the season with a foot injury.
A number of QBs are questionable for next week including Greg Ward Jr (Houston), Anu Solomon (Arizona), and Trevone Boykin (TCU). You can view the full list of injured players here.
Videos/Vines of the Week:
Michigan State WR Macgarrett Kings Jr made this great catch against Maryland:
Michigan State WR Macgarrett Kings Jr somehow made this great one-handed catch https://t.co/LhGGhnIo7l pic.twitter.com/Tv63Xe9uy7

— CBS Sports CFB (@CBSSportsCFB) November 14, 2015
Courtesy of NCAA.com, here were some highlights and great plays in Week 11.