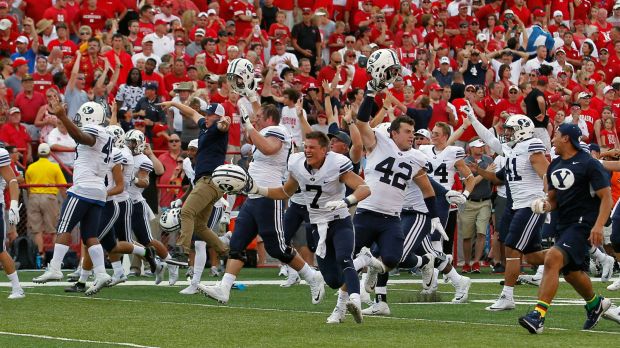 2015 College Football: Week 1 Betting Recap
The 2015 College Football season is underway and although there are still 2 games remaining this week (Purdue/Marshall and Ohio State/Virginia Tech) we'll take a look at the betting recap for Week 1:
-Let's start with the biggest moneyline upset—> Portland State defeating Washington State on the road 24-17. Portland State was +31 on the spread and closed at +5250 on the moneyline, meaning a $100 bet netted $5,250. Other big upsets included North Dakota (+700 moneyline), Fordham (+400), FIU (+336), and Northwestern (+310).
Portland State (+5250 moneyline) is the largest NCAAF upset in our database. Previous high was EWU (+2750) over Oregon State in 2013.

— Bet Labs Sports (@Bet_Labs) September 6, 2015
-Highest O/U of the week was 80.5 between Eastern Washington and Oregon. The game easily went over the total with Oregon winning 61-42.
-Largest Spread of the week was Colorado State -51. They ended up covering by a point, winning 65-13.
-Conference USA posted the best ATS record of the weekend, going 8-3 ATS. Sun Belt was the worst, going 2-8 ATS.
-Last season we tracked the worst ATS teams of 2013 (teams with 3 or fewer ATS wins) to see if they improved in 2014. In 2014, those same teams went 69-59 ATS.  This season we'll be tracking the worst ATS teams of 2014 and so far they have gone 4-2 ATS this season.  
-Bad Beats/Crazy Endings: Kansas was expected to be the worst team in the country with the lowest Season Win Total (1.5) of any team. Down by 3 to South Dakota State, Kansas attempted to spike the ball to stop the clock but fumbled instead, running the clock and ending the game. Kansas opened -5 and closed +2 on the spread:
Kansas opened -5, closed +2, and almost overcame a 24-point deficit. Then, trailing 41-38, this happened…https://t.co/X6u8NMF8Dn — Sports Insights (@SportsInsights) September 5, 2015
BYU/Nebraska was another ending which impacted the moneyline and total. With BYU trailing 28-27 and without their star QB, they threw a hail mary with no time on the clock, sending the game over the closing total of 59 but just under the opening total of 61.5:
BYU beat Nebraska on a Hail Mary! http://t.co/fCe2unHNN4 pic.twitter.com/5dH3nHIVlQ

— SB Nation (@SBNation) September 6, 2015
Terrel Hunt (QB for Syracuse) is out for the season with a torn Achilles
Taysom Hill (QB for BYU) is out for the season with a fractured foot
Tarean Folston (RB for Notre Dame) is out for the season with a torn MCL
James Conner (RB for Pitt) is out for the season with an MCL injury