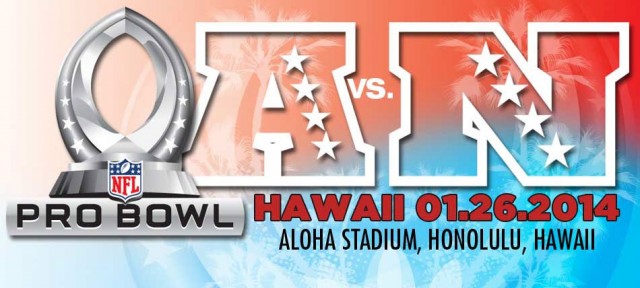 2014 Pro Bowl: Will Rule Changes Provide Value For Bettors?
Spurred by years of low ratings and even lower fan interest, the NFL decided that perhaps it was time to implement some new changes to the Pro Bowl. Gone is the familiar NFC vs. AFC match-up that has been the league standard over 40 years. In its place, Hall of Famer's Jerry Rice and Deion Sanders have been named team captains, with each former player tasked with drafting his own team.
With players from both conferences interspersed between the two teams, the league hopes to shake-up the Pro Bowl by attempting to re-create the popularity of fantasy football on a national stage.
In addition to the roster shake-up, there have been a number of new rule changes. For starters, kickoffs have been eliminated and each team will now start with the ball on their own 25-yard line. Other changes include:
1) The addition of a two-minute warning after the first and third quarters.
2) The clock will now stop if the offense fails to gain at least 1 yard.
3) The game clock will start after an incomplete pass except inside the final two minutes of the first half and the final five minutes of the second half.
4) Defenses will be allowed to play cover two and press coverage (In past years only man-to-man coverage was allowed).
5) In an attempt to force teams to operate their two-minute drill, both teams will be forced to change possession at the end of each quarter.
6) In attempt to speed up the pace of the game, the play clock will be changed from 40 seconds to 35 seconds.
While some rules (like the new clock changes) are meant to increase the scoring, other rules (like allowing defenses to vary their coverage) should help prevent the high-scoring games we've seen historically. In fact, using our Bet Labs software we were able to see how betting the over/under has fared in Pro Bowl betting.
Since 2003, betting the over in the Pro Bowl has gone 6-4 including four consecutive overs. During that time the total has steadily increased, jumping from 51.5 in 2003 all the way to 79.5 last season.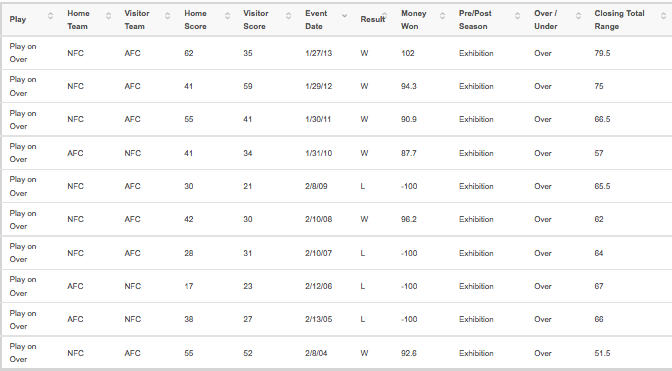 Amazingly, Sportsbook.com opened the Pro Bowl total at 87.5 and according to our NFL betting trends, 89% of bettors have taken the over despite this outrageously high number. This one-sided public betting has pushed the total to 92.5 at the time of publication.
Perhaps what's even stranger that the total itself is the lack of agreement among offshore oddsmakers as SIA's (Sports Interaction) over/under was set 10 points lower at 82.5.
As far as the game itself is concerned, Team Sanders is currently listed as a 1-point favorite and are receiving 54% of spread bets. (The rosters for Sunday's game can be found here).
Will this recent trend of high-scoring games continue, or will these new rule changes lead to lower scoring and more competitive games? Make sure to leave your thoughts in the comment section below.
[adrotate group="4″]
Join us live Sundays at noon ET
We're now holding our members-only live Sports Betting Hangouts Sunday mornings to prepare you for a full day of NFL games. Members, simply log into your account Sunday morning to access the hangout.
Not a member? Start a trial today to join our Sports Betting Hangouts held six days a week, plus all the other Sportsbook Insider Pro benefits.