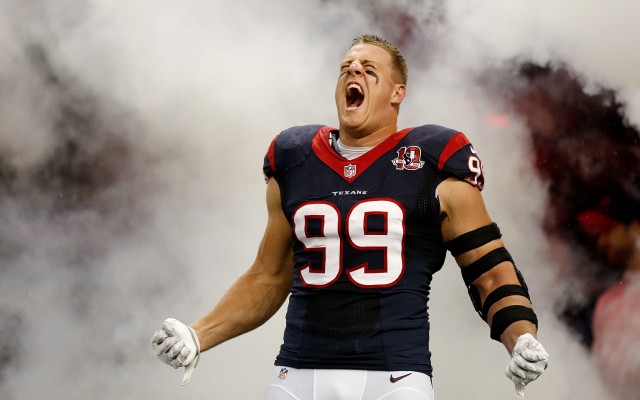 2014 NFL Win Totals
On Friday, Cantor Gaming became the first sportsbook to release their 2014 NFL win totals and soon after that the offshore sportsbooks joined the party, led by BetOnline.
The Houston Texans, who won just 2 game last season and will pick first in the May 8th NFL Draft, are expected to see the largest improvement and are projected to win 8.5 games next season. Teams who are expected to regress include the Carolina Panthers (from 12 to 8.5), the Arizona Cardinals (from 10 to 7) and the Kansas City Chiefs (from 11 to 8).
We will continue to update this table as other sportsbooks begin to post their own win totals and free agents begin to sign.
| Team | BetOnline | Cantor | 2013 Wins |
| --- | --- | --- | --- |
| Arizona Cardinals | 7 | 7 | 10 |
| Atlanta Falcons | 8 | 8 | 4 |
| Baltimore Ravens | 8.5 | 8.5 | 8 |
| Buffalo Bills | 6.5 | 6.5 | 6 |
| Carolina Panthers | 8.5 | 8.5 | 12 |
| Chicago Bears | 8.5 | 8.5 | 8 |
| Cincinnati Bengals | 9 | 9 | 11 |
| Cleveland Browns | 6.5 | 6 | 4 |
| Dallas Cowboys | 8 | 8 | 8 |
| Denver Broncos | 11 | 11 | 13 |
| Detroit Lions | 8 | 8 | 7 |
| Green Bay Packers | 10 | 10 | 8 |
| Houston Texans | 8.5 | 8.5 | 2 |
| Indianapolis Colts | 9 | 9 | 11 |
| Jacksonville Jaguars | 4.5 | 4.5 | 4 |
| Kansas City Chiefs | 8 | 8 | 11 |
| Miami Dolphins | 7.5 | 7.5 | 8 |
| Minnesota Vikings | 6.5 | 6.5 | 5 |
| New England Patriots | 10 | 10 | 12 |
| New Orleans Saints | 9.5 | 9.5 | 11 |
| New York Giants | 7 | 7 | 7 |
| New York Jets | 6.5 | 6.5 | 8 |
| Oakland Raiders | 5 | 5 | 4 |
| Philadelphia Eagles | 8.5 | 8.5 | 10 |
| Pittsburgh Steelers | 9 | 9 | 8 |
| San Diego Chargers | 8 | 8 | 9 |
| San Francisco 49ers | 11 | 11 | 12 |
| Seattle Seahawks | 11 | 11 | 13 |
| St. Louis Rams | 6.5 | 6.5 | 7 |
| Tampa Bay Buccaneers | 6.5 | 6.5 | 4 |
| Tennessee Titans | 6.5 | 6.5 | 7 |
| Washington Redskins | 7 | 7 | 3 |