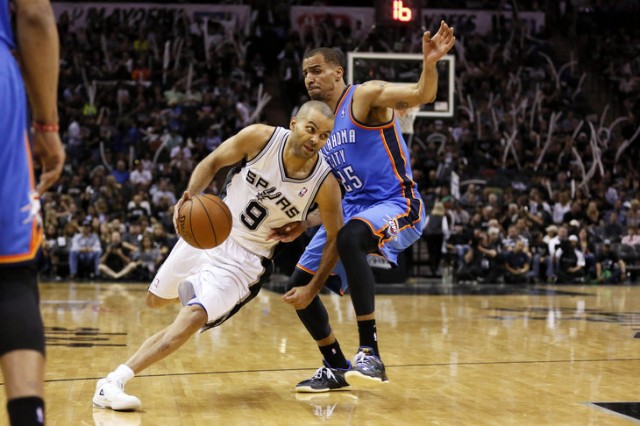 2014 NBA Playoffs: Are Favorites Undervalued Following a Blowout Loss?
Earlier this year, we wrote an article discussing the NBA Zig-Zag Theory which argues that teams are undervalued after a loss during the NBA playoffs. The logic is simple: whichever team lost the previous game should be bet on the spread in the following game. Since 2005 this simple system has produced an 80-54 ATS record with +22.53 units earned and a 16.8% return on investment (ROI).
We always preach the importance of buying on bad news and selling on good. It's an excellent way of capitalizing on the overreactions that we commonly see made by square bettors, and betting on teams off after loss is just one example of how you can utilize this strategy.
During the regular season we posted an article detailing how NBA teams are undervalued after a blowout loss during the regular season, and we've found the same trend to be true for NFL bettors as well. With that in mind, we were determined to discover whether this trend continued during the NBA playoffs.
Using our Bet Labs software, the first step was to utilize the "previous game margin" filter to focus on teams who lost by at least 10 points in their last game. This very basic system produced a 202-163 ATS record (55.3%) with +29.63 units won and an 8.1% ROI. Although this alone would be a worthwhile betting system, we were determined to take additional steps to improve the system.
Past research has indicated that favorites are undervalued during the NBA playoffs — a dramatic change from the regular season where underdogs have been historically undervalued. Knowing this, we used our "favorite/dog" filter to eliminate all underdogs from our results. By doing so, we are able to dramatically decrease the number of past results while increasing our units won by just over 3 units. This leads to a striking improvement to our ROI.
The screenshot below is taken directly from Bet Labs and shows the past results of our system:

When we're creating a betting system, there are three common characteristics that we look for: a representative sample size, consistent year-to-year results, and a lack of custom-fit data. With exactly 150 past results we have a significant sample size. With just two active filters that focus on broad data ranges, we can ensure that the data has not been custom fit. As for the consistent year-to-year results?
The screenshot below displays the results graph for this betting system.

It's worth noting that in Game 3 of the NBA Finals, the San Antonio Spurs defeated the Miami Heat by a final score of 111-92 to give San Antonio a 2-1 series lead. In tonight's Game 4, the Heat are currently receiving 54% of spread bets as a 5.5-point home favorite. That means that Miami fits the criteria for our playoff blowout system and may be offering value to NBA bettors.
Want to create your own NBA Playoff betting systems? Try our 6-day Bet Labs trial for just $25 and start winning today.
4/15/15 Update: This system went 10-9 ATS during the 2014 NBA playoffs and is now 96-59 ATS (+32.63 units, 21.1% ROI) overall.
Note: This article was originally posted on June 12, 2014.