2014-15 NHL Betting Against the Public Report
The NHL season begins on October 8th with the Montreal Canadiens travelling to face the Toronto Maple Leafs, and we want to make sure that bettors are ready to hit the ground running. Before the start of every season, we post a series of Betting Against the Public articles where we highlight the sweet spots for contrarian betting. These systems typically highlight how sharp bettors can take advantage of public perception by wagering on teams that are being ignored by the betting public.
These systems are particularly interesting in moneyline sports like hockey and baseball because you don't necessarily need to win at the 52.38% threshold that spread bettors need to hit to overcome the typical -110 juice. In fact, the system featured in our 2014 MLB Betting Against the Public report has a winning percentage of just 45.2% but has earned an incredible +112.45 units (16.2% return on investment) since the start of the 2005 season.
To create our 2014-15 NHL Betting Against the Public system, we must first utilize our Bet Labs software which allows subscribers to create data-driven betting systems from their choice of more than 200 unique filters across seven major sports leagues.
We've been long aware that baseball is the only sport in which the home team is undervalued, and when you think about it, that makes all the sense in the world. People tend to believe that visitors will be thrown off their game by hostile crowds, but the true value of that edge tends to be overblown. Baseball is the only sport where there is a tangible advantage for the home team — getting the last at-bats and having the ability for general managers to acquire talent that exploits the unique dimensions of their home ballpark.
With that in mind, we compared the record of home teams (-2.7% ROI) and road teams (-0.6%) which quickly confirmed that visitors are being undervalued by bettors. Having our initial expectation confirmed, we wanted to see how visitors fared when we used our proprietary public betting data to examine the success of betting against the public when focusing on road teams.
The table below displays how visiting teams have performed when they are not being backed by public bettors.
| Public Betting | Record | Units Won | ROI |
| --- | --- | --- | --- |
| <50% | 2353-3501 | +0.24 | 0% |
| <40% | 1527-2398 | +45.47 | 1.2% |
| <35% | 1145-1829 | +70.84 | 2.4% |
| <20% | 211-387 | +14.15 | 2.4% |
As you can see, our sweet spot for NHL contrarian betting comes when visitors are receiving less than 35% of moneyline bets. When we focus on underdogs fitting these criteria, there are only a few past matches omitted and we are left with an 1135-1822 record (+69.82 units, 2.4% ROI).
Our past research indicates that large underdogs typically don't perform well, so our goal was to adjust our moneyline range to weed out these massive dogs. Part of the reasoning behind this is that sportsbooks tend to increase from a 10 cent juice to a 15 cent juice on huge moneyline dogs which sucks out some of the value. The table below displays how road dogs receiving less than 35% of public bets have performed as we gradually shrink our moneyline range.
| Moneyline Range | Record | Units Won | ROI |
| --- | --- | --- | --- |
| All Underdogs | 1135-1822 | 69.82 | 2.4% |
| Dogs up to +250 | 1074-1653 | 64.39 | 2.4% |
| Dogs up to +225 | 1035-1528 | 97.12 | 3.8% |
| Dogs up to +200 | 946-1342 | 94.99 | 4.2% |
| Dogs up to +175 | 764-1023 | 74.53 | 4.2% |
| Dogs up to +150 | 464-545 | 63.48 | 6.3% |
What's readily apparent from this data is that we're able to continually improve our ROI by focusing small dogs, however, we prefer betting systems with larger sample sizes as it's a better indicator of a system's true edge and also because it reduces the risk of overfitting your system. For that reason, we're choosing to focus on teams with a moneyline no larger than +200 even though the highest ROI is on underdogs of +150 or less.
It's also important to note that betting against the public is only one part of our overall contrarian philosophy. One of the other important adages we constantly preach is simple enough: buy on bad news and sell on good. This may seem counter-intuitive as most bettors don't want to bet on a team that has been performing poorly recently. However, the public's tendency to overreact to small sample sizes can create artificial value that sharp bettors can exploit.
Knowing this information we set the "previous game margin" filter between -1 and -8 which allows us to focus exclusively on teams who lost their previous game. This is a classic example of buying on bad news and this simple addition improves our system to 534-741 with +70.76 units won and a 5.6% ROI. While this results in a loss of nearly 25 units, it also leads to a 33% improvement to our expected returns (from 4.2% to 5.6%).
Although it can't be characterized as a "contrarian" viewpoint, one edge that we've consistently observed around all six major US sports is that teams tend to perform better when they are well rested. For that reason we utilized the "days between games" filter and eliminated all teams playing on the second night of a back-to-back by making sure there were at least two days between games.
This addition improved our overall units earned from +70.76 to +83.62 while lowering the number of past matches from 1275 to 982. By increasing our units won by 12.86 units and decreasing our past matches by 293 games, we're able to improve our ROI to 8.5%. The screenshot below displays how this betting system would look within Bet Labs.
Another key factor in developing a winning betting system is consistent year-to-year returns and, with the exception of 2005-06 (-1.48 units) and the lockout shortened 2012-13 season (-4.58 season) this system has been profitable every year.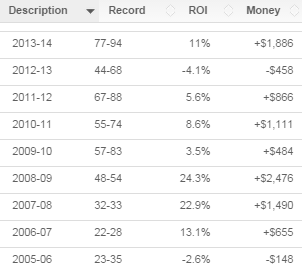 We offer a 6-day Bet Labs trial< for anybody interested in creating their own winning NHL betting systems, but Pro customers have full access to our Best Bets and Bet Signals along with real-time odds, public betting trends and much more. We've also introduced a new free NHL odds page where bettors can access odds, injuries, futures and other valuable information. Current Bet Labs customers can also copy this system from the Think Tank to receive all current game matches via e-mail or text message.
Have any questions for the staff at Sports Insights? Utilize our live chat to speak with a customer service representative or e-mail us at help@sportsinsights.com.
6/6/16 Update: This system went 54-86 (-3.09 units) during the 2014-15 season and 73-99 (+6.89 units) during the 2015-16 season. All-time this system has gone 540-730 (+82.61 units) during the regular season and 38-48 (+11.59 units) during the NHL Playoffs.