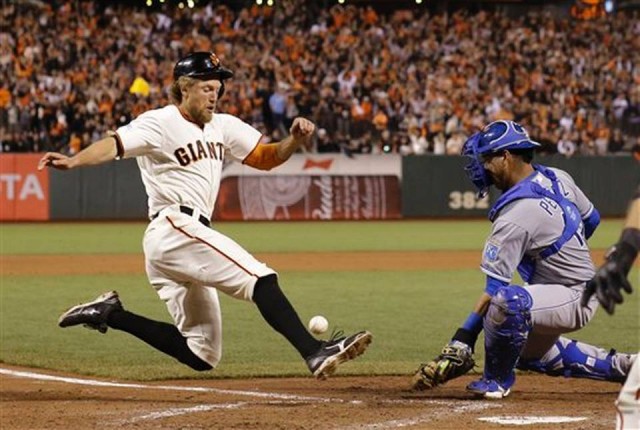 World Series Game 7: San Francisco Giants at Kansas City Royals
Last night in Kansas City, the Royals demolished the Giants 10-0 to force a decisive Game 7. Unfortunately, the pitching matchup does not feature the star power one would hope for in such a crucial game with RHP Tim Hudson (9-13, 3.57 ERA) facing off against RHP Jeremy Guthrie (13-11. 4.13 ERA).
According to our free MLB odds page, the Royals opened as -125 home favorites at CRIS and are currently receiving 69% of moneyline bets. This lopsided public betting has moved the line 16 cents to -141. Since there have been no bet signals triggered on this game, we can safely assume that public money is mainly responsible for this line movement. The screenshot displays the line graph for this game:

It's also interesting to note that there have been just three MLB playoff teams this postseason to receive less than 31% of moneyline bets and only 27 games with such one-sided betting since 2005. Out of those 27 games, only two of them occurred during the World Series.
The most lopsided playoff game in our database was back on October 6, 2010 when the Reds received just 21% of moneyline bets against the Phillies with the most lopsided World Series game occurring that same year when the Giants received 30% of moneyline bets against the Texas Rangers.
Jeff Nelson will be the home plate umpire tonight, and historically he has skewed towards home teams and unders. Since 2005, home teams have gone 169-145 (+3.47 units) while the under has gone 157-135 (+11.27 units) with Nelson behind the plate.
It will definitely be interesting to see how many bets this game finished with. Although the series has been extremely competitive, the ratings have been utterly woeful. Similarly, bettors have been ignoring this series like it's a telemarketer calling during dinner. Yesterday we sent out the following tweet regarding games 3, 4 and 5 in San Francisco:
Last night's WAS-DAL game had 82,255 bets. The 3 World Series games in San Francisco over the weekend had a combined 70,845 bets.

— SportsInsights.com (@SportsInsights) October 28, 2014
Prior to the start of the series, we also tweeted out the World Series MVP odds. Although Madison Bumgarner (2-0, 0.56 ERA in 16 IP) would seem to be the obvious choice if San Francisco can bounce back from last night's embarrassment, there are a number of legitimate candidates for the Royals including Yordano Ventura (1-0, 1.46 ERA in 12.1 IP), Salvador Perez (.381 BA, 1 HR, 4 RBI), Lorenzo Cain (.318 BA, spectacular defense) and potentially others.
World Series MVP Odds via Bovada Posey +850 Cain +900 Hosmer +1000 Bumgarner +1000 Moustakas +1000 Sandoval +1000 Gordon +1200 Pence +1200 — SportsInsights.com (@SportsInsights) October 17, 2014
In fact, earlier this morning Bovada updated their MVP Odds with just three options:
Madison Bumgarner: Even
Lorenzo Cain +160
Field: +200
There are also a number of prop bets available on this game — specifically at public sportsbooks like Bovada and Sportsbook.com. After pitching two gems this series, many bettors are wondering whether Madison Bumgarner will pitch tonight. In fact, his over/under on innings pitched is 1.1 with -160 juice on the over.
Other prop bets include:
Jeremy Guthrie: Over/Under 2.5 Strikeouts
Tim Hudson: Over/Under 3 Strikeouts
Will Buster Posey Hit a Home Run? "Yes" +450 | "No" -650
First Player to Hit Home Run:
Will the Giants win their third World Series in the past five years? Can the Royals capitalize on home field advantage? Please leave your thoughts and comments in the section below.
[adrotate group="4″]