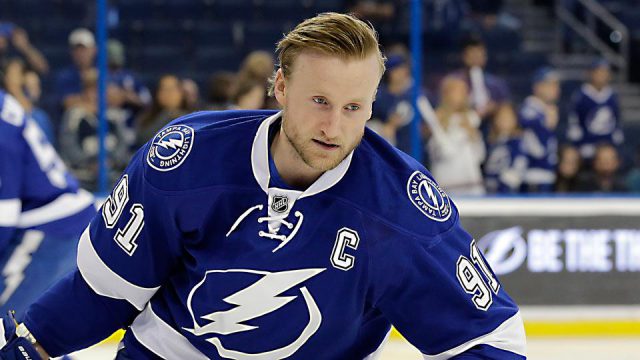 Where Will Steven Stamkos Play Next Season?
NHL free agency begins on Friday and every team in the league has their eyes set on one player — Lightning forward Steven Stamkos. The 26-year old superstar has tallied 312 goals and 562 points in 569 regular-season games and already has two 50-goal seasons to his credit. Stamkos is arguably the league's best player when healthy, and it's entirely possible that Stamkos new deal could surpass Jonathan Toews and Patrick Kane for the highest annual salary in the league.
Stamkos will be the most coveted unrestricted free agent in recent memory, but what are his most likely landing spots? The four-time All-Star has repeatedly stated that he would like to stay in Tampa Bay, but it's unclear whether the Lightning have the money to retain their franchise cornerstone — especially since Stamkos is reportedly asking for at least $10.5 million per season.
On Wednesday morning, Bovada and Sports Interaction (SIA) both posted prop bets on Steven Stamkos' team for the 2016-17 NHL season. Both sportsbooks have the Lightning listed as the favorite, followed closely by the Detroit Red Wings and Toronto Maple Leafs.
The table below displays the latest odds at Bovada and SIA. It will be updated as more information becomes available.
| Team | SIA (6/29) | Bovada (6/29) |
| --- | --- | --- |
| Tampa Bay Lightning | -120 | +120 |
| Detroit Red Wings | +180 | +275 |
| Toronto Maple Leafs | +255 | +275 |
| Buffalo Sabres | +900 | +800 |
| Boston Bruins | +1000 | N/A |
| Montreal Canadiens | +1200 | +1200 |
| Vancouver Canucks | +1600 | +2200 |
It's interesting to see that the Boston Bruins have the fifth-best odds of signing Stamkos at SIA, but aren't listed as an option at Bovada. The Bruins have over $21 million in cap space, but Stamkos seems like a poor fit considering the team's defensive efficiencies and a lineup that already features one of the league's best one-two center duos in David Krejci and Patrice Bergeron.
I think that the Red Wings will sign Stamkos, which makes them an excellent value at +275. Detroit cleared $7.5 million in salary cap space by trading Pavel Datsyuk to the Arizona Coyotes on draft day, which should allow them to pursue the Tampa Bay sniper. Although Stamkos is a native of Toronto and his homecoming would be a feel-good story, it's tough to imagine Stamkos joining a team that's still in the midst of rebuilding.
What do you think? Which team will land Steven Stamkos? Are any long shots offering value? Please leave your thoughts in the comment section below.