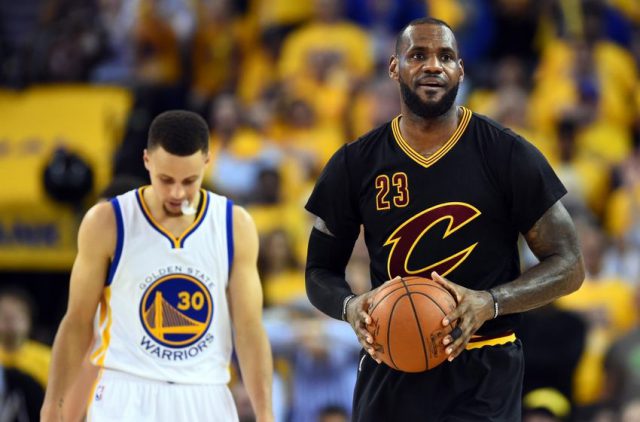 Where is Sharp Money Going in Game 6 of the 2016 NBA Finals?
No team in NBA history has ever overcome a 3-1 series deficit in the NBA Finals, but the Cleveland Cavaliers will try to re-write the history books starting tonight at the Quickens Loan Arena. In Game 5 on Monday, LeBron James and Kyrie Irving combined for 82 points, and the Cavs capitalized on the suspension to Warriors star Draymond Green. Cleveland may have staved off elimination for one more day, but will they be able to force a decisive Game 7?
The Cavs opened as 2.5-point favorites at the market-setting Bookmaker sportsbook and, according to our public betting trends, have received 47% of spread bets. Despite this evenly split public betting, Cleveland has dropped from -2.5 to -2.
Based on these trends it's tough to point towards any value betting against the public. Since the line opened late on Monday night, these trends have fluctuated greatly with Cleveland receiving 58% and Golden State receiving 55% at various points. That said, there are still several factors pointing towards value on both the spread and the total.
The screenshot below displays the breakdown of our seven contributing offshore sportsbooks.

Although bettors are torn between both teams, it's interesting to look at how public betting varies between sharp and square sportsbooks. Although bettors are favoring Cleveland at square sportsbooks (i.e. Sportsbook.com, SIA and BetUS), the public is favoring Golden State at sharper sportsbooks like BetDSI and 5Dimes.
Typically I would encourage bettors to fade the public, especially in these heavily bet playoff games, but bettors need to pursue other contrarian strategies since both teams are receiving roughly half of public support. Historically there has been value buying low after a loss, and that's one of the main reasons that the Warriors are offering value tonight.
My research found that playoff teams coming off a loss have gone 463-431 ATS (51.8%) following a loss, but that winning percentage increases tremendously when it was an unexpected loss. Since 2005, playoff teams who lost their previous game as a favorite have gone 163-131 ATS (55.4%) in their subsequent game. If they were a large favorite (4+ points) that winning percentage takes another substantial jump.
Fading teams off an upset win (a reason to bet the Warriors tomorrow): pic.twitter.com/Oshghsguvk

— Bet Labs Sports (@Bet_Labs) June 15, 2016
Prior to the postseason, I explained that playoff teams coming off a straight up (SU) loss have been tremendously undervalued — especially if the previous game was a blowout. After some additional analysis, I found that there's been a tremendous advantage taking teams who failed to cover the spread in their previous game.
Playoff teams who failed to cover the spread in their previous game have gone 475-444 ATS (51.7%) since the start of the 2005 postseason. This isn't a huge advantage, but it shows that there's a slight edge going against the grain and taking teams who have recently spurned bettors. That winning percentage improves by leaps and bounds when that team didn't come close to covering the spread.
Over the past eleven years, playoff teams coming off a double-digit ATS loss have gone 205-160 ATS (56.2%), teams coming off an ATS loss of at least 15-points have gone 122-90 ATS (57.5%) and teams coming off an ATS loss of at least 20-points have gone 59-42 ATS (58.4%). This highlights the importance of buying on bad news and selling on good — particularly in heavily bet, nationally televised games.
Admittedly it's a small sample size, but teams coming off a huge ATS loss have been extremely profitable during the NBA Finals.
Since '05, teams coming off a 15+ pt ATS loss have gone 10-3 ATS (76.9%) in the following game. #Warriors previous game ATS margin was -20.5

— David Solar (@TheDavidSolar) June 16, 2016
I would be remiss if I didn't mention some of the trends that favor the Cavs — most of which are based solely on the results of the 2016 NBA Playoffs. This year home teams have gone 52-32 ATS (61.9%), favorites have gone 50-34 ATS (59.5%), and home favorites have gone 39-21 ATS (65.0%). That said, I place far more value on trends that span several seasons as opposed to relying heavily on recent results.
Another reason to like Golden State (+2) is the referee assignments for tonight's game. While Jason Phillips (307-291 ATS) and Ken Mauer (299-297 ATS) have been slightly advantageous for road teams, Scott Foster has been the most profitable official for road teams in our database.
Visitors have gone 348-285 ATS (55.0%) in games officiated by Foster, with +48.12 units won and a 7.6% return on investment. That means that $100/game bettors would have earned $4,812 simply by taking the road team in every game he has officiated. Although road teams have only gone 4-9 ATS in games reffed by Foster during the 2016 NBA Playoffs, it's tough to ignore his track record.
Since Steve Kerr was named head coach two years ago, the Warriors have been far and away the most profitable team for spread bettors going 117-87 ATS with +23.98 units won. Over that stretch, they have only been an underdog 18 times. Draymond Green will return to the starting lineup tonight, and this seems like the prime opportunity to buy low and take the Warriors as a small underdog.
In terms of the total, there are some interesting trends that point towards value on the under. The opening total was 208 at Bookmaker and public betting has been evenly split with 51% of tickets and 56% of money taking the over. Despite that balanced betting, the total has dropped from 208 to 207.5
It's a well-known fact that teams ramp up their defensive intensity during the playoffs, and that has historically created value on the under. Playoff unders have gone 519-475 (52.2%) since 2005 including a 50-32 record (61.0%) during the 2016 playoffs. Those numbers increase substantially in games with high totals and elimination games.
When the closing total is at least 190, the under has gone 300-252 (54.3%) since 2005 and 46-28 (62.2%) this postseason. I also found that the under has been particularly profitable in Games 6 and 7, going 83-57 (59.3%). All of this information points towards value on the under, but I wanted to see whether offshore oddsmakers were seeing similar action.
According to Scott Cooley, an Odds Consultant for Bookmaker.eu, there's been very limited sharp money on tonight's game but a few respected bettors have taken the under. "Nothing too exciting to report yet," said Cooley. "No smart money to speak of on the side. They haven't really been involved since Game 4. We've taken a few sharp bets on the under, but that's about it."
I would like to stress that the only picks we officially endorse are our Best Bets, which are available exclusively to Sportsbook Insider Pro subscribers. This season our NBA Best Bets have gone 106-78 (57.6%) with +18.7 units won. We offer a 4-day Pro trial for $49, and first-time subscribers can receive an additional four days for free by schedule a one-on-one demo with our customer service manager.
These numbers are always subject to change, so make sure to visit our free NBA odds page for up to the moment lines, betting trends, injuries and more.
Have any questions for the staff at Sports Insights? Utilize our live chat to speak with a customer service representative or e-mail us at help@sportsinsights.com.