What's New With Live Odds?
We are always trying to improve our live odds product and we are pleased to announce a number of improvements to our software. Below you will find the new features that are available to our live odds subscribers.
1. GT Bets Public Betting Percentages

GT Bets betting percentages have been added to our public betting trends and are now one of our seven contributing sportsbooks. Pro members can view the percentage of wagers on the spread, moneyline and over/under for each individual sportsbook by clicking the "i" icon on the live odds page.
2. Goalies Added For Hockey
When customers log in and select the NHL tab, they will now be able to view the starting goalies for all of the day's games directly on their live odds page. Back-up goalies will be highlighted in red for your convenience.
3. New Sportsbooks Added
We have added four new sportsbooks to our list of available books. The new additions include GT Bets, Full Boat, Top Bet and Bet365. You can add these sportsbooks to your live odds page by selecting "settings," clicking the "sportsbook" tab and locating your preferred book from the list of available sportsbooks.
4. Improved Futures Page
We have made several improvements to our Futures page, including adding the lines from 5Dimes, BetOnline and the Greek in addition to Pinnacle. The layout has been optimized for easy function and accessibility, with customers now able to compare the odds at several market setting sportsbooks.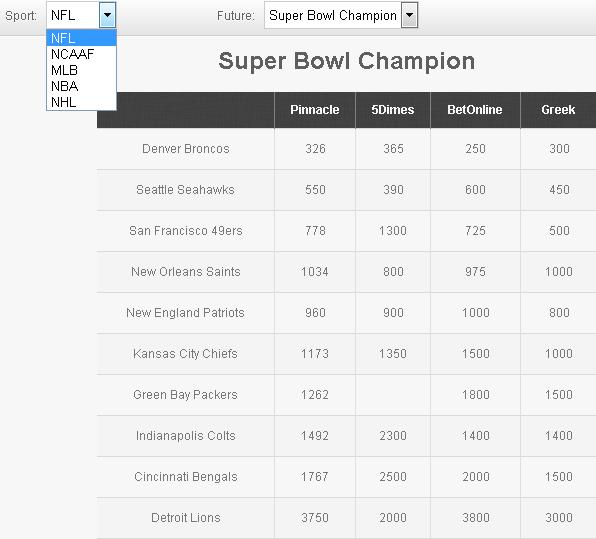 Many of these features were added at the request of our current subscribers. To have your opinion heard, please visit our community and request any new features you would like to see added.