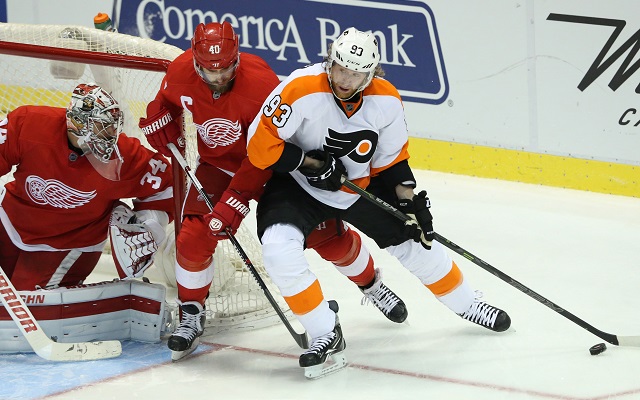 What's at stake on the last weekend of the NHL season?
Heading into the last weekend of the NHL season, there is still an Eastern Conference wild card berth on the line as well as two Western Conference divisional titles.
Currently the Bruins and Red Wings are in the Eastern Conference playoffs by 1 point over the Flyers. Prior to the season, Boston was -190 to make the playoffs, Detroit -135 and Philadelphia +250. The Flyers went on a tear towards the end of the season to get them in position, but have now lost three consecutive games. However, they do have a game in hand over both Boston and Detroit, and here's the remaining schedule for each:
Boston (93 pts): -217 vs. Ottawa
Detroit (93 pts): -170 at New York Rangers
Philadelphia (92 pts): -120 vs. Pittsburgh, No line yet at New York Islanders
Here's a look at the full standings and tie-breaking procedures. The Bruins got a big win over Detroit on Thursday night but still need help from either the Wings or Flyers to ultimately get in. Boston is listed at -220 to beat Ottawa while Detroit is -170 at NYR. Philadelphia is currently -120 against Pittsburgh.
In the Western Conference, both division titles are up for grabs. The LA Kings, who surprisingly haven't won a division crown since 1991, hold a 2-point lead over Anaheim and the tiebreaker over the Ducks. However, Anaheim has two games remaining while the Kings have just 1, so LA needs to win their final game against Winnipeg at home to ensure the Pacific division title.
A quick look at the remaining schedules for each:
Los Angeles (101 pts): -235 vs. Winnipeg
Anaheim (99 pts): -165 at Colorado, No line yet at Washington
Before the year the Kings were +310 to win the Pacific and were as high as -945 to win it back in late January. Anaheim was listed as the favorites before the year at +150 but were as high as +1505 in late January.
Over in the Central Division, both Dallas and St. Louis are tied with 107 points and each have 1 game remaining. Dallas holds the tiebreaker so a win means they clinch the division.
Remaining games for each:
Dallas (107 pts): -153 vs. Nashville
St. Louis (107 pts): -155 vs. Washington
Before the season, the Stars were +830 to win the division while the Blues were +350. St. Louis was even as high as +705 in late January when the Dallas was +175, but they've obviously closed the gap tremendously. Both teams have roughly the same chances of winning today so advantage is to Dallas.
Do you think Boston fails to make the playoffs for the 2nd straight year? Or will Detroit's run of 24 straight years in the playoffs end? Reminder that you can check out the latest odds and betting percentages for each game at our Free Live Odds page.