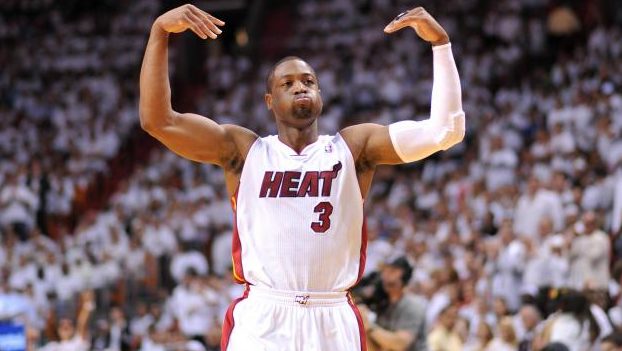 What Team Will Dwyane Wade Sign With?
One would have probably guessed that all of the major moves in the NBA would be done by late September, but they would've been wrong this year. Over the weekend, two major moves were made. On Saturday, the Knicks finally got around to trading Carmelo Anthony. Last night, the Bulls furthered their argument for league's worst team by buying out Dwyane Wade.
With that being said, there are plenty of mumblings and grumblings regarding where he will sign. Bookmaker has done us all a favor and posted odds on it.
| Team | 9/26 (Bookmaker) | 9/25 (Bookmaker) |
| --- | --- | --- |
| Cavs | +140 | +600 |
| Thunder | +184 | +180 |
| Heat | +222 | +145 |
| Spurs | +4237 | +1500 |
| Field | +401 | +210 |
Originally Published 9/25
According to their oddsmakers, heading back to South Beach is the most likely scenario, with the Heat +145 favorites. Right now, the Heat are seen as a slightly better than .500 team in the eyes of Vegas, with their win total set at 43.
The Thunder could add two aging stars in the span of just a few days if they can land Wade. Though some may not think that adding Carmelo to the team was a big help, it did nearly double their chances of winning a title. Just how much more would their odds increase if they could add Wade?
Many believe that he may join his good friend LeBron in Cleveland. He could potentially play an important role with Isaiah Thomas set to miss some time if he did indeed join them. If this was 2010, the Cavs would be an absolute juggernaut with the likes of D-Rose, D-Wade, and the King all on the same team, but they are still the clear second fiddle to the Warriors.
The Spurs have also been mentioned as a good potential fit, but oddsmakers clearly don't like his chances of heading to San Antonio.
I'm surprised that the field is listed at +210. There isn't really another team that doesn't have odds listed that has been suggested as a possible landing place. What teams that aren't listed do you think would be a strong fit?
Follow us on Twitter @SportsInsights for any potential updates as this crazy NBA offseason comes to a close.