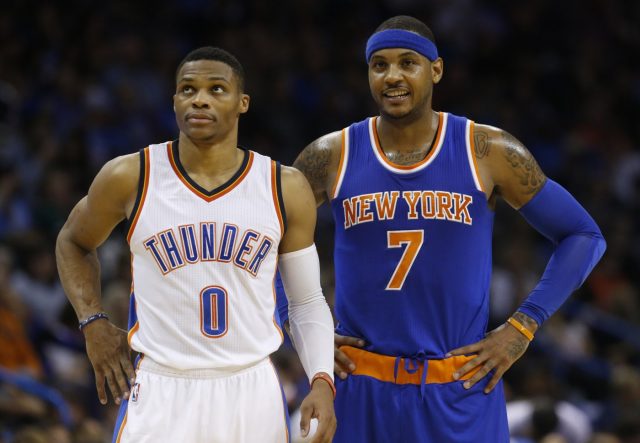 Does Carmelo Anthony Help the Thunder's Chances?
Yesterday, the Carmelo Anthony trade "sweepstakes" came to a close as the Knicks dealt him to the Thunder to join the likes of Russell Westbrook and Paul George in an attempt to dethrone the Warriors.
New York has agreed to a deal to send Carmelo Anthony to OKC for Enes Kanter, Doug McDermott and a draft pick, league sources tell ESPN.

— Adrian Wojnarowski (@wojespn) September 23, 2017
How much does this trade help the Thunder's odds? Many people will argue that it doesn't…the term "overrated" and Carmelo go together like Kevin Garnett and Honey Nut Cheerios. However, oddsmakers do believe that the deal has helped their chances, but they're still nowhere close to the Warriors. In the table below, you'll see how their futures have moved since the deal. The first three futures are from BetOnline and the final two are from the Westgate.
| | Pre-Trade | Post-Trade | Implied Probability Change |
| --- | --- | --- | --- |
| NBA Title | +3300 | +2000 | +1.82% |
| Conference | +2000 | +1600 | +1.12% |
| Division | +160 | N/A | N/A |
| Win Total | 51.5 | 53.5 | N/A |
| Playoff Odds | -1400 | -1600 | +0.78% |
Based on their 20/1 odds, the Thunder now have slightly less than a 5% implied probability to win the title—sixth best in the league. Perhaps the worst preseason odds a "Big 3" team has ever had if you think about it. Of course, most of this is because the Warriors are still a -175 favorite to repeat as NBA champs. You essentially need all-stars at all five positions if you want to contend nowadays…SAD!
Their win total also gets a boost, moving from 51.5 to 53.5—5.5 wins higher than the Timberwolves and eight higher than the Nuggets in their division.
Something to keep in mind when betting on Thunder on a game-by-game basis is that historically, "super-teams" like this one have gotten off to slow starts against the spread. They tend to start hitting their stride in the second half of the season.
What do you think? Will Westbrook, Anthony, and George be able to share the ball with one another and succeed or will they end up like the Dwight Howard/Steve Nash Lakers?