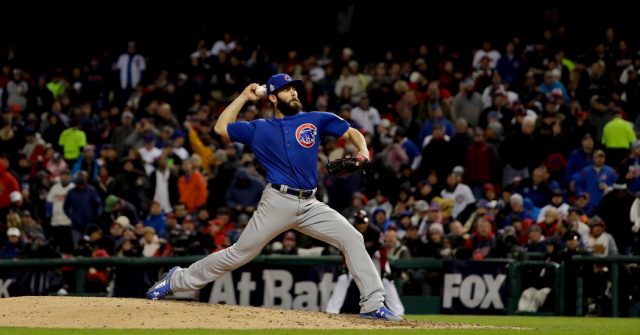 What Should Bettors Know About Game 6 of the World Series?
Facing elimination, the Chicago Cubs will send 2015 NL Cy Young Winner Jake Arrieta to the mound in Game 6 of the World Series. Josh Tomlin, who threw four and two-thirds scoreless innings in the Indians Game 3 victory, will get the nod for Cleveland.
[ 2016 MLB Playoffs: Contrarian Betting Strategies ]
The Cubs won 3-2 on Sunday, pushing them within two victories of their first championship in 108 years. This series has been defined by exceptional managerial decisions, and Joe Maddon's latest bold move paid dividends — allowing closer Aroldis Chapman to get the first eight-out save of his big league career to close out Game 5.
In tonight's game, Chicago opened as -137 road favorites at the market-setting Pinnacle sportsbook, with the Indians listed at +126. Early public betting has been evenly split, with the Cubs receiving 46% of moneyline tickets and 52% of moneyline dollars. Despite this balance, the line moved from Cubs -137 to -159 before settling at Cubs -144.
[click image below to enlarge]

Although the Cubs are favored to win tonight's game, they are still listed as +200 underdogs to win the series. That said, it's not advisable to take the series price when a playoff team is facing elimination. Instead, bettors should simply roll over their winnings on the moneyline.
A $100 bet on the Cubs series price would potentially yield $300 — the $100 initial investment plus the $200 profit. However, let's pretend you simply rolled over your bets on the moneyline. A $100 bet on the Cubs to win Game 6 would yield $169.44 — the $100 initial investment plus the $69.44 profit.
With Corey Kluber facing Jon Lester in Game 1 of the World Series, the Cubs closed as +101 underdogs. For the sake of this argument, we'll assume a similar line for tomorrow's Game 7 with Kluber facing off against Kyle Hendricks. Rolling over your initial bet on the Cubs moneyline would yield $340.57 — the initial $169.44 plus the $171.13 profit. Even if the Cubs somehow closed as -120 favorites, this would still be more profitable than taking the series price.
Turning our focus back to tonight's game, weather is a major factor to consider and there are some noteworthy weather patterns for tonight's game. Meteorologists are forecasting temperatures of 65 degrees Fahrenheit, but average winds speeds will range between 9-10 mph blowing out to center field. Since 2003, MLB overs have gone 508-454 (52.8%) when there are wind speeds of at least 10 mph blowout out to center.
[click image below to enlarge]

The Game 6 total opened at 7, and public money has been taking the under. At the time of publication, we had tracked 60% of tickets and 54% of total dollars wagered on the under. This is highly irregular since the majority of public bettors have taken the under in just 12.9% of MLB playoff games since 2003. Despite this unusual trend, the total hasn't moved at Pinnacle since opening early on Monday morning.
These numbers are always subject to change, so make sure to visit our free MLB odds page for up to the moment lines, betting trends, injuries and more.
Have any questions for the staff at Sports Insights? Utilize our live chat to speak with a customer service representative or e-mail us at help@sportsinsights.com