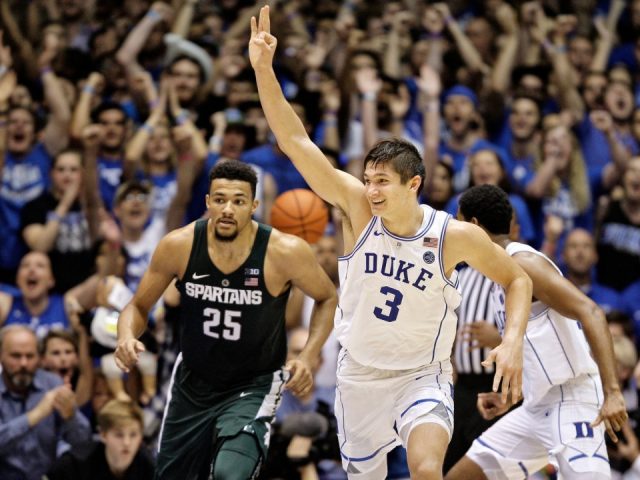 How Have Top-10 College Basketball Showdowns Played Out in the Past?
Tuesday night, we'll get to see two heavyweight bouts at the United Center in Chicago that will truly kick off the beginning of the college basketball season.
We start out with Duke vs. Michigan State, which I expect to be one to be one of the most heavily bet games of the regular season. I mean…#1 vs. #2…can't really top that, can you?
Right after that, we'll get  #4 Kansas vs. #5 Kentucky. Not a bad night of basketball, eh?
Though lines are not out for the games, yet, I'm guessing the hardcore hoops fans and bettors already know who they are leaning towards. The big question is: how have top-10 college basketball showdowns played out in the past? (He said it!)
Dating back to 2005, there have been 181 regular season games between two top-10 teams. If you're a Sports Insights fan, you may have seen this coming, but going against the grain has been the profitable approach historically.
These games are obviously going to be heavily bet and attract an abundance of square bettors. If you read the NCAAB betting against the public report, you'll know that heavily bet games are a huge factor when going contrarian in college sports. Since the games can vary from Duke vs. Michigan State to Elon vs. Furman, number of bets can be wildly different.
Dating back to 2005, the team getting the minority of bets has gone 93-70 ATS for nearly an 11% ROI. The higher ranked team has received the majority of bets over 60% of the time, which is actually a little lower than I expected.
When we look at 30% of bets or less, they've gone 17-7 ATS for over a 35% ROI. Here are some other trends from top-10 matchups.
Lesser ranked teams: 88-76 ATS
Dogs: 93-72 ATS
Moneyline favorites: 111-60 (-11.2 units)
When we narrow it down to two top-5 teams, these contrarian trends intensify, though our sample size gets rather small.
Dogs: 28-16 ATS
Teams getting <50% of bets: 25-19 ATS
Teams getting 35% or less: 10-2 ATS
Teams getting 30% or less: 7-2 ATS
Lesser ranked: 24-19 ATS
Moneyline favorites: 29-17 (-4.9 units)
Will either of these games see lopsided action? It's too soon to know, but check back tomorrow for individual game previews for each one of these showdowns. To see if there are lines out, try our NCAAB free odds page.