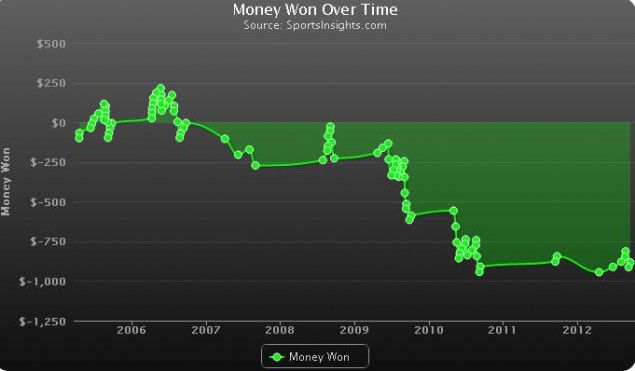 When can a 69.4% Win Rate Result in a Loss of Almost 9 Units?
Tonight the Yankees have an opportunity to win the AL East with a victory over the Red Sox — and the odds of that happening are definitely in their favor. The Red Sox have actually been worse this September (7-21 record) than they were during last season's historic collapse, and have been trotting out a glorified Triple-A lineup for the past several weeks.
Perhaps that explains why the Yankees are listed as -330 home favorites at Pinnacle. But how have these huge favorites fared historically?
Using our BetLabs software, we discovered that since 2004, favorites of -300 or greater have gone 68-30 for a win rate of 69.4%. Although that number looks impressive, betting every heavy favorite would have resulted in a loss of 8.83 units and a -9% return on investment.