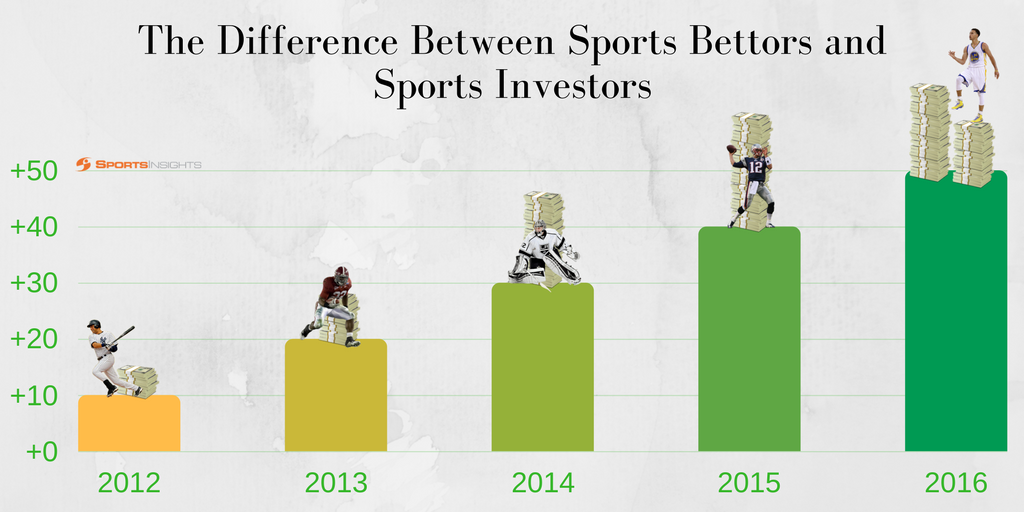 The Difference Between Sports Bettors and Sports Investors
It's no secret that sports fans like action, especially when staring down the barrel of an epic Tennessee Titans/Jacksonville Jaguars Thursday night clunker. Having some skin, any skin, in the game whether it be a wager, fantasy implications or simply counting Blake Bortles' interceptions like sheep can provide a reason to watch and feel invested in a game in which you otherwise wouldn't.
Even the smallest of bets can provide enough to keep a rooting interest, but it isn't the smartest strategy for those looking to make money betting on sports. We get it, there are some who bet mostly for fun and while it's nice to win, throwing $25 on a couple of NFL matchups each week isn't going to affect whether you can pay the rent.
However, for those looking to turn a long-term profit, playing for "action" is the easiest way to sabotage any betting bankroll. Investors don't care whether their money is down on a nationally-televised NFL matchup or a random weeknight college basketball game in December as long as the wager represents a valuable betting opportunity.
In fact, one of the biggest differences is that winning sports investors apply the same techniques one would use when investing in financial markets. For example, investors don't necessarily care which company, industry or commodity they're backing as long as there is an expectation of profitability. Building on that, successful financial investing also requires diversification to minimize risk and "not put all of your eggs in one basket".
Applying these concepts to sports betting means not caring what game or sport you're betting on as long as the opportunity provides positive expected value. Furthermore, winning sports investors diversify their bankrolls across multiple winning models and, more importantly, multiple sports. The concept of diversifying a sports betting bankroll flies in the face of many bettors, specifically those who consider themselves "only NFL bettors" or even "only football bettors".
Why does this matter? Well, even the best sports betting models can have losing seasons. Spreading your money across multiple winning models (like diversifying an investment portfolio) helps safeguard against one or two that happen to lose, which is entirely possible for even the sharpest sports bettors.
Sports Insights' historical Best Bet records show the yearly profit a sports investor has made following every pick released from our models. To make the sports betting/financial investing comparison apples to apples, units won/lost represent the full calendar year (January 1 – December 31) since all major US sports (except for MLB) start before and end after the start of a new  year.
Sports Insights Best Bet records (2012-present)
| | 2017 | 2016 | 2015 | 2014 | 2013 | 2012 |
| --- | --- | --- | --- | --- | --- | --- |
| Units Won/Lost* | +65.7** | +23.2 | +37.2 | +51.7 | +62.4 | +65.0 |
*Units won/lost based on risking one unit per Best Bet pick.
**As of 8/10/17
While there are losing sports each season along the way, anyone following our Best Bet picks from 2012-2016 has earned a profit of +239.5 units. Those cherry-picking and only betting certain sports or individual seasons could have realistically lost money, while $100 bettors backing every play earned a healthy profit of $23,950.
For the purposes of transparency, our 2017 records were not included in the +239.5 units used in the paragraph above as the goal of this article is to compare a full calendar year's worth of diversifying wagers over multiple sports. With that said, 2017 has been another great year for our Best Bets, producing a profit of +65.7 units to date and trending well above our yearly average of +47.9 units/season from 2012-2016.
To illustrate this further, our Best Bet results from 2012 provide a great example of why diversification is so important for winning sports bettors.
Sports Insights Best Bet records (2012)
| | NFL | NCAAF | MLB | NBA | NCAAB | NHL | Total |
| --- | --- | --- | --- | --- | --- | --- | --- |
| Units Won/Lost* | +7.4 | +3.1 | +29.4 | -7.7 | +17.4 | +15.4 | +65.0 |
*Units won/lost based on risking one unit per Best Bet pick.
As you can see, 2012 was a fantastic year for our Best Bet picks, overall. However, an "NBA bettor" would have lost 7.7 units while those diversifying and playing all sports would have easily weathered a bad run of NBA picks and instead enjoyed an extremely profitable +65 unit return.