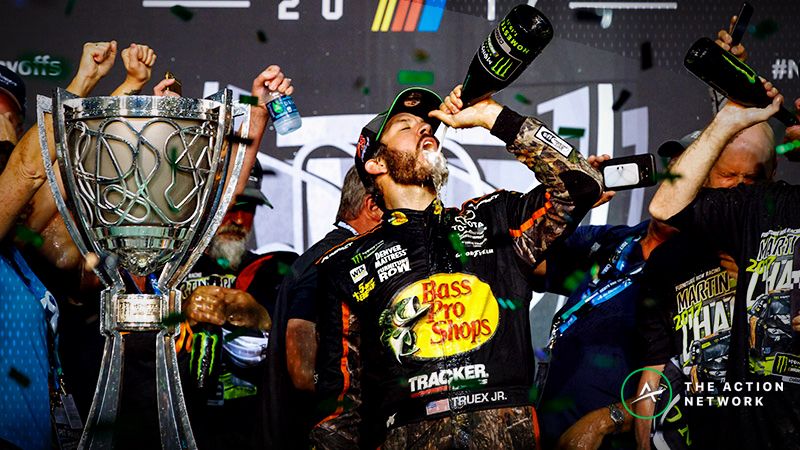 Handicapping NASCAR's Championship Four at Homestead-Miami Speedway
After 35 races, Kyle Busch, Kevin Harvick, Martin Truex Jr. and Joey Logano have earned the right to battle for the 2018 Monster Energy NASCAR Cup Series (MENCS) championship Sunday at Homestead-Miami Speedway.
Busch (2015), Harvick (2014) and Truex (2017) have all notched one championship in their careers, while Logano is attempting to secure his first.
It's not surprise to see Busch, Harvick and Truex still alive, as "The Big Three" combined to win 20 of the 35 regular-season races this season. Logano scored two wins himself, but rode 25 top-10 finishes to earn his shot at Homestead.
Using historical loop data from FantasyRacingCheatSheet.com, let's break down the contenders to determine the best bet to win the 2018 Monster Energy NASCAR Cup Series championship.
The Track
While Homestead-Miami joins a handful of other MENCS tracks at 1.5 miles in length, there really aren't any others on the circuit like it.
Homestead offers progressive banking, which allows drivers to run many lines, with the top lane often the fastest.
The track surface itself is also very abrasive, which wears out tires quickly and makes new rubber a massive advantage.
With tire wear making cars hard to drive and progressive banking allowing drivers to choose different lines, passing is easier here than at most other 1.5-mile tracks that are overly reliant on aero for speed and therefore create follow-the-leader racing.
For the analysis below, I chose to analyze the past four races at Hometead-Miami Speedway.
Using four races may seem a bit arbitrary, but I picked that number for two specific reasons. First, 2014 was the first year that NASCAR went to the current playoff format in which drivers advance through the sport's playoff until four remain to race for the title at Homestead.
And second, the technology in this sport changes so quickly that it can actually be harmful if your sample size is too big. The cars are so different today than 5-10 years ago that results in those races don't offer much predictive value.
Over the past four races at Homestead, Harvick leads the championship contenders with a pristine average finish of 2.5, including one win and four top-fives.
Harvick also dominates in laps led, having run 179 laps at the front of the field over this span, with Busch next at 85, Truex at 81 and Logano at 78.
While Harvick has been the best of the contenders in terms of average finish and laps led, Busch has run the most fast laps over the past four races.
Fast laps refer to the driver who has run the fastest lap during each green flag lap of a race. Caution laps do not factor into fast laps.
Busch's 130 fast laps easily eclipses Harvick's 95, Logano's 38 and Truex's 26.
Edge: Harvick
Kyle had the faster car last season at Homstead, but I have to give the nod to Kevin here for the entire body of work.
Tire Management
As mentioned above, Homestead-Miami eats up rubber, making tire management a key skill to running fast. While Homestead is a unique racetrack, there are a handful of other surfaces that also wear tires out quickly.
Atlanta Motor Speedway, Auto Club Speedway, Chicagoland Speedway and Darlington Raceway all require drivers to save tires and can be analyzed to determined who has been the best at saving this season.
In terms of average finish, Busch (4.5), Truex (5.3) and Logano (5.3) rank in the top five this season at these four racetracks. Harvick ranks eighth overall at 10.8, but that number is skewed by a 35th-place finish at Auto Club, which was caused by a wreck with Kyle Larson.
Harvick had a very fast car there as well and would likely have contended for a top-five finish if not for the contact with Larson.
In terms of lap-by-lap speed, Harvick led the contenders yet again with 139 fast laps at these four high-wear racetracks, followed by Truex (116), Busch (68) and Logano (34).
And despite missing the opportunity to lead much of anything at Auto Club due to his Lap-38 accident, Harvick still led 220 laps over this sample of races, with Truex next at 156, Busch at 130 and Logano at 28.
Edge: Harvick
Harvick is the best driver in the series at managing tire wear, which is incredibly important at a track like Homstead.
Tire Combination
Do you notice a continuing theme here? Tires. The tire combination that the MENCS cars will run on Sunday is the same combo that was used at Chicagoland Speedway in July.
While Chicagoland was included in our four-track sample of high-wear tracks in the section above, it also makes sense to analyze it alone since the cars will use the exact same left- and right-side tires this weekend.
In that race, three of our four championship contenders showed very well — Busch won the race, Harvick finished third and Truex came in fourth.
Logano managed a respectable eighth-place finish, but didn't show anywhere close to the speed of the others, according to fast laps run.
Harvick, once again, led the group with 36 fast laps, compared to 16 for Truex, 15 for Busch and zero for Logano.
Edge: Busch
Even though Harvick showed more speed in terms of fast laps, Busch ultimately won the race and led more laps (59) than Harvick (39).
At such a high-wear track like Chicgoland, it's reasonable to assume that Busch had the luxury of saving his tires while leading the race, and therefore didn't need to push his car as much as others trying to catch him, resulting in fewer fast laps than Harvick.
The Pick
This comes down to either Harvick or Busch. Truex certainly has the speed to compete and has run well here in the past, but I can't rank him ahead of the other two based on the reasons above.
And while Logano has steadily improved throughout the season, it's tough to expect him to get out front and dominate the other contenders based on speed alone.
Sure, Logano could certainly steal the championship with a great pit stop late or if Harvick, Truex and/or Busch run into trouble during the race, but we can't handicap bad luck.
One caveat I have to mention is that Harvick will be without crew chief Rodney Childers, who is serving the second of a two-race suspension after the team's car was found to have an illegal spoiler in post-race inspection following a win at Texas two weeks ago.
Childers' strength has always been setting up the racecar and finding speed, which he can still do at the team's shop all week to ensure the car is perfect before loading up for Miami.
In fact, his suspension may have actually helped Harvick's championship chances because it gave Childers more time to work on the Homestead car since he wasn't allowed to travel to Phoenix for last week's race, and therefore spent that time at the shop.
In addition, I've consistently been critical of Childers' ability to call races, which refers to decisions such as when to pit, when to stay out, when to take tires, etc.
In NFL terms, setting up a racecar is similar to a coach's ability to game plan, while calling a race relates to how a coach manages the game itself, like calling timeouts, challenging plays and making in-game adjustments.
There are plenty of coaches who excel at one of those aspects, but aren't exactly great at the other.
Childers' strength is finding speed with the racecar itself, and his suspension won't affect that in any negative way.
The margin between betting Harvick or Busch is razor thin, but I'm taking Harvick and Childers to notch their second championship together.
Westgate is offering Harvick at +200, but there are other shops at +250, which is the price I'm snagging.
The bet: Harvick to win the championship (+250)
This article was originally posted on ActionNetwork.com by PJ Walsh. Sports Insights is part of The Action Network.