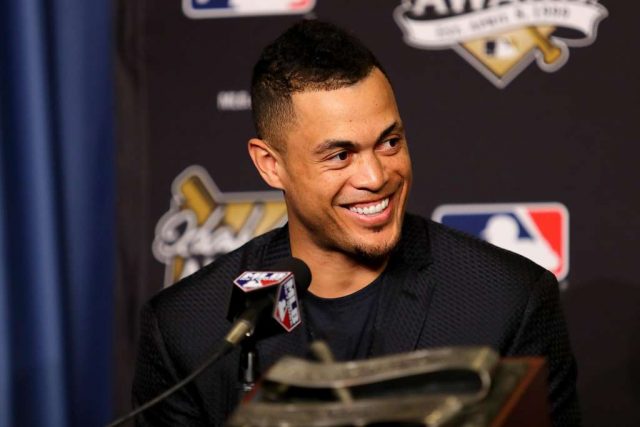 Which Team Will Land Giancarlo Stanton?
Ah, at last. I've been waiting for these Giancarlo Stanton trade odds for weeks. Somebody finally had the gumption to post them, and that somebody is a Mr. Bovada.
| Team | 11/22 (Bovada) | 11/21 (Bovada) |
| --- | --- | --- |
| Giants | -150 | -250 |
| Cardinals | +250 | +250 |
| Red Sox | +700 | +750 |
| Dodgers | +800 | +1200 |
| Yankees | +1600 | +1400 |
| Phillies | +1600 | +1400 |
| Field | +1400 | +1200 |
The latest rumors have all involved the Giants and Cardinals. One supposed deal has him going to San Fran, but I don't think their return will be enough. Two of their top three prospects, Shaw and Beede, would be involved, but neither are even in the top 100 at MLB.com. The Giants just don't have the farm system to get this done unless they want to take on a ton of money. Even Giants' beat writer Henry Schulman thinks the potential deal has its flaws.
Here's what I mean. Going back to alleged package. If #sfgiants took on all Stanton and Gordon money, Panik + Shaw + Beede would be a terrible overpay by Evans. If #marlins we're to eat $60 million, those three players wouldn't be nearly enough.

— Henry Schulman (@hankschulman) November 21, 2017
And also, why are they doing this? Do the Giants think adding Stanton will make them 30 wins better? They are coming off a year in which they finished tied for last in the MLB with 64 wins…give me a break.
The Cardinals have also supposedly submitted a formal trade offer for the slugger. They have a couple of high end pitching prospects that are essentially MLB ready in Alex Reyes and Jack Flaherty, as well as numerous other young position players. They have plenty of chips, but nobody really knows what Derek Jeter and the Marlins are looking for at this point.
My Boston Red Sox (yes, they're mine) are third on the list, but with substantially worse odds at +750. They'd probably have to trade one of their two young stars in Andrew Benintendi or Rafael Devers, but they have the big market ability to take on essentially the whole contract, which should call for less of a return. Their once thriving farm system is all but depleted at this point due to Dave Dombrowski's other trades so they'd basically have no choice but to part ways with young MLB talent.
I'm surprised the Dodgers aren't higher up on the list. They take on huge contracts left and right and have plenty of prospects to get the deal done. Not only that, but Stanton hails from LA! He wants to go there and I imagine the Dodgers would want him on their team. The boys in blue are going to be even hungrier for that World Series title and Stanton's power would bring them a lot closer to getting one.
Check back as hot stove season heats up.