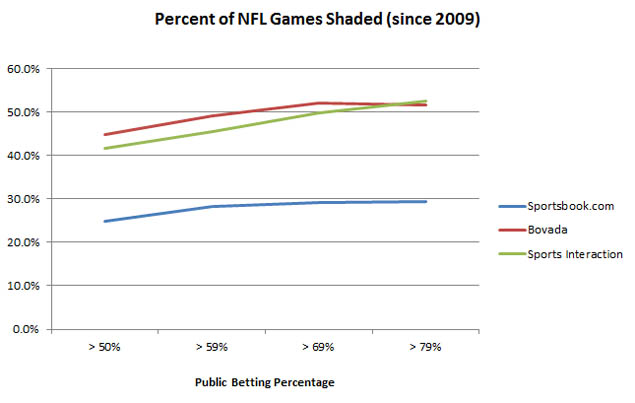 Use Sportsbook Shading to Win More this NFL Season
Sportsbooks regularly "shade" lines in anticipation of overwhelming public action on one side of an NFL matchup. For example, the Texans will travel to San Diego to take on the Chargers in Week 1 of the 2013-14 NFL season. At the time of publication, the Texans are receiving 74% of spread bets as 3-point favorites at market-setting sportsbooks like CRIS, The Greek and 5Dimes.
Because the public is heavily taking Houston, Sports Interaction (SIA), which is known as a book that caters to public bettors (as opposed to sharp or professional bettors) has shaded the Texans to -3.5, instead of the -3 that is currently the market consensus.
As noted in our NFL Betting and Key Numbers article, 15.39% of NFL games (since 2003) end with a margin of victory of 3 points. Therefore, all NFL bettors who like San Diego should take advantage of the shading and make sure to get this game at +3.5.
It's easy to understand that getting an underdog at +3.5 or even +3 with reduced juice, while most market-setting books are offering +3 (-110), will improve your winning percentage and units won. As a result, we analyzed three of the most "public" sportsbooks (Bovada, Sportsbook.com and Sports Interaction) to see how often each book shades their NFL lines.
To do this, we defined shading as a line that was 5 cents or more off our Consensus Line.
We also included our NFL betting trends data to determine if there was a correlation between public betting and sportsbooks shading their lines. The tables below display the results since the start of the 2009 NFL season.
| SPORTSBOOK | PUBLIC BETTING | % OF GAMES SHADED |
| --- | --- | --- |
| Sportsbook.com | > 50% | 24.9% |
| Sportsbook.com | > 59% | 28.3% |
| Sportsbook.com | > 69% | 29.2% |
| Sportsbook.com | > 79% | 29.4% |
Of the three books we analyzed, Sportsbook.com shaded their NFL lines less often than the other two. However, we did start to see a slight correlation between public betting and the frequency of line shading.
| SPORTSBOOK | PUBLIC BETTING | % OF GAMES SHADED |
| --- | --- | --- |
| Bovada | > 50% | 44.8% |
| Bovada | > 59% | 49.0% |
| Bovada | > 69% | 52.0% |
| Bovada | > 79% | 51.6% |
Compared to Sportsbook.com, we found that Bovada shaded their NFL lines much more frequently and saw a more drastic correlation between public betting trends and the number of NFL games with lines shaded off the market consensus.
| SPORTSBOOK | PUBLIC BETTING | % OF GAMES SHADED |
| --- | --- | --- |
| Sports Interaction | > 50% | 41.6% |
| Sports Interaction | > 59% | 45.4% |
| Sports Interaction | > 69% | 49.7% |
| Sports Interaction | > 79% | 52.4% |
While Bovada, in general, shaded most often, Sports Interaction saw the most drastic increase in shading, culminating with a whopping 52.4% of NFL games shaded off the market consensus when public betting is greater than 79% on one team.
Conclusion
There are sportsbooks across the market that shade NFL lines, oftentimes to offset one-sided public betting. While the three books we identified do offer shaded lines and extra value for sharp NFL bettors, we're not recommending that bettors run out and create accounts at each of the three.
Our goal is to illustrate that shading offers different pricing across the sports betting marketplace and to encourage NFL bettors to take advantage of the value it creates to win more this season.
Want to take advantage of sportsbook shading this season? Try our Pro Membership now!

Join us live Sundays at noon ET
We're now holding our members-only live Sports Betting Hangouts Sunday mornings to prepare you for a full day of NFL games. Members, simply log into your account Sunday morning to access the hangout.
Not a member? Start a trial today to join our Sports Betting Hangouts held six days a week, plus all the other Sportsbook Insider Pro benefits.