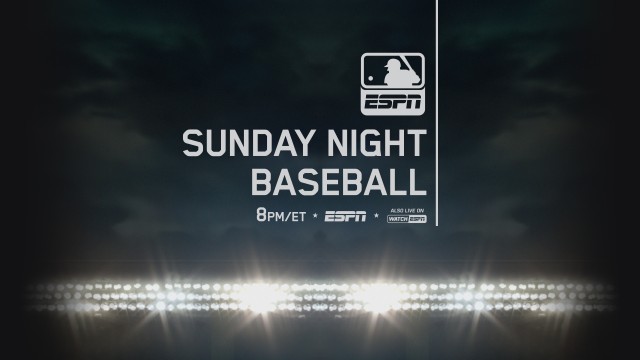 Sunday Night Baseball Betting Trends
One of the little known secrets in the sports betting world is that betting against the public is actually a better strategy in nationally televised games. Square bettors are prone to betting these games for one simple reason — they plan on watching the game and they want some sort of vested interest. This leads to an influx of public money, which typically leads to an artificially inflated line.
As you can see from the table below, the return on investment (ROI) of our contrarian betting strategy continues to improve as we look at increasingly lop-sided bet games.
| Public Betting | Record | Units Won | ROI |
| --- | --- | --- | --- |
| <50% | 121-130 | +13.13 | 5.2% |
| <40% | 68-68 | +18.64 | 13.7% |
| <30% | 26-26 | +11.37 | 21.9% |
| <25% | 13-11 | +8.87 | 37.0% |
It's also interesting to see that although underdogs have historically offered baseball bettors superior value, favorites (150-108, +2.16 units won) have had the edge on Sunday night's. Small favorites (less than -120) have been particularly profitable with a 46-22 record (+19.32 units won, 28.4% ROI).
We were also able to create a very basic contrarian betting system for Sunday Night action. Typically when a team is receiving less than 40% of moneyline bets, sportsbooks will adjust their lines to encourage action on the other side. However, if the line gets worse it typically means that smart money, or large wagers made by single individuals or betting syndicates, has come in on that team. This reverse line movement is one of the best sharp money indicators.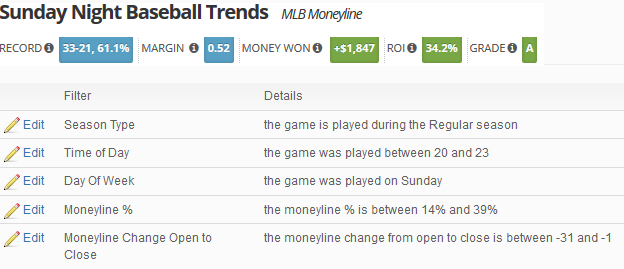 These trends are not limited to moneyline betting, as we've noticed significant contrarian value on Sunday Night Baseball totals. Since 2005, totals receiving less than 50% of bets have gone 130-109 for +15.55 units won and a 6.5% ROI. That includes a record of 29-21 (+8.85 units) on the over and a record of 101-88 (+6.70 units) on the under.
In the past we have also discussed the value of taking the under on high totals and the over on low totals, and this basic trend continues to be profitable as well. When the over/under is at least 9.5, the under has gone 41-24 (+14.85 units won). Conversely, when the total is 9 or less the over has gone 98-83 (+13.22 units won).
Our free MLB odds page offers lines from a number of prominent sportsbooks in addition to our public betting trends, so make sure to check back for any current game matches.

Have any questions for the staff at Sports Insights? Utilize our live chat to speak with a customer service representative or e-mail us at help@sportsinsights.com.
David Solar is the Content Manager for Sports Insights and can be reached directly at David@sportsinsights.com.