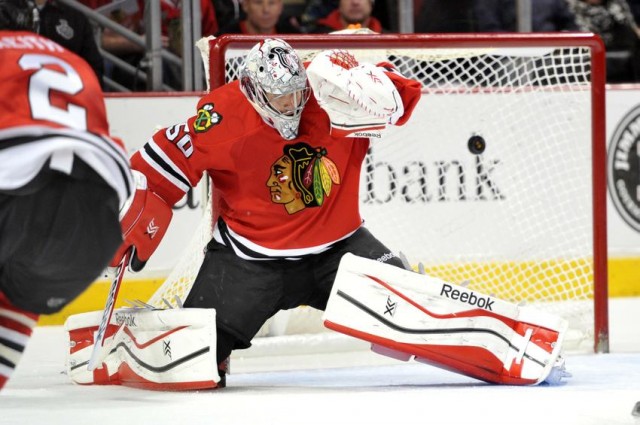 How Do Starting Goalies Affect NHL Lines?
With just one game remaining in the season, the Chicago Blackhawks (46-20-15, 107 points) already have the 5-seed locked up in the Western Conference playoffs and have very little to play for. Similarly, the Nashville Predators (36-32-12, 84 points) have nothing to play for as they have already been eliminated from playoff contention. In games in which neither team has much incentive to win, it's always interesting to see how oddsmakers adjust their lines.
According to our NHL Betting Trends, the Blackhawks opened as -125 favorites as the market setting CRIS sportsbook and are currently receiving just 43% of moneyline bets. Typically this type of split public betting will result in limited line movement, however, we have seen significant changes with the Predators now listed as -120 favorites.
The line chart below, which is available to our Sportsbook Insider customers, displays the line movement for this game since opening at CRIS.

In fact, the reason for this dramatic change is quite simple: goaltending. Oddsmakers could not have predicted whether the starting goalies would both play in this game. Both teams feature All-Star caliber net-minders, however, at 12:43 PM eastern we sent out the following injury alert:
#NHL #Blackhawks – Corey Crawford, Rest – is not expected to start Saturday (4/12) at Nashville

— SportsInsights.com (@SportsInsights) April 12, 2014
This season Crawford has been stupendous, posting a 32-16-10 record with a paltry 2.26 goals against average. His absence, along with news that Predators G Pekka Rinne (9-10-3, 2.66 GAA) would start in goal for Nashville, moved the line 20 cents in just over an hour.
Sportsbook Insider customers have access to full line histories from over 50 different sportsbooks, real-time odds and breaking injury alerts, so make sure to try our software today with our 4-day Pro trial.