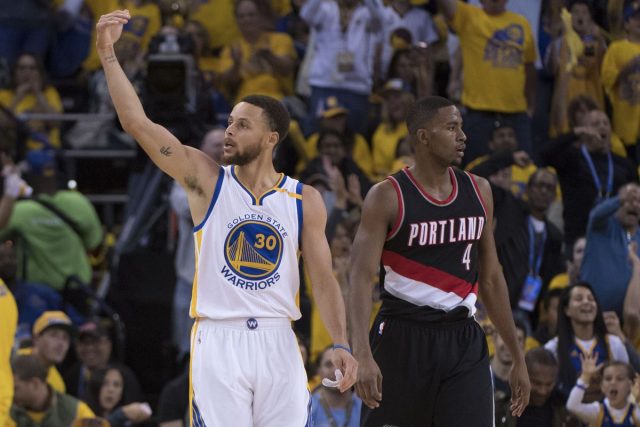 Sharps and Squares Hammering the Warriors in Game 4
Even without several key pieces, the Golden State Warriors (70-15 SU, 43-40 ATS) will attempt to finish off their four-game sweep against the Portland Trail Blazers (41-44 SU. 41-44 ATS) tonight at the Moda Center. Head coach Steve Kerr is out indefinitely due to lingering issues from last year's back surgery and Kevin Durant is listed as questionable after missing the past two games with a calf injury, but that hasn't stopped bettors from hammering the Warriors.
After opening as 6.5-point road favorites at the market-setting Bookmaker sportsbook, the Warriors have received 71% of spread tickets and 82% of spread dollars. The screenshot below, which is available to Sportsbook Insider subscribers, displays the ticket percentage at our contributing sportsbooks.
[click image below to enlarge]

As you can see, the Warriors have received the majority the spread tickets at all seven of our contributing offshore sportsbooks despite Kevin Durant's potential absence. That's hardly surprising considering that Golden State has received the majority of spread tickets in 81 of 85 games this season. In addition to this one-sided public betting on the spread, bettors have also been taking Golden State (opened -255) to win straight up. According to our public betting trends, the Warriors have received 68% of moneyline tickets and 71% of moneyline dollars.
With bettors pounding the chalk on both the spread and moneyline, Bookmaker has adjusted the Warriors from -6.5 to -7.5 on the spread and -255 to -335 on the moneyline. While it may seem like public money is responsible for this line movement, it's actually a combination of sharp and square money.
[click image below to enlarge]

Less than an hour after Bookmaker posted their opening line, there was a CRIS steam move triggered on Golden State which caused the line to move from Warriors -6.5 to -7. The CRIS steam move has gone 158-138 ATS (53.4%) on the season and 2,728-2,508 ATS (52.1%) since it's introduction back in 2007. For anybody who's unfamiliar, CRIS takes high limits and caters to professional bettors, which typically leads to very profitable bet signals. They are one of the most well-respected offshore sportsbooks and actually acquired Bookmaker back in 2012.
Nearly eight hours after sharp money caused that half-point line move, Blazers center Jusef Nurkic was ruled out due to a leg injury. Since being acquired from the Denver Nuggets, the 7-footer from Bosnia has averaged 15.2 points, 10.4 rebounds, 3.2 assists and 1.9 blocks per game. This injury announcement caused another half-point line move, with Golden State moving from -7 to -7.5.
For more information on this line movement, I spoke with Scott Cooley, a spokesman from Bookmaker. "[The] line movements were sharp pushes, and now [we have] decent liability because of where the public is as well." When asked about Durant's injury, Cooley stated that there's "not much public hindrance to back Golden State sans Durant," and "they still look like the best team in the league with or without him." Cooley also stated that the Warriors would likely move another point from -7.5 to -8.5 if Durant plays, however, they aren't expecting him to play this evening.
It's interesting to note that Golden State actually received 67% of spread tickets in Game 3 on Saturday, but the line dropped from Warriors -6.5 to -4.5. Nurkic started for the Blazers in that game, but the Warriors were without Matt Barnes, Shaun Livington and Durant. Bettors can view the latest updates by visiting our free NBA injury page.
[click image below to enlarge]

Considering that the Warriors have been winning without Durant and already boast a 3-0 series lead, it seems unlikely that the 8-time All-Star will play this evening. If Durant does play, the Warriors will likely move from -7.5 to -8.5. If Durant is officially ruled out, they may tick down a half-point from -7.5 to -7. For what it's worth, playoff teams leading the series 3-0 have gone 26-21 ATS (55.3%) since 2005.
Although Bookmaker moved from Golden State -7 to -7.5 late on Sunday afternoon, no other offshore sportsbooks have moved from Golden State -7. This highlights the importance of having access to multiple books and always shopping for the best line.
Sportsbook Insider Pro subscribers also have access to real-time odds, public betting trends, money percentages, bet signals (including steam moves and reverse line movement alerts), injury alerts, value meter, line watcher, line predictor, and many other unique features. Looking to try our service? Sign up now for a 4-day trial and start winning today!
Have any questions for the staff at Sports Insights? Make sure to utilize our live chat or call us directly at 877-838-2853.