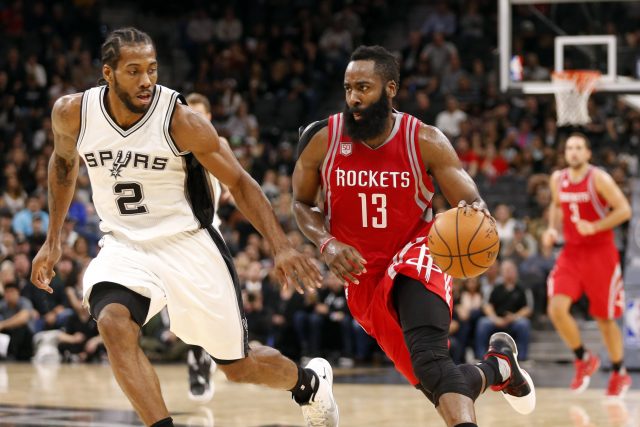 Sharp Money on the Spurs-Rockets Total
Facing elimination, the Houston Rockets (48-44 ATS overall, 20-26 ATS at home) will look to even their series with the San Antonio Spurs (47-47 ATS overall, 24-19 ATS on the road) to force a decisive Game 7 showdown. The Spurs are riding high after their impressive overtime victory in Game 6, but closing out this series won't be easy.
With Tony Parker sidelined for the remainder of the playoffs due to a ruptured left quad, Kawhi Leonard exited Game 6 with a right ankle injury. Although he's listed as probable tonight, it's tough to imagine the Spurs star will be playing at 100% this evening. Perhaps this explains why the Spurs are larger underdogs tonight than they were the last time they played in Houston.
The Rockets opened as 6.5-point favorites at Bookmaker, but public betting has been evenly split. Although the line fluctuated earlier in the day when there was more uncertainty about Leonard's availability, the line has settled back at Houston -6.5.
[click image below to enlarge]

Leonard, who's worth roughly 4-points to the spread, has already stated that he will play this evening. If Leonard is held out at the last moment, this line will quickly plummet. "If Leonard doesn't play, the line will jump to -9 and would likely close higher," according to Scott Cooley, a spokesman from Bookmaker.
With roughly 50% of spread tickets on both sides, limited line movement, and uncertainty about Leonard's status, sharp bettors have been avoiding the spread. However, there are several indicators that sharp money has been hammering the under.
Tonight's total opened 215 at Bookmaker and, as usual, the majority of bettors are taking the over. At the time of publication, 73% of tickets and 86% of dollars had taken the over. Despite this one-sided public betting, the total had actually dropped from 215 to 214. That reverse line movement indicates that sharp money on the under has been responsible for this one-point move.
[click image below to enlarge]

As you can see, sharp money on the under caused the total to drop as low as 211.5 before settling in at 214. That assessment was validated by Cooley, who stated there's "pretty good sharp money on the under. [Sharps] aren't involved with the side yet, and the public is fairly split."
It's worth noting that the under has historically provided additional value in these type of elimination games, as the defensive intensity is ramped up and the pace is often slowed down. Over the past twelve seasons, the under has gone 64-45 (58.7%) in Game 6 and 23-16 (59.0%) in Game 7.
NBA playoff unders (since '05)

Game 1-5: 458-450 (50.4%)
Game 6-7: 87-61 (58.8%)

— David Solar (@TheDavidSolar) May 10, 2017
It will be interesting to see whether oddsmakers adjust the spread when there's an official announcement made about Leonard's status, or whether this influx of public money on the over causes the total to rise again. Many sportsbooks are still hanging the total at 215, so make sure to shop for the best line if you're planning to follow this sharp money on the under.
Sportsbook Insider Pro subscribers also have access to real-time odds, public betting trends, money percentages, bet signals (including steam moves and reverse line movement alerts), injury alerts, value meter, line watcher, line predictor, and many other unique features. Looking to try our service? Sign up now for a 4-day trial and start winning today!
Have any questions for the staff at Sports Insights? Make sure to utilize our live chat or call us directly at 877-838-2853.