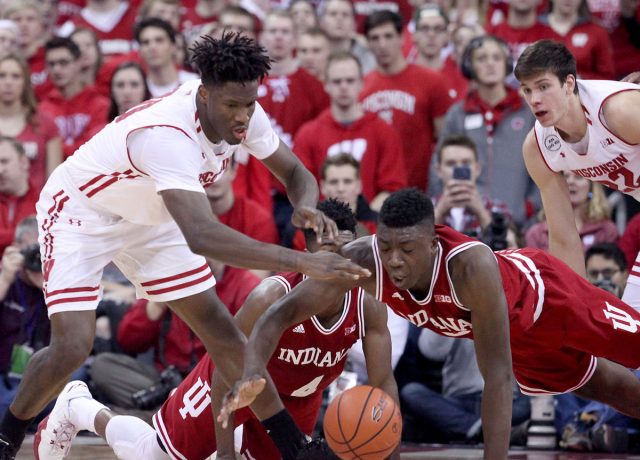 Sharp Money Moving Indiana-Wisconsin Line
In the quarterfinals of the Big Ten Tournament, the 2-seed Wisconsin Badgers (23-8 SU, 13-15 ATS) opened as 3.5-point favorites at Pinnacle against the 10-seed Indiana Hoosiers (18-14 SU, 14-14 ATS). Although the Badgers have already wrapped up a berth in the NCAA Tournament, the Hoosiers are viewed as a bubble team that desperately need another quality win to improve their resume.
This is an interesting situation where a majority of the early tickets (55%) have taken Indiana, but most of the early money (57%) has taken Wisconsin. With the majority of spread dollars taking the chalk, Wisconsin has moved from -3.5 to -5 at Pinnacle.
This type of split between spread tickets and spread dollars is usually indicative of sharp money, especially when the line movement corresponds with our public betting trends. Although more spread bettors have taken Indiana, large wagers (presumably placed by sharp bettors) have taken Wisconsin to cause this 1.5-point line movement. Large wagers aren't always placed by sharp bettors, but it's usually a strong indicator.
[click image below to enlarge]

As you can see from the line chart above, there was a smart money alert triggered on Wisconsin at 10:22 AM eastern which caused the line to move from -3.5 to -4. At 11:20 AM eastern, there was a steam move triggered on Wisconsin which caused the line to move from -4 to -5. Both of these alerts indicate that sharp money has been responsible for moving the line.
In addition to this split between the ticket percentage and money percentages, our newly added Sharp Action Report confirms our earlier observation. This feature, which is available to Sportsbook Insider Premium and Pro subscribers, allows members to quickly view which side the sharp money's on and which games are the most lopsided in terms of both tickets and money.
[click image below to enlarge]

We can also glean some valuable information by taking a look at the moneyline percentages for this matchup. In games with smaller spreads, casual bettors are increasingly willing to take the favorite on the spread and underdog on the moneyline in order to get plus-money. That pattern has been evident in early betting, with 62% of moneyline tickets and 69% of moneyline dollars taking Indiana.
Interested in checking out our new money percentages and line charts for the every college basketball game? Sign up now for a 4-day trial of Sportsbook Insider Pro. In addition to the features shown in this post, subscribers also have access to our entire suite of live odds, public betting data, and in-house Best Bet picks.
Have any questions for the staff at Sports Insights? Make sure to utilize our live chat or call us directly at 877-838-2853.