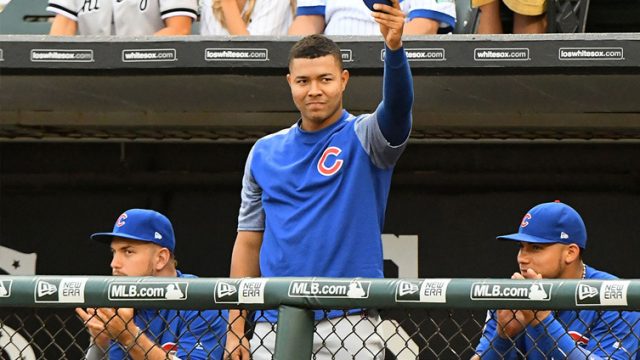 Reverse Line Movement on Cubbies in Crucial Game 3
We have a pivotal NLDS game three this afternoon at Wrigley. With the series tied at a game a piece, the Nationals turn to their ace Max Scherzer, while the Cubs are tossing their midseason acquisition Jose Quintana.
At Pinnacle, Washington opened at -125, with the Cubs a +115 home underdog. During the regular season, the Cubs were home dogs exactly zero times. Last year, they were home dogs twice during the regular season (once against Scherzer) and twice during the postseason (both against Clayton Kershaw). They ended up going 3-1 in those games.
Although the Cubs are getting just 35% of bets, the line is moving in their direction. Much of this movement is a result of a reverse line move triggered at Pinnacle this morning.

They went from +112 to +104 following the move, with Washington moving from -121 to -113.
This action on the Cubs could be due to Scherzer's health, as he is likely not 100%. He was forced to leave his final regular season start on September 30th with a hamstring injury—typically not a quick heal. Since Scherzer returned to the National League in 2015, the Cubs have gone 1-3 against him. If he can't go deep into the game, the Cubs could feast upon the Nationals' bullpen, which improved in the second half of the season, but is still the team's weak spot.
Quintana has never faced the Nats in his career and has only faced three hitters on the roster: Matt Wieters, Howie Kendrick, and Adam Lind. He could be in for a rude awakening against the murderer's row of Trea Turner, Bryce Harper, Anthony Rendon, Daniel Murphy, and Ryan Zimmerman.
Right now, total bets are split 50/50, but money is favoring the under.

After opening at 7.5, this line appears to be on the verge of dropping to seven. The weather is expected to be very nice, with clear skies, temps in the low 70s, and a slight breeze blowing in from right field.
Keep track of the lines by checking our free MLB odds page and stay up-to-date on all gambling news by following us on Twitter @SportsInsights.