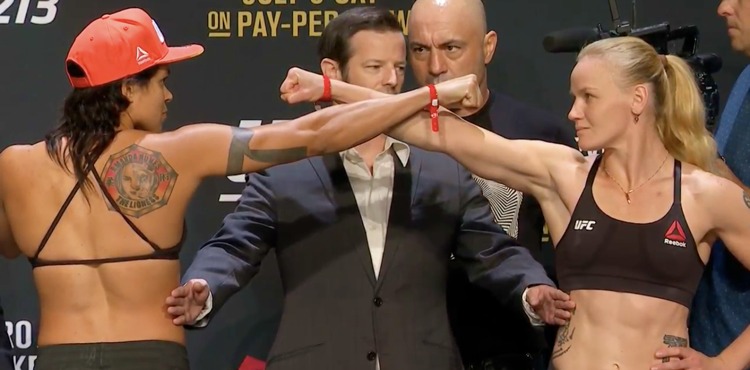 Public Support on the Dogs at UFC 215
Edmonton, Alberta is the site for UFC 215 and public bettors are hoping for a slew of upsets there on Saturday night. The main card includes Demetrious Johnson vs. Ray Borg (Men's Flyweight) and Amanda Nunes vs. Valentina Shevchenko (Women's Bantamweight).
Johnson opened as a big favorite vs. Borg around the market: -750 at 5Dimes, -860 at Pinnacle and -900 at Bookmaker. Those odds have moved above -1000 and as high as -1250 at some books. There's been plenty of public support for Borg though, garnering 40% of betting tickets and 62% of money. However, it's clearer some of the sharper dollars like Johnson to take care of business with the steady movement on his side.

**September 8th Update: Johnson/Borg has been cancelled, Nunes/Shevchenko will be the main event
There are a couple of fights with huge support on the underdogs: Neil Magny (77%) vs. Rafael Dos Anjos, and Luis Henrique (92%) vs. Arjan Bhullar. Again though, we've seen movement on the favorites Dos Anjos and Bhullar in both of those matchups. There are also a few fights with pretty strong support on lofty underdogs (Glenn 49%, Johnson 50%, and Moras 50%), and all three have moved toward the favorite.
There are only a few considerable favorites (McMann, White, and Cejudo) getting the bulk of public bets and the line has moved toward all three. There's been line movement toward the favorite in 9 of the 12 fights including all the big favorites. This weekend will be a great test of public bettors on the underdogs vs. sharper bettors on the favorites, similar to Mayweather vs. McGregor.
For Nunes vs. Shevchenko, there's a bit of drama added to the fight after Nunes had to withdraw late from their scheduled fight at UFC 213 due to medical reasons. Dana White came out and said she was medically cleared, thus furthering the controversy around her decision. Public bettors do seem to be getting cold feet betting on the underdog in this one, as Nunes has gone from a pick 'em to +110. Not a huge move by any means, especially since 64% of tickets like Shevchenko. Nunes will have a chance to prove her critics and the majority of bettors wrong, but expect plenty more line movement leading up to the fight.
Premium and Pro members can track all the latest odds, betting percentages, ticket counts and more for every fight.
You can also follow us on Twitter (@SportsInsights) for the latest updates around the market for all sports. Are you on the public's side this weekend at UFC 215, or will favorites reign?