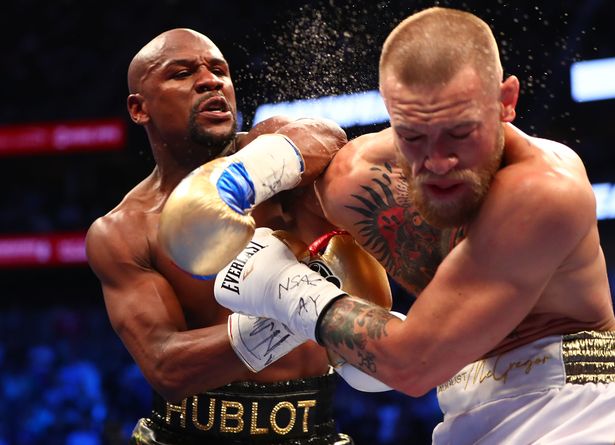 Mayweather Provides Big Win For Sportsbooks
Depending on who you ask, Mayweather-McGregor lived up to the hype as McGregor held his own early on and Mayweather eventually won. McGregor even won the opening round although his odds of winning ANY round on a judges scorecard was just -141 before the fight. But Mayweather wore him down and earned a 10th round TKO, an outcome that pleased many sportsbooks. Mayweather was winning the fight at the time on the scorecard: 87-83, 89-82, 89-81.
McGregor finished with 111 punches landed out of 430 (26%). Mayweather finshed with 170 punches landed out of 320 (53%)
Mayweather closed anywhere from -420 at Pinnacle to -495 at 5Dimes. He was even lower at Bovada all weekend around -375 and closing -350. Public wagers were all over McGregor while sharper money kept coming in on Mayweather.
Some say the fight was good for boxing, some say it makes boxing look terrible– either way, a LOT of people were interested and invested in the fight in some capacity. Even Mayweather himself has a history of of betting large amounts of money, but on this occasion he was denied:
Floyd Mayweather tried to bet $400,000 in cash on Under 9.5 rounds, but was denied. https://t.co/RxstF7obHD

— David Payne Purdum (@DavidPurdum) August 27, 2017
There were at least 7 wagers around the Nevada market at $1M or higher including South Point, William Hill and Wynn. By comparison, there was only 1 wager of that size for the Super Bowl. At Westgate, Mayweather closed with less than 15% of betting tickets but 85% of the money wagered, and it was likely their biggest fight win ever. At CG Technology, Mayweather's TKO produced a high six-figure win for the house. At MGM, it was their biggest boxing win ever, similar to a Super Bowl. William Hill's 5 most popular bets (Mayweather by decision, then McGregor in rds 1,2,3 and 4) were all wins for the house.
The offshore market also took record handle. BetOnline would have suffered their biggest loss in history if McGregor had won. At Bovada, the fight was the single most wagered-on event in their history. Since they cater to square and public bettors and took tons of McGregor action, they're probably pretty happy this morning.
Finally, here's a look at how some notable prop bets were graded. Many of the exotics were pushes as Justin Bieber and Lil Wayne were not seen in the walkouts:
Fight goes distance +260
Fight won't go distance -320
Mayweather wins inside distance -164
Not Mayweather inside distance +144
Either fighter has a point deducted +175
No penalty point taken in fight -245
Either fighter knocked down or out -385
No knockdowns or knockouts +265
McGregor lands a punch in round 1 -900
McGregor no punches landed in round 1 +500
McGregor punches landed over 29½ -115
McGregor punches landed under 29½ -125
Mayweather punches landed over 110½ -160
Mayweather punches landed under 110½ +120
And for the questions people are now asking:
Any boxing/MMA rematch occurs before 1/1/2019 +445
No boxing/MMA rematch before 1/1/2019 -735
Boxing rematch occurs before 1/1/2019 +480
No boxing rematch before 1/1/2019 -840