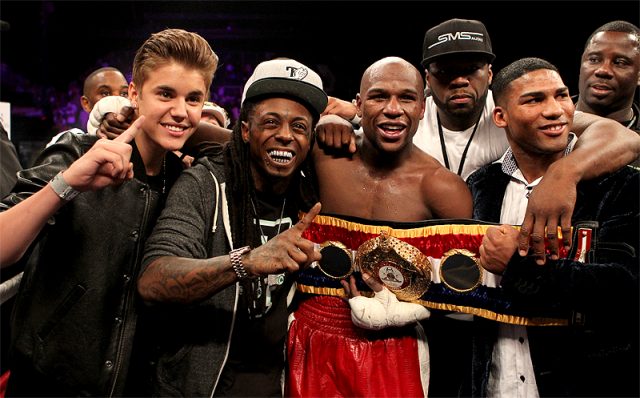 Our Favorite Mayweather McGregor Prop Bets
As with every major event, the Mayweather McGregor fight has plenty of props. These range from basic props like method or round of victory to crazy props on whether or not Justin Bieber will carry Mayweather's belts during the walk out.
While some of these props won't get much action, others will have sportsbooks nervous.
McGregor winning in RD 1 (+2000) already the biggest exposure of any prop in history of BetOnline. Would be bigger loss than any 2017 MLB gm

— Dave Mason (@DaveMasonBOL) August 21, 2017
BetOnline will be sweating out the first few minutes praying that McGregor doesn't land a haymaker. That particular prop has gone from 50/1 to 20/1 since opening. Regarding BetOnline's props, according to Mason, "Just like the fight, almost everything associated with McGregor is a liability. EVERYTHING associated with Mayweather a profit for the house."
Betting on props is not exactly a science, but sometimes it's worth having a little fun and throwing a few bucks down. Here are the favorite props from the Sports Insights staff.
Cosmo: Will McGregor land a kick on Mayweather? Yes+ 3000 (5Dimes)
I'm going to go for a longshot for this fight because I think just about anything could happen. With McGregor coming from a UFC background, he may accidentally toss that leg out and make contact with Mayweather. I don't think he's going to try anything crazy (don't quote me on that), but the sportsbooks won't be grading this prop on intent. 30/1 seems like great value on something that isn't that far-fetched.
Dan Fabrizio- President: Will a point be deducted from either fighter? Yes: +210 (BetOnline)
"I'm betting Yes +210 that a point will be deducted from either fighter. There is a good chance McGregor head butts or does something reckless if he's losing the fight."
Josh Appelbaum- Customer Service Manager: Mayweather by TKO/KO/DQ -155 and Mayweather by decision +250 (BetOnline)
"This is the ultimate Pros vs Joes matchup. Square bettors are hammering McGregor because of the tempting plus money payout, but the sharps are all over Mayweather. The play is Mayweather, but how should you bet him? Instead of laying -500 or more to win straight up, sprinkle a half unit on two prop bets: Mayweather by TKO, KO or DQ (-155) and Mayweather by decision (+250). I expect the first to cash. If it doesn't and McGregor puts up a fight, you'll earn a plus-money payout on Mayweather winning by decision."
Dan McGuire- Operations Manager: Will Lil Wayne wear a shirt during the walkout with Floyd Mayweather? Yes: -180 (BetOnline)
"Might as well pick a ridiculous prop bet for a ridiculous sporting event, right? I'm taking the 'Yes' at -180 odds on Wayne wearing a shirt before the fight, and I feel like it's a nice contrarian pick. A simple search on Twitter suggests everyone thinks that the 'No' is easy money as an underdog. In the past, Wayne has come out with Mayweather's entourage both shirted and shirtless, but I have an inkling he comes out wearing something crazy this time in order to promote something."
John Ewing- Director of Analytics at Bet Labs:  What Will there be more of? Total runs in the Mariners vs Yankees game on Aug 26th or Completed Rounds in the Fight: -115 (Bovada)
"Dating back to 2015, the Yankees and Mariners have played each other 15 times. On average, the teams have totaled 6.9 runs per game. Mayweather's fights are boring and have gone the distance each time since 2012. The most likely result is the fight goes the distance (+200), which would be 12 rounds. Bet completed rounds in the fight, earlier in the week you could have gotten even money on the prop, now its -115."
Jason Awad- Marketing Coordinator: Will Nate Diaz walk out with Floyd Mayweather? Yes: +115 (Bovada)
"It's definitely been entertaining watching McGregor trying to get into Floyd's head at every press conference, but if I see Nate Diaz alongside Floyd out of that tunnel then that itself is an awesome power move. I'd have to say yes only because I know Diaz can be that petty."
Mike Marsh- Sports Information Specialist: Will there be a point deducted? Yes +210 (BetOnline)
"One of the prop bets growing in popularity is Mayweather winning the fight by disqualified opponent (+800). The logic is that McGregor will resort to his UFC instincts and either try to kick or take down Mayweather out of frustration. Although I wouldn't bet on that happening, I would take a gamble on there being a point deducted (+210) for a low-blow, an elbow, or a punch to the back of the head or neck."
Follow us on Twitter @SportsInsights so you stay up to date on the fight of the century.