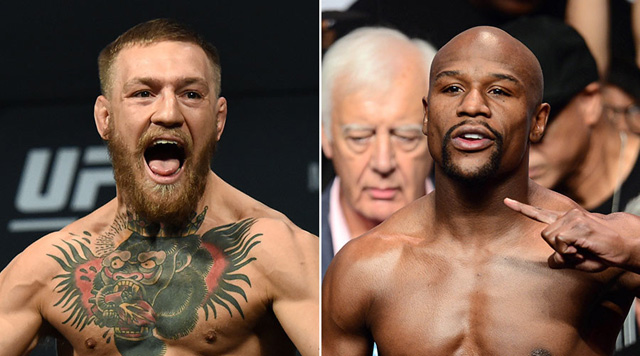 Floyd Mayweather vs. Conor McGregor Prop Bets
With what could be the most hyped fight in history (recent history, at least) just a couple of months away, sportsbooks are beginning to add more ways for bettors to give them money.
Since Floyd "Money" Mayweather Jr. is such a sizable favorite, some bettors may shy away from putting money down on the fight. Conor McGregor will provide a great payout if he wins, but casual bettors don't need to risk much on him to make it worth their while.
There has already been a large amount of bets placed on McGregor for this very reason. According to David Payne Purdum of ESPN, over 95% of the early bets at Caesar's Palace in Las Vegas were on the dog. Westgate Superbook was seeing similar action, however, much larger bets were being placed on Mayweather.
If you don't want to follow the squares and take McGregor on the moneyline or don't have the large bankroll to make a bet on Mayweather, some of these prop bets from around the market may interest you.
Round props- Bovada

As you can see, Mayweather by decision is EASILY the favorite out of this group. Mayweather is known for his agility and endurance and if any of you watched his bout against Manny Pacquiao a couple of years back, you know that he has no problem making the fight "boring" if it gets him the victory.
Total Rounds – Bookmaker
One of the sharper offshore sportsbooks, BetDSI has set the over/under for this fight at 9.5 rounds with -168 juice on the under. Bettors have jumped on the opportunity to get plus money on the over, with 56.7% of early tickets taking the over.
Method of victory props- Bovada

If you want to bet on Mayweather to win, but not lay -600 or higher to do so, you should consider taking one of these props. The favorite of this bunch is Mayweather by unanimous decision at +200, but Mayweather by TKO (+275) and Mayweather by knockout (+300) aren't too far behind.
Knockdown props – Paddy Power
The notorious prop kings at Paddy Power have provided plenty to bet on, including these different knockdown props. They clearly feel that this bout will be one of finesse rather than power, as under 1.5 knockdowns is only around a -200 payout.
Entertainment props- BetOnline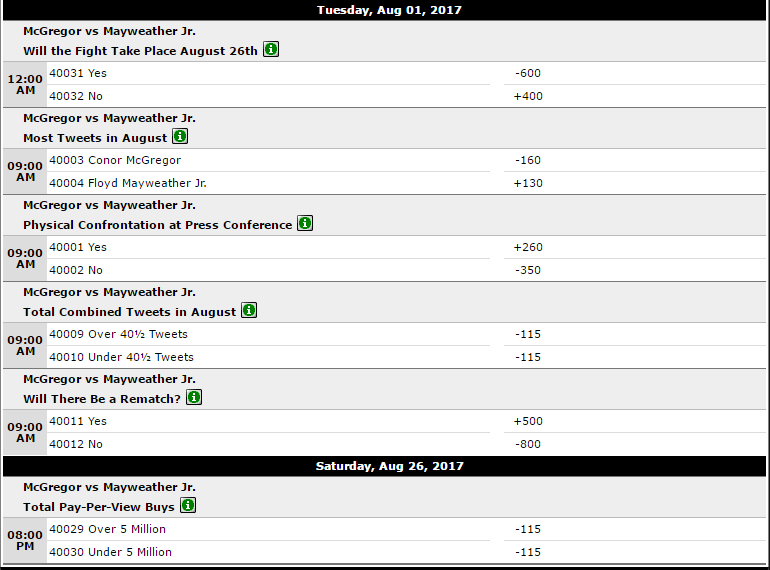 Under BetOnline's entertainment section, you can find these props regarding tweets, PPV buys, and even whether or not they will start beef at the press conference. I wonder if they considered putting the odds for the fight under the entertainment section too…
Props – BetDSI ($250 limits)
Will Conor McGregor do the Billionaire Strut during his walkout? Yes -225, No +165
Times McGregor brings up Mayweather's domestic assault on social media before August 26: Over 1.5 (-185), Under 1.5 (+155)
Conor McGregor Punch Accuracy Percentage: Over/Under 15%
Floyd Mayweather's Punch Accuracy Percentage: Over/Under 35%
Will Conor McGregor Fight MMA in 2017? Yes -105, No -125
Will McGregor and Mayweather touch gloves before the fight? Yes -225, No +165
Will there be punches thrown at the weigh in? Yes +105, No -135
Will the fight be canceled before the day of the fight? Yes +350, No -550
Will either fighter test positive for performance enhancing drugs? Yes +300, No -1100
Will the WBC award the "Diamond Belt" to the winner? Yes -300, No +210
Will McGregor get knocked down during the fight? Yes -350, No +250
Will Mayweather get knocked down during the fight? Yes +475, -800
Total punches thrown by McGregor: Over/Under 180
Total punches thrown by Mayweather: Over/Under 300
Total punches landed by McGregor: Over/Under 20
Total punches landed by Mayweather: Over/Under 100
Will McGregor get DQ'ed? Yes +400, No -60
Miscellaneous- MyBookie
Will either fighter be warned for a low blow? Yes +140, No -200
Will either corner throw in the towel? Yes +335, No -585
Miscellaneous- BetOnline
1st Round Knockdown or KO: Yes +400, No -600
First to bleed: Mayweather +340, McGregor -475
Will Justin Bieber carry Mayweather's belts? Yes +150, No -180
Will Justin Bieber wear sunglasses during the walkout? Yes -205, No +165
Will Lil Wayne wear a shirt during the walkout? Yes -200, No +160
Will Mayweather wear a TMT hat during walkout? Yes -400, No +300
Will Nate Diaz walk out with Mayweather? Yes +115, No -145
Miscellaneous – Paddy Power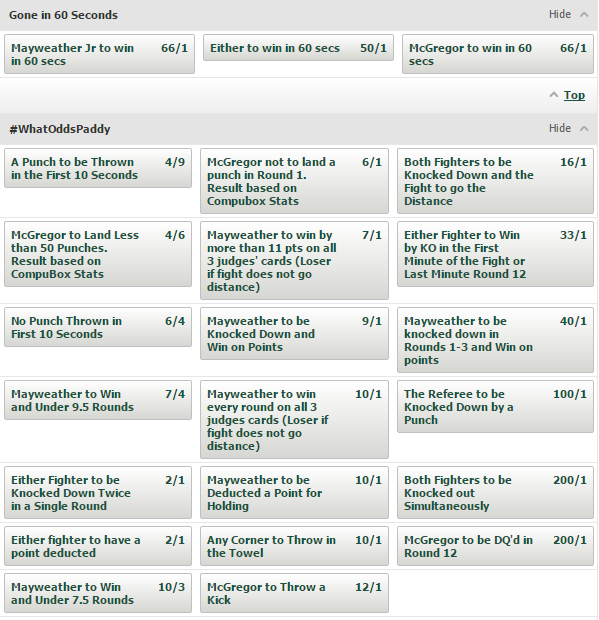 You didn't think we were done with Paddy Power, did you? Here are some of the more silly props that they are famous for coming up with. As far as I know, boxers get knocked out simultaneously all the time…I'm not sure why the odds aren't even for that one.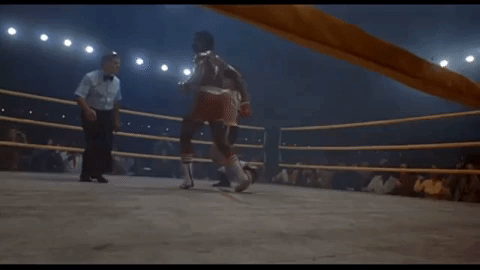 Be sure to follow us on Twitter @SportsInsights and check back for any updates as we inch closer to the fight.