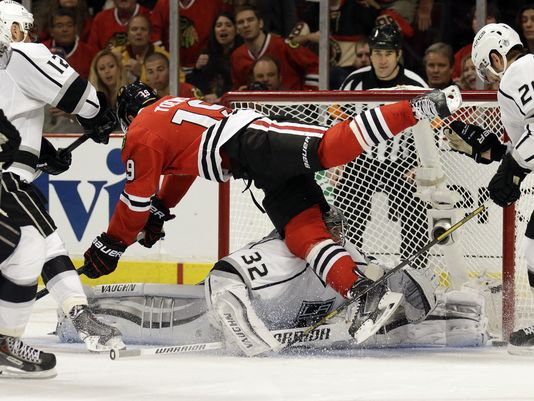 NHL Playoffs: Game 7 Betting Trends
The NHL playoffs are one of the most exciting events on the sports calendar and there is yet another Game 7 on the horizon, as the Chicago Blackhawks will look to complete their comeback from a 3-1 series deficit against the Los Angeles Kings.
Using our Bet Labs software, we researched the top trends for NHL bettors in Game Seven's shown below:
| Filter | Record | Units Won | ROI |
| --- | --- | --- | --- |
| Visitors | 19-17 | +10.32 | 28.7% |
| Underdogs | 17-19 | +6.49 | 18% |
| Faves in Previous Game | 21-15 | +6.21 | 17.2% |
| Won Previous Game | 20-16 | +9.10 | 25.3% |
Since 2005, visitors have actually had the slight edge winning 19 of the 36 Game Sevens. The winner of Game 6 has also had the edge in Game 7, winning 20 of the 36 games for +9.1 units.
There's also an added perception that in these must-win games for both teams, referees put their whistles down and let the players play. This should make for fewer called penalties and tighter games, which essentially should lead to less scoring. But does that theory hold true?  According to Nate Silver of FiveThirtyEight.com, in Game 7 officials call penalties at a rate of nearly half the regular season.  We then checked our historical data using Bet Labs and found this to be consistent with fewer goals; in 36 Game Sevens since 2005, the "Under" has hit 18 times, "Over" just 12 times, and 6 pushes.
While these trends are for all teams in Game Sevens, it's hard to ignore Chicago's success late in a series:
Since 2009, #Blackhawks are 33-32 in Games 1 through 4 of a playoff series, but are 23-4 in Games 5 through 7, including 13 straight wins.

— Bet Labs Software (@Bet_Labs) May 31, 2014
— Bet Labs Software (@Bet_Labs) May 31, 2014
Los Angeles is also an impressive 3-0 in Game Sevens since last season, including two wins in this postseason alone. They've also comeback from a three games to none series deficit to San Jose back in April. At that point the Kings were barely alive at +10,000 to win the Stanley Cup, and you can see how the future odds have changed over the course of the season.
Want to create your own winning betting systems for the NHL playoffs? Make sure to try our 6-day Bet Labs trial for just $25 and start winning today!
[adrotate group="3″]