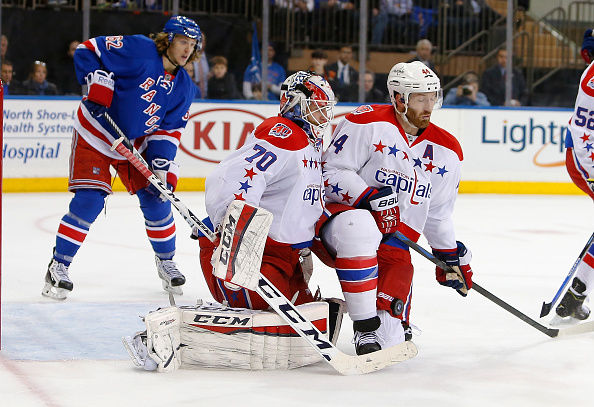 NHL Game 7 Historical Betting Trends
We haven't seen much lopsided betting in Game 7's in recent years, with only 1 team getting 30% or fewer of bets (1 out of 41 total games, just 2%). To put that in perspective, more than 1 in 5 playoff games (22.86%) sees at least a 70/30 split in terms of betting percentages. Bettors don't seem to flock to one side in Game 7's which makes sense– each team won 3 games in the series and could certainly be deemed a "toss-up" by the final game.
Dating back to the 2006 playoffs, we've found that road teams have had some pretty good success in Game 7's. Below shows some historical betting trends for these games using our Bet Labs software:
| Filter | Record | Units Won |
| --- | --- | --- |
| Visitors | 21-20 | +9.75 |
| Underdogs | 19-22 | +5.92 |
| Favored in Previous Game | 24-17 | +7.21 |
| Won Previous Game | 22-19 | +7.84 |
The Rangers are currently -170 over the Capitals for Wednesday's Game 7 but it won't be a shock if it's close. New York has played in 13 straight playoff games decided by 1-goal, an NHL Playoffs record. We also highlighted the referee factor during last year's playoffs and it's definitely worth revisiting. From our post in 2014:
"There's also an added perception that in these must-win games for both teams, referees put their whistles down and let the players play. This should make for fewer called penalties and tighter games, which essentially should lead to less scoring. But does that theory hold true?  According to Nate Silver of FiveThirtyEight.com, in Game 7 officials call penalties at a rate of nearly half the regular season."
The numbers do seem to support this theory. Since 2006, the Under has gone 20-14-7 in Game 7's for an 11% ROI (going under the total by an average of 0.3 goals per game). Oddsmakers have been setting totals at 5 but this year's Caps-Rangers game is currently at 4.5, which is definitely a smart adjustment by sportsbooks.
The half-goal in a tight game could be very meaningful, so be sure to check out the latest odds and trends at our Free Live Odds page.