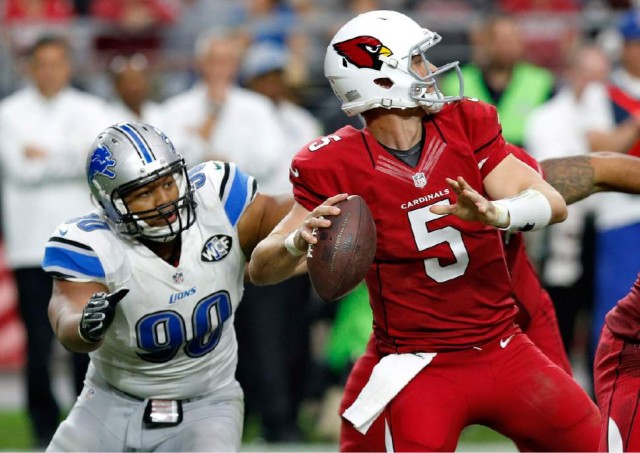 NFL Week 11 Betting Recap
– Underdogs went 10-4 ATS in Week 11 moving their season record to 78-79 ATS. Home teams went 8-6 ATS in week 10 and are now 78-76 ATS on the year. It was also a nice week for contrarian betting with teams receiving less than 50% of spread bets posting a 9-5 ATS record.
– Fading teams following a win of at least 7-points has gone 55-42 ATS (+10.76 units, 11.1% ROI) this season. Fading teams following a win of at least 14-points has gone 37-25 ATS (+11.03 units, 17.8% ROI) this season.
– Texans QB Ryan Mallett, who had just 4 career passing attempts entering the weekend, got his first career start Sunday against the Browns. Bovada set the over/under on his passing yards at 210.5 and Mallett barely went over with 211 yards.
– Most popular Week 11 parlays/teasers:
Broncos 91%

Packers 80%

Chargers 79%

Patriots 79%
– Most popular Week 11 teams
Broncos -8 | 82% of spread bets
Packers -4.5 | 78% of spread bets
Bears -3 | 73% of spread bets
Saints -8.5 | 72% of spread bets
Most bet NFL games: 1. Eagles-Packers 2. Patriots-Colts 3. Broncos-Rams

— SportsInsights.com (@SportsInsights) November 16, 2014
– The Patriots/Colts total closed at 59 — the highest O/U of the 2014 season – Overs are now 11-7 when the total closes above 56 since 2003.
– A team with a 75% win percentage or higher has never received less than 32% of spread bets this late in the season. The Eagles (+4.5) received just 22% of spread bets this weekend against the Packers but lost 53-20.
– The Broncos (+8), who were easily the most popular team among bettors this week, lost to the Rams 22-7. St. Louis closed at +325 on the moneyline.
– Since '03, Peyton Manning is 40-40 ATS in domed stadiums, 54-27 ATS in all other venues. (DEN -10 on the road in St Louis and did not cover, lost outright) 
NFL Futures risers after Week 11: Packers +700 to +450 Patriots +625 to +450 Chiefs +2800 to +1600 Cardinals +1400 to +1200 — SportsInsights.com (@SportsInsights) November 17, 2014
NFL Futures fallers after Week 11: Broncos +300 to +500 Seahawks +750 to +1600 Colts +1200 to +2000 Eagles +1400 to +2200

— SportsInsights.com (@SportsInsights) November 17, 2014
– Since last week the odds of Aaron Rodgers winning the 2014 MVP Award have moved from +350 to -110 — leapfrogging Peyton Manning in the process. Oddly, Tom Brady has dropped from +400 to +1200 despite his team's impressive victory over the Colts on Sunday night. – Current MVP odds at Sportsbook.com:
Aaron Rodgers -110
Peyton Manning +300
DeMarco Murray +1000
Andrew Luck +1200
Tom Brady +1200
JJ Watt +2500
Jamaal Charles +2500
Ben Roethlisberger +5000
Jordy Nelson +5000
Marshawn Lynch +5000
Rob Gronkowski +5000
Antonio Brown +10000
Demaryius Thomas +10000
Dez Bryant +10000
Russell Wilson +10000
Tony Romo +10000
NFL Futures (5Dimes) #Packers +450 #Patriots +490 #Broncos +550 #Cardinals +1200 #Chiefs +1550 #49ers +1650 #Seahawks +1800 #Cowboys +2000

— SportsInsights.com (@SportsInsights) November 18, 2014
– The Patriots have better odds of winning the Super Bowl than the Broncos; however, the most likely Super Bowl matchup does not feature New England. Here are the most likely Super Bowl matchups at 5Dimes:
Broncos/Packers +879
Patriots/Packers +909
Broncos/Cardinals +1890
Patriots/Cardinals +1950
Broncos/Seahawks +2230
Patriots/Seahawks +2300
Broncos/49ers +2575
Patriots/49ers +2675
Chiefs/Packers +2900
Colts/Packers +3200
– NFL Week 12 opening lines at Pinnacle versus preseason lines:
Kansas City Chiefs (-6 | -4) at Oakland Raiders
Jacksonville Jaguars at Indianapolis Colts (-13.5 | -12)
Cincinnati Bengals at Houston Texans (-2| pick 'em)
Tampa Bay Buccaneers at Chicago Bears (-5.5| -6)
New York Jets at Buffalo Bills (-4 | -2.5)
Cleveland Browns at Atlanta Falcons (-3 | -7)
Green Bay Packers (-10 | -4.5) at Minnesota Vikings
Tennessee Titans at Philadelphia Eagles (-11 | -7)
Detroit Lions at New England Patriots (-6.5| -6)
St. Louis Rams at San Diego Chargers (-6.5 | -4)
Arizona Cardinals at Seattle Seahawks (-7 | -10.5)
Washington Redskins at San Francisco 49ers (-8 | -8.5)
Miami Dolphins at Denver Broncos (-7.5 | -10)
Dallas Cowboys at New York Giants (-3 | -2.5)
Baltimore Ravens at New Orleans Saints (-3.5 | -6.5)
– You can view the latest odds and public betting trends on our free NFL odds page.
– Key Week 12 Injuries:
Broncos RB Montee Ball, Groin, Out
Broncos WR Emmanuel Sanders, Concussion, Questionable
Broncos TE Julius Thomas, Ankle, Questionable
Lions WR Calvin Johnson, Elbow, Probable
Lions RB Reggie Bush, Ankle, Probable
Bills RB Fred Jackson, Groin, Probable
Browns WR Josh Gordon, Disciplinary, Probable
Texans RB Arian Foster, Groin, Questionable
Bengals RB Giovani Bernard, Hip, Questionable
– For the latest news and injury updates, make sure to visit our free NFL injury page.
– Earlier this season we wrote an article for ESPN which detailed why NFL bettors should take small NFL road dogs on the moneyline instead of the spread. The system detailed in the piece boasts a 14-13 record this season with +11.75 units won and a 44% ROI.
– Yesterday we updated an article which projects win totals for every NFL team. The Cardinals are the only team who have already settled their season win total by going over 7.5 wins. The New Orleans Saints would need to win out to push their preseason projection, while any other outcome would results in an under.
– This season our NFL Best Bets have gone 28-23 ATS (+2.74 units) while our College Football Best Bets have gone 58-43 ATS (+9.66 units). Receive these plays along with real-time odds from 40+ sportsbooks, public betting trends from 7 contributing sportsbooks and much more by signing up for a 4-day trial of Sportsbook Insider Pro.
– Have any questions for the staff at Sports Insights? Utilize our live chat to speak with a customer service representative or e-mail us at help@sportsinsights.com.
[adrotate group="4″]
Join us live Sundays at noon ET
We're now holding our members-only live Sports Betting Hangouts Sunday mornings to prepare you for a full day of NFL games. Members, simply log into your account Sunday morning to access the hangout.
Not a member? Start a trial today to join our Sports Betting Hangouts held six days a week, plus all the other Sportsbook Insider Pro benefits.