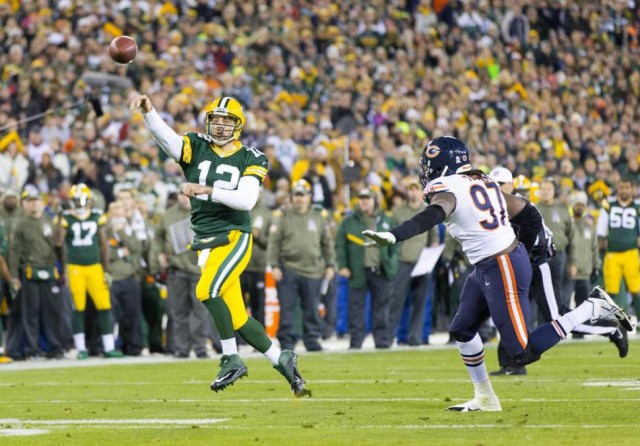 NFL Week 10 Betting Recap
– The Bengals loss on the Browns on Thursday night dropped their record to 6-14 ATS in night games since 2003. Oddly enough, they boast an incredible 19-6 ATS record when playing at 4 PM Eastern Time.
– With their victory over the Rams on Sunday, the Arizona Cardinals (8-1) became the first team to clinch a season win total, going over their total.
– Yesterday we posted an article in which we recalculated our NFL win total projections based on the results to date.
– Teams getting 25% or fewer of teaser bets are 43-18 (70.5%) on the tease. Prior to this past week, teams getting 75% or more of teaser bets were 35-24 (59.3%).
– Odds on highest scoring team (via Sportsbook.com): DEN +400, GB +450, NO +750, SEA +750, BAL +1000, PIT +1000, DAL +1000, ARZ +1200, ATL +1500, DET +1500, CHI +1800, SF +2000, TB +2000, KC +2000, NYJ +2000, MIA +2500, BUF +3000, OAK +5000, STL+10000, NYG +10000, TEN +15000. The Packers (+450) scored 55 points against Chicago to lead all teams in Week 10 scoring.
– Most popular Week 10 parlays/teasers:
Denver 93%
Pittsburgh 88%
Green Bay 87%
– Most popular bets this weekend:
Broncos -13 | 85% of spread bets
Steelers -4.5 | 79% of spread bets
Cowboys -7.5 | 74% of spread bets
Falcons -3.5 | 72% of spread bets
– Favorites went 9-4 ATS in Week 10 moving their season record to 75-68. Home teams went 7-5 ATS in week 10 and are now 70-70 ATS on the year. It was also a terrible week for contrarian betting with teams receiving less than 50% of spread bets posting a 3-10 ATS record.
– The over went 7-6 in Week 10 and is now 78-68 on the year. Also noteworthy is that no over has received less than 40% of public bets all season.
– Each week former Caesars oddsmaker Todd Fuhrman tweets out the teams being pounded by sharp money and the teams being hammered by the less-informed public. This week the Pros went 1-4 ATS while the Joes went 2-1 ATS.
PROS: #Jaguars +7.5, #Bills PK/+1, #Jets +4.5/+4, #Rams +7, #Giants +10/+9.5 JOES: #Steelers, #Broncos, #Packers

— Todd Fuhrman (@ToddFuhrman) November 9, 2014
Most bet NFL games: 1. Steelers-Jets 2. Broncos-Raiders 3. 49ers-Saints 4. Bears-Packers — SportsInsights.com (@SportsInsights) November 9, 2014
– The Jets upset the Steelers on Sunday, but Michael Vick is still just 42-50 ATS as a starter.
The #Jets winning a game seems shocking, but they closed with a higher probability to win today (35.7%) than the #49ers (33.9%). — SportsInsights.com (@SportsInsights) November 9, 2014
– It was a great weekend for square bettors but an awful weekend for sportsbooks:
"Yesterday was the most profitable single day for BetOnline players in the history of the company" @DaveMasonBOL on Sunday's #NFL aftermath — Todd Fuhrman (@ToddFuhrman) November 10, 2014
– NFL teams that saw their playoff chances improve the most this week:
Chiefs +17.1 to 68%
49ers +10.1 to 37%
Ravens +8.6 to 51.1%
  – NFL teams that saw their playoff chances decrease the most yesterday:
Steelers -15.3 to 57%
Bills -8.8 to 10.9%
Dolphins -8.7 to 38.3%
– MVP odds movement since last week at Sportsbook.com:
Peyton Manning +220 to +200
Aaron Rodgers +500 to +350
Tom Brady +400 (unchanged)
Andrew Luck +700 to +600

DeMarco Murray +1000 to +1500

Ben Roethlisberger +800 to +2500
Russell Wilson +2500 (unchanged)

Rob Gronkowski N/A to +4000

Drew Brees +2500 to +5000
Philip Rivers +5000 (unchanged)
NFL Futures at 5Dimes: Broncos +350 Packers +725 Patriots +750 Seahawks +840 Colts +1400 Eagles +1500 Cardinals +1800 Lions & 49ers +1900 — SportsInsights.com (@SportsInsights) November 11, 2014
– Most likely Super Bowl matchups via 5Dimes:
Denver Broncos vs. Seattle Seahawks +985
Denver Broncos vs. Green Bay Packers +1050
New England Patriots vs. Seattle Seahawks +1755
New England Patriots vs. Green Bay Packers +1865
Denver Broncos vs. Arizona Cardinals +1995
Denver Broncos vs. Philadelphia Eagles +1995
Denver Broncos vs. San Francisco 49ers +2260
Denver Broncos vs. Detroit Lions +2525
Denver Broncos vs. Dallas Cowboys +2775
Denver Broncos vs. New Orleans Saints +2775
– Just days after signing a 3-year extension worth $50 million, Cardinals QB Carson Palmer suffered a season ending knee injury and will be replaced by Drew Stanton. Other key injuries for Week 11 include:
Texans RB Arian Foster, Groin, Probable
Bears WR Brandon Marshall, Ankle, Probable
Lions RB Reggie Bush, Ankle, Questionable
Broncos RB Montee Ball, Groin, Probable
Panthers DE Charles Johnson, Arm, Questionable
49ers LB Patrick Willis, Toe, Questionable
49ers DE Aldon Smith, Disciplinary, Probable
Bengals RB Giovani Bernard, Hip, Questionable
Browns TE Jordan Cameron, Concussion, Questionable
– For the latest news and injury updates, make sure to visit our free NFL injury page.
– NFL Week 11 opening lines at Pinnacle versus preseason lines:
Buffalo Bills at Miami Dolphins (-5 | -3.5)
Minnesota Vikings at Chicago Bears (-3 | -7)
Atlanta Falcons at Carolina Panthers (pick 'em | -4)
Houston Texans at Cleveland Browns (-3 | -1.5)
Tampa Bay Buccaneers at Washington Redskins (-7 | -2.5)
Denver Broncos (-9 | -4.5) at St. Louis Rams
San Francisco 49ers (-3 | -3) at New York Giants
Cincinnati Bengals at New Orleans Saints (-6 | -4)
Seattle Seahawks (pick 'em | -2.5) at Kansas City Chiefs
Philadelphia Eagles at Green Bay Packers (-4 | -4.5)
Oakland Raiders at San Diego Chargers (-10 | -8)
Detroit Lions at Arizona Cardinals (-2.5 | -2.5)
New England Patriots at Indianapolis Colts (-2.5 | -1)
Pittsburgh Steelers (-5 | -2) at Tennessee Titans
– You can view the latest odds and public betting trends on our free NFL odds page,
– This season our NFL Best Bets have gone 27-20 ATS (+4.84 units) while our College Football Best Bets have gone 55-40 ATS (+9.94 units). Receive these plays along with real-time odds from 40+ sportsbooks, public betting trends from 7 contributing sportsbooks and much more by signing up for a 4-day trial of Sportsbook Insider Pro.
– Have any questions for the staff at Sports Insights? Utilize our live chat to speak with a customer service representative or e-mail us at help@sportsinsights.com.
[adrotate group="4″]
Join us live Sundays at noon ET
We're now holding our members-only live Sports Betting Hangouts Sunday mornings to prepare you for a full day of NFL games. Members, simply log into your account Sunday morning to access the hangout.
Not a member? Start a trial today to join our Sports Betting Hangouts held six days a week, plus all the other Sportsbook Insider Pro benefits.