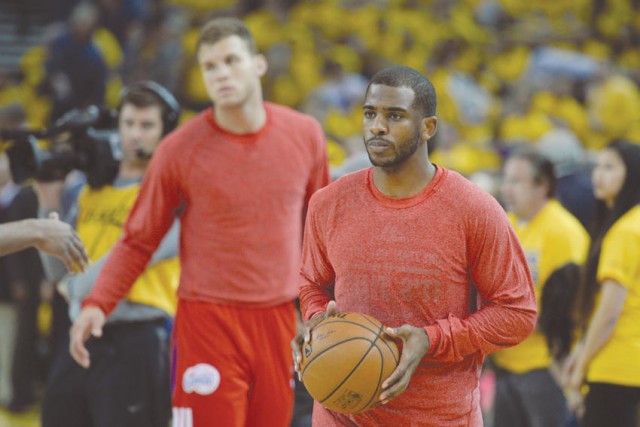 NBA Playoff Betting Trends: Golden State Warriors at Los Angeles Clippers
On Saturday, TMZ released audio of a phone call between Los Angeles Clippers owner Donald Sterling and his girlfriend which featured a number of racist statements. This is not the first controversy for the the longtime Clippers owner, but it would appear that it may be the last.
Prior to Sunday's 118-97 blowout loss, the Clippers silently protested their owner by wearing their warm-ups inside out in order to avoid displaying the team's logo. This afternoon, Commissioner Adam Silver held a press conference to announce that Donald Sterling has been banned for life from any association with the Clippers organization or the NBA. In addition, Sterling was fined the league-maximum $2.5 million.
The response from fans and analysts across the twittersphere were overwhelmingly positive, highlighted by the statements made by Magic Johnson — who was one of the central figures in this controversy.
Commissioner Silver showed great leadership in banning LA Clippers owner Donald Sterling for life.

— Earvin Magic Johnson (@MagicJohnson) April 29, 2014
Former and current NBA players are very happy and satisfied with Commissioner Silver's ruling. — Earvin Magic Johnson (@MagicJohnson) April 29, 2014
According to our NBA betting trends, the Clippers opened as 6.5-point favorites at the market-setting Pinnacle sportsbook and were receiving just 31% of spread bets at the time of publication. This lopsided public betting moved the line to -5.5, but since Adam Silver's historic announcement there has been a clear shift in momentum.
At 2:21 PM ET — roughly five minutes into Commissioner Silver's press conference — we tweeted out the following:
Following the news of Sterling's lifetime banishment, the #Clippers have moved from -5.5 to -6.5 vs the #Warriors tonight.

— SportsInsights.com (@SportsInsights) April 29, 2014
Since then, the line has continued to move and the Clippers are now 7-point favorites across the sports betting marketplace. This action appears largely due to public perception since the Clippers are currently receiving 40% of spread bets.
The table below displays the public betting trends from our seven contributing sportsbooks:

We are always advising customers to buy on bad news and sell on good, and this may represent a unique opportunity to take the Clippers while their value is at a low point. The Clippers fit a number of our systems including the Zig-Zag Theory, a contrarian NBA playoff system with a 22.7% ROI, and a system focusing on teams coming off blowouts.
If you have any questions or would like assistance with your account, please contact our customer service department at 877-838-2853, e-mail us at help@sportsinsights.com, or utilize our live chat to speak directly with a representative.
[adrotate group="4″]