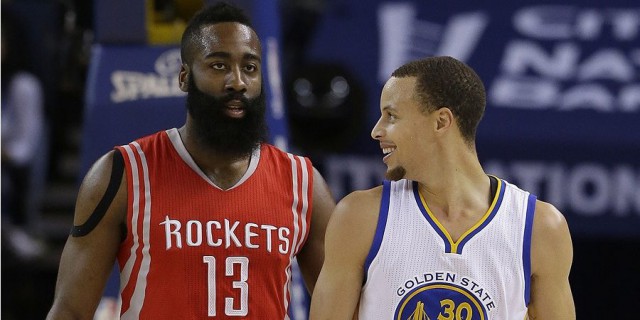 NBA Game of the Week: Golden State Warriors at Houston Rockets
The Golden State Warriors may be without their star player this evening when they face off against the Houston Rockets. After missing Game 2 with an ankle injury, Stephen Curry is considered doubtful for tonight's showdown at the Toyota Center.
[ Find out how many points Stephen Curry is worth to the spread ]
Although he's officially listed as questionable on the injury report, most indications point to Curry sitting out. At Wednesday's practice Curry said that, "Based on how I feel right now, I probably couldn't play…but (Thursday) it could be different."
In addition to that statement, the early line movement indicates that oddsmakers don't believe that Curry will be active.
The Warriors opened as 6-point favorites at the market-setting Bookmaker sportsbook and have received 86% of spread bets. That overwhelmingly lop-sided public betting would make Golden State the most popular pick in our historical database.
The screenshot below, which is available to Sportsbook Insider subscribers, shows the breakdown of our seven contributing sportsbooks.

Since 2005, only four playoff teams have received at least 80% of spread bets — all of whom have failed to cover the spread:
Boston Celtics (-8) at Atlanta Hawks: April 26, 2008 — BOS received 81%
Detroit Pistons (-4.5) at Orlando Magic: April 28, 2007 — DET received 80%
Miami Heat (-3.5) at Brooklyn Nets: April 28. 2005 — MIA received 80%
Phoenix Suns (-8) vs. Memphis Grizzlies: April 27, 2005 — PHX received 81%
That trend fits well into our contrarian philosophy, which shows that there's been excellent value betting against the public. Using our Bet Labs software, we found that home teams receiving no more than 40% of spread bets have gone 139-110 ATS (55.8%) with +22.22 units won during the NBA Playoffs.
Perhaps more interesting than this contrarian value is the line movement and our newly added money percentages. Even though the Warriors are receiving 86% of spread bets, the Rockets are receiving 73% of total dollars wagered. That indicates that the sharps are hammering Houston while squares are pounding Golden State. In other words, this is the perfect example of Pros vs. Joes.
The sharp action on Houston along with the injury update regarding Stephen Curry has been felt across the sports betting marketplace. Despite receiving just 14% of spread bets, the Rockets have dropped from +6 to +5 at Bookmaker. This reverse line movement is another excellent indicator that sharp money likes the home 'dog in this matchup.
The line graph below displays how public betting has affected the line at CRIS.

We wanted to know whether offshore sportsbooks were seeing similar action on this game, so we reached out to Scott Cooley — an Odds Consultant for Bookmaker.eu. He validated our public betting trends by saying, "The public sees opportunity in a short number with the Warriors and they're backing them with a plethora of tickets. They love the fact that Golden State won without Curry in Game 2. The wiseguys see the value with Houston in a must-win situation, and this is the first time they've really showed up in considerable fashion for this series."
We stress the important of buying low/selling high, and this could be the optimal time to fade the red-hot Warriors.
In addition to these sharp money indicators, we also have a highly profitable Bet Labs system triggered on this game. Since adding our money percentages several months ago, we theorized that teams being ignored by most bettors but receiving a majority of total dollars wagered would be highly profitable. Although we're still dealing with a small sample size, the early returns are encouraging.
During the college basketball season, teams receiving less than 35% of tickets and more than 50% of the money went 30-20 ATS (58.8%) with +7.46 units won. In the NBA, teams fitting these criteria have gone 19-11 ATS (63.3%) with +6.93 units won. The Rockets are a current match for tonight's game, which once again indicates that they could be undervalued.
In regards to the over/under, we have seen some similarly profitable trends. The total opened at 217 at Bookmaker and, at the time of publication, 60% of bettors were taking the over. Despite this public support, the total had dropped from 217 to 215. This reverse line movement is a strong indicator that there's value on the under.
There have also been steam move triggered on Under 218 at CRIS. This season, the CRIS over/under steam move has gone 262-226 (53.7%) with +5.9 units won. This further indicates that sharp money has taken the under, however, there are two things to consider:
Part of this line movement coincides with Stephen Curry being downgraded to doubtful.
Some of this value has already been sucked out with the move from 217 to 215.
These numbers are subject to change before tip-off, so bettors should be sure to visit our free NBA odds page for the latest lines, injuries, public betting trends and more. We also would like to stress that the only picks we fully endorse are our Best Bets, which are available exclusively to Pro members.
Have any questions for the staff at Sports Insights? Utilize our live chat to speak with a customer service representative or e-mail us at help@sportsinsights.com.