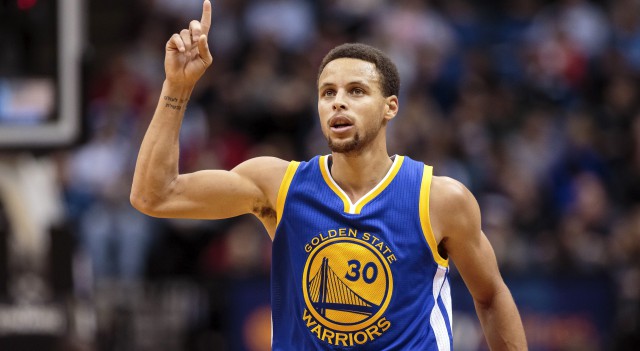 How Many Points is Stephen Curry Worth to the Spread?
It's not very often that the NBA's reigning MVP is able to surpass his previous season's performance, but that's exactly what Stephen Curry has done. The 28-year old guard posted career highs in points (30.1 ppg), rebounds (5.4 rpg) and steals (2.1 spg) while joining the exclusive 50-40-90 club. Curry also knocked down 402 three-pointers which shattered the previous record of 286 — which he set last season.
This incredible performance helped guide the Golden State Warriors to the most regular season wins in league history, and Curry is poised to become the first unanimous MVP in league history. The Warriors are currently listed at -168 to repeat as champions at Bookmaker, but a recent injury may derail their title aspirations.
In the second quarter of Golden State's Game 1 victory over the Houston Rockets, Curry twisted his ankle while he was running back on defense. After attempting to return, Curry was pulled from the game by head coach Steve Kerr. Despite the absence of their star player, the Warriors ultimately won 104-78.
When the injury report was first released, Curry was listed as questionable for Game 2; however, most analysts believed that the league's leading scorer would be able to play. The Warriors opened as 12.5-point favorites and received 77% of early spread bets, which caused the line to tick up to -13.5 across the sports betting marketplace.
As time progressed and there were no announcements made regarding Curry's status, the line to dipped back to -12 where it sat for several hours. Just over an hour before the game started, it became clear that Curry was unlikely to suit up for Game 2.
#NBA #Warriors – Stephen Curry, Ankle – is downgraded to doubtful Monday (4/18) vs. Houston

— Sports Insights (@SportsInsights) April 19, 2016
Within five minutes of this tweet, the Warriors had moved from -12 to -10. Once Curry was officially ruled out, the line again plummeted from -10 to -8.5.
The screenshot below, which is available to all Sportsbook Insider subscribers, displays the consensus line history for the hours leading up to tip-off.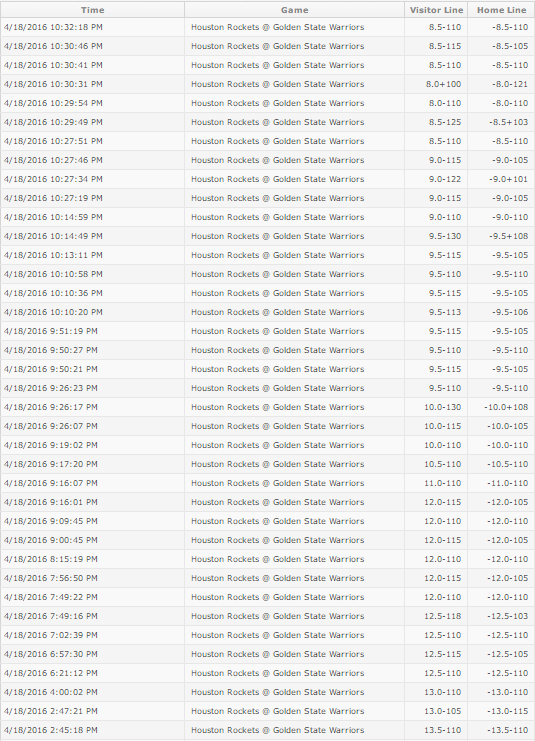 Essentially, public money caused the Warriors to move from -12.5 to -13.5 before it became obvious that Curry wouldn't play and the line plummeted to -8.5. Although some bettors may point to the five point swing from -13.5 to -8.5, that's not the most accurate way to evaluate Curry's value to the spread.
One-sided public betting was responsible for the move from Golden State -12.5 to -13.5, not sharp action. That means that the line was artificially inflated based on public perception. To truly evaluate Curry's value, bettors should look no farther than the four point move between the opening line and closing line.
We wanted to find out whether this was the best metric to determine Stephen Curry's value to the spread, so we reached out to one of the market-setting offshore sportsbooks.
"Our shop places Curry's value to a point spread at 3-4 points, depending on the opponent," says Scott Cooley, Odds Consultant for Bookmaker.eu. That figure matched up well with the Game 2 line movement, but we wanted to know whether the reigning MVP was equally valuable for bettors.
"[Curry] is not worth the most points in the league as that designation still belongs to the King. We'd put LeBron's value at 5-6 points, depending on the opponent. The reason being is that James brings a broader asset range than Curry given his rebounding and defensive acumen. You also have to assess the complimentary players and depth of the bench. Obviously, the Cavs are a completely different team without James while the Warriors can still compete at a high level without Curry."
Despite the presence of All-Stars like Kevin Love and Kyrie Irving, there are serious concerns about the Cavs depth. It's also worth noting that James has made the NBA All-Defensive First Team on five occasions while Curry is merely average defensively.
It's also interesting to see that Curry's impact isn't felt solely on the spread. From open to close, the Game 2 total dropped 10.5-points from 221.5 to 211. Many sharp bettors were already taking the under before news of Curry's injury broke, but squares started piling on the under following the announcement.
The Warriors are currently listed as 5.5-point favorites for Game 3 in Houston on Thursday evening. In early betting, 89% of spread bets have taken Golden State which would be the most lopsided public betting of any NBA Playoff game in our database. We constantly stress betting against the public as part of our contrarian strategy, and there could be value on the Rockets (+5.5) in Game 3.
Based on this line it seems unlikely that Curry will be playing, but he's officially listed as questionable on the injury report. Bettors can keep up with the latest odds, trends, injuries and more by visiting our free NBA odds page.
Have any questions for the staff at Sports Insights? Utilize our live chat to speak with a customer service representative or e-mail us at help@sportsinsights.com.