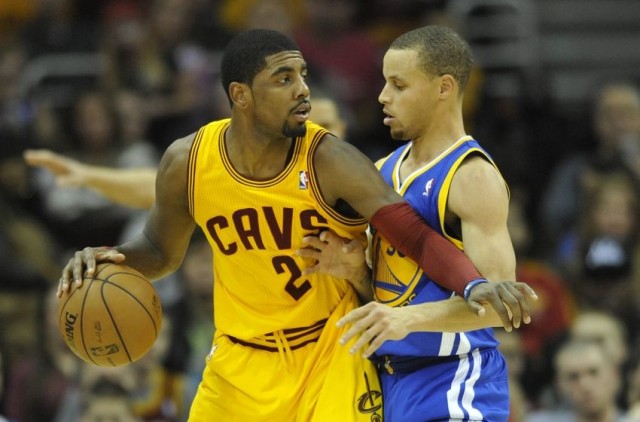 NBA Game of the Day: Golden State Warriors at Cleveland Cavaliers
Arguably the two best players in the league face off this evening at 8:05 PM eastern time when LeBron James and the Cleveland Cavaliers (36-22) host Stephen Curry and the Golden State Warriors (44-10).
The hometown Cavs opened as 3.5-point favorites at the market-setting Pinnacle sportsbook and, at the time of publication, were receiving 47% of spread bets. With such even public betting, the line remains unchanged at 3.5 making this game a dream for oddsmakers.
The screenshot below displays the breakdown of public betting at our seven contributing sportsbooks.

It's interesting to note that this season the Warriors have been the second most profitable team for bettors (trailing only the Hawks) with a record of 33-19 ATS with +12.44 units earned. The Cavs have been far more disappointing for bettors with a record of just 28-30 ATS (-3.52 units). That said, Cleveland has been an entirely different team since acquiring Timofey Mozgov from the Denver Nuggets on January 8th.
Since acquiring C Timofey Mozgov, the #Cavs are an NBA-best 15-7 ATS. Before the trade Cleveland was just 13-23 ATS.

— Bet Labs Software (@Bet_Labs) February 25, 2015
Golden State has dominated this matchup recently, boasting a record of 7-4 straight up and 9-2 ATS in their past eleven games against Cleveland. However, those Cavs teams did not feature some guy named LeBron and Cleveland has been the hottest team in basketball with a straight up record of 17-2 over their last 19 games.
The screenshot below, which is available on our matchups page, displays results from the past ten games between Golden State and Cleveland.

Both teams are relatively healthy, although Anderson Varejao (Achilles) is out for the season and Shawn Marion (Hip) is expected to miss another two weeks. Bettors are able to view any breaking news on our free NBA injury page while updated odds and betting trends are available on our free NBA odds page.
Although we do not have any bet signals or sharp money indicators on this game, we did observe one historically profitable trend fitting this game. Underdogs in the midst of a road trip who have a winning percentage of at least 50% have gone 604-1,016 for +112.79 units and a 7% return on investment (ROI) since 2005. When we examine teams with a winning percentage of at least 65%, our ROI doubles to 14.2%. For that reason, we would lean towards the Warriors moneyline (+144 at Pinnacle) this evening.
Bettors may also be interested to know that this game features two of the three leading candidates for Most Valuable Player in Curry and James. The following list represents the current MVP odds at Sportsbook.com.
Stephen Curry (-300)
James Harden (+350)
LeBron James (+500)
Russell Westbrook (+1,000)
Marc Gasol (+2,000)
Chris Paul (+10,000)
Which side do you think is offering value tonight? Will you be placing any bets on this game? Please leave any thoughts or comments in the section below.
David Solar is the Content Manager at Sports Insights and can be reached directly at david@sportsinsights.com.