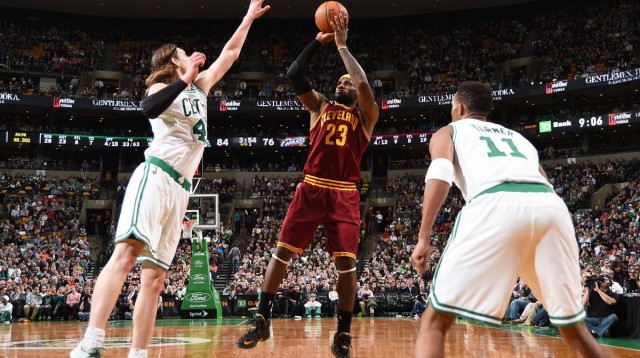 How Many Points is LeBron James Worth to the Spread?
On Wednesday night the Cleveland Cavaliers defeated the Milwaukee Bucks 104-99. This victory pushed Cleveland's record to 51-27 on the season and, perhaps more importantly, wrapped up the 2-seed in the Eastern Conference playoffs. With nothing to play for, it was assumed that the Cavaliers would allow LeBron James to sit the following game — tonight's matchup with the Boston Celtics.
Though not finalized, LeBron James hinted he'll sit the next 2 games. Both are against Celtics so it could affect playoff race/seedings

— Brian Windhorst (@WindhorstESPN) April 9, 2015
With King James expected to get the night off, the Cavaliers opened as a 3-point home favorite against the Celtics at the market-setting 5Dimes sportsbook. However, just before 11AM eastern time it was announced that LeBron would be suiting up despite speculation to the contrary.
LeBron James says he will play tonight vs Celtics. Doesn't have plans in mind beyond that — Jason Lloyd (@JasonLloydABJ) April 10, 2015
This announcement immediately caused dramatic movement across the sports betting marketplace with many sportsbooks taking this game off the board. When the game re-opened, the Cavs were listed as 6.5-point favorites. This indicates that oddsmakers believe that LeBron James is worth 3.5-points to the spread. It's also interesting to note that the total (over/under) shot up from 204.5 to 208.5 following this announcement.

Essentially the line moved 3.5-points when it was announced that James would be playing, and public betting on Cleveland shifted that line another half-point to -7. It's still worth monitoring whether LeBron will be placed on any sort of minutes restriction which could further impact the line. It's also interesting to note that an article from 2013 found that Chris Paul was worth between 2.5 to 3 points on the spread.
Bettors are able to keep up with the latest news on our free NBA injury page while updated odds and betting trends are available on our free NBA odds page.
Have any questions for the staff at Sports Insights? Utilize our live chat to speak with a customer service representative or e-mail us at help@sportsinsights.com.
David Solar is the Content Manager at Sports Insights and can be reached directly at david@sportsinsights.com.