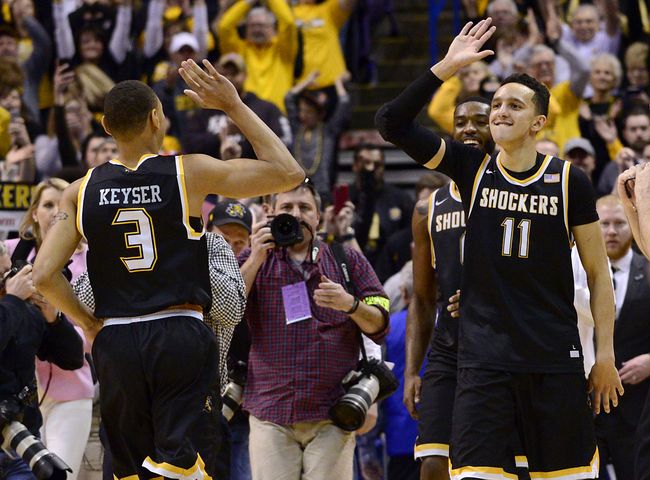 Mainstream media creating value for Sharp NCAA Tournament Bettors
Since the 2017 NCAA Tournament bracket was released on Selection Sunday, Wichita State has been a very popular topic of conversation among college basketball analysts. How could the 8th best team in the country, according to KenPom.com, be so poorly underseeded? On the other hand, oddsmakers certainly respect the 10th-seeded Shockers, opening them as 6.5-point favorites against the 7th-seeded Dayton Flyers.
With the mainstream sports media fixated on the disrespect shown towards the Shockers by the tournament committee, Wichita State has become a trendy upset pick in many tournament brackets. In fact, Wichita State has been picked to advance to the Round of 32 in 68.5% of Yahoo Sports' Tourney Pick'em brackets and in 64.1% of ESPN's Tournament Challenge brackets.
From the standpoint of picking straight-up winners for traditional bracket pools, it makes sense to take the team that is currently favored by 5.5 points. However, the "outrage" over Wichita State's seeding is offering an interesting opportunity for sharp bettors to take advantage of how the public views the Shockers.
Since Bookmaker opened the Shockers at -6.5, 58% of bets have taken Wichita State, yet the line has dropped a full point to -5.5. The screenshot below reveals line movement, betting trends and money percentages for spread, moneyline and over/under action on this game.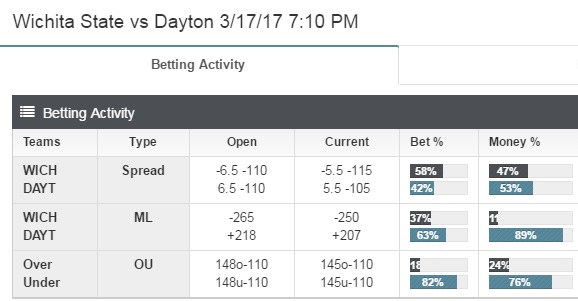 This reverse line movement is an indicator that sharp bettors have essentially "sold on good news" by allowing the sports media to pump up the perception of Wichita State among fans and recreational bettors, then buying back the inflated point-spread value with Dayton.
There's still more than three days for action to come in on this game, so we invite everyone to periodically check-in with our Free College Basketball Live Odds page for real-time NCAA Tournament odds and betting percentage updates.