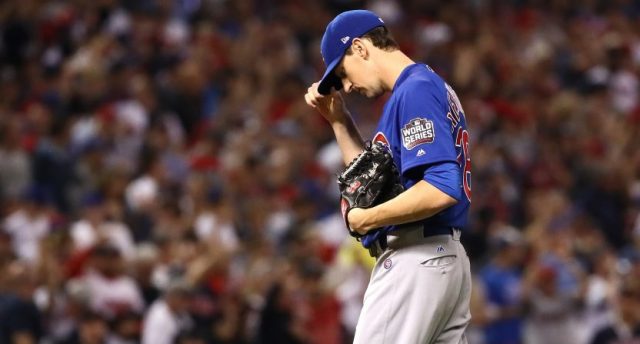 Line Steadily Moving Away From the Professor and the Cubs
Ooohhh boy, lucky us. Two days, two game fives. Last night, the Indians (hashtag Windians on Twitter) couldn't close the deal even with Corey Kluber on the hill and the Yankees pulled off the biggest division series game 5 upset dating back to 2005.
The game tonight is expected to be much closer, with the Cubs a small favorite at most books and the game even being a good old fashioned moneyline pick 'em at some books.
The Cubs will be throwing "the nerd" "the professor" Kyle Hendricks, who stifled the Nats in Game 1 with seven scoreless innings. Gio Gonzalez, who had a so-so Game 2 start, gets the nod for Washington. They should also have Mad Max Scherzer coming out of the 'pen if need be.
Last night, the Cubs opened right around -130 around the offshore market. However, the line is a creepin' and a crawlin' back towards the home team.

This graph looks like something out of Minecraft…bunch of tiny little jagged steps pushing the line towards even.
The Nats aren't getting overwhelming support, but money is in their favor. This line move of -131 to -107 corresponds with an implied odds drop of over five percent.

The Cubs ended their century old curse last year and now the Nationals will try and end their curse: the curse of the NLDS. This is the fourth time in the past six seasons in which they have made the playoffs and they've failed to advance past the NLDS in each of the previous three. Time for those big bats to step up!