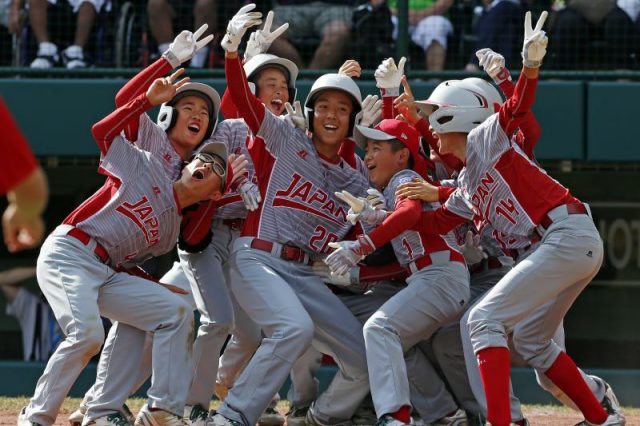 Japan Big Favorite to Beat Texas In Little League World Series Championship Game
Today in Williamsport, youngsters from two opposite sides of the planet will be facing off in what may very well be a turning point in their young lives.
The players on the winning team will be treated like kings for the next few years…fending off hoards of pre-teen girls at middle-school dances, coasting along on the high of their victory until high school hits. At that point, they'll slowly start to realize that they'll never be able to recreate that moment. Peaking at age 12 can be hard so in order to drown their sorrows, they turn to the bottle. They quit baseball by their junior season and begin turning to harder stuff…crack, boom, ice, pow. Before you know it, they're turning to illegal ways to make money because their job as a gas station attendant can't support their addiction. After a lifetime of 5-10 year bids in jail, they ultimately die with nothing to their name…nothing except their Little League World Series trophy.
Meanwhile, the losers will be shunned by society…bullied by classmates for crying on national TV, forced into trying drugs and alcohol at an even younger age than the winning team before ultimately becoming lifelong criminals themselves. It's basically a lose-lose situation.
Alright, just because these kids' lives are ruined and they don't even know it yet doesn't mean we can't make some fat stacks betting on them, right?
At 5Dimes, Japan is currently a massive -750 favorite against the American team from Texas (+450). As of an hour ago, the line was -600/+400 so there has already been some significant action. Last season, the New York team (+210) upset the international team from South Korea (-290) in a 2-1 pitchers' duel. This year, those Americans out there rooting for their boys in the red, white, and blue will need some luck on their side.
This Japanese team seems to be a juggernaut, especially on the mound. They have won their past three games by a combined score of 19-1. As a result, the team total for Texas today is just a measly 2.5 (u-140). Japan, on the other hand, has a team total of 7.5 (o-160).
Will this be a one-sided slaughter? Quite possibly. On the bright side, getting shellacked on ABC builds character…and God knows they'll need it.
2:30 Update
Good news (I guess)! Japan is down to -565, with Texas now +375.