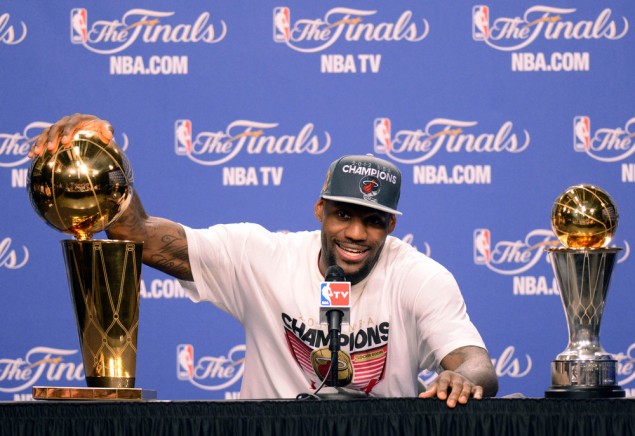 Basketball is Back! Analyzing NBA Win Total Projections
The 2012-2013 NBA basketball season tips off tonight with a trio of games, highlighted by the defending champion Heat hosting the Boston Celtics in what could easily be a preview of the Eastern Conference Finals. Although LeBron will get to see his first championship banner hoisted into the rafters this evening, the real intrigue will concern Ray Allen facing off against his former team.
The league's all-time leader in three pointers made, Allen helped the Celtics win the title back in '08 but will be making his regular season debut for Miami against his old teammates. His exodus to South Beach was just one of several major acquisitions this off-season that have helped to change the balance of power around the league.
The Celtics may have lost their starting shooting guard, but have more than adequately replaced him with former 6th man of the year Jason Terry and athletic wingman Courtney Lee. Gang Green will also be welcoming back forward Jeff Green who missed the entire 2011-12 season after being diagnosed with an aortic aneurysm. The Celtics' added depth will help them remain competitive in the lackluster Eastern Conference, but it was several other moves that have really shaken up the league.
After getting bounced from the playoffs by the Thunder in just five games last season, many began to wonder whether the Lakers were ready to fall from elite status. After all, Kobe Bryant, who will be entering his 17th season, appeared to be nearing the end of his illustrious career and lacked the supporting cast to make one final championship run. However, with the additions of Steve Nash, Dwight Howard and Antawn Jamison, the Lakers have become instant title contenders and in fact have the second best odds to win the NBA championship this season at 2/1.
In this busy off-season we saw Joe Johnson dealt from Atlanta to Brooklyn, we were shocked when Jeremy Lin left New York to sign with the Rockets and, most recently, we saw OKC trade away James Harden after failing to come to terms on a long-term extension.
As part of the deal that saw Dwight Howard join L.A., we saw Andrew Bynum shipped off to Philadelphia, Andre Iguodala take his talents to the mile-high city, and Arron Afflalo move southbound to Orlando.
These moves have changed the fates of several franchises and have essentially eliminated all but five teams from title contention; Boston, L.A. Lakers, Miami, Oklahoma City and San Antonio. But what type of effect do the bookmakers think these off-season moves have made? The table below, using data from Sportsbook.com, shows the projected win totals for each of the league's 30 teams.
| | | |
| --- | --- | --- |
| Team | 2011-12 Record | Projected Win Total |
| Atlanta Hawks | 40-26 | 43 |
| Boston Celtics | 39-27 | 50.5 |
| Brooklyn Nets | 22-44 | 45.5 o-115 |
| Charlotte Bobcats | 7-59 | 18.5 |
| Chicago Bulls | 50-16 | 47.5 |
| Cleveland Cavaliers | 21-45 | 31 |
| Dallas Mavericks | 36-30 | 44.5 |
| Denver Nuggets | 38-28 | 51.5 |
| Detroit Pistons | 25-41 | 32 |
| Golden State Warriors | 23-43 | 36.5 |
| Houston Rockets | 34-32 | 31.5 |
| Indiana Pacers | 42-24 | 51.5 |
| Los Angeles Clippers | 40-26 | 49.5 |
| Los Angeles Lakers | 41-25 | 58.5 |
| Memphis Grizzlies | 41-25 | 48.5 u-115 |
| Miami Heat | 46-20 | 61.5 |
| Milwaukee Bucks | 31-35 | 37.5 |
| Minnesota Timberwolves | 26-40 | 41 |
| New Orleans Hornets | 21-45 | 27.5 |
| New York Knicks | 36-30 | 46.5 |
| Oklahoma City Thunder | 47-19 | 59.5 |
| Orlando Magic | 37-29 | 23 |
| Philadelphia 76ers | 35-31 | 46.5 |
| Phoenix Suns | 33-33 | 33.5 |
| Portland Blazers | 28-38 | 34.5 |
| Sacramento Kings | 22-44 | 30.5 |
| San Antonio Spurs | 50-16 | 55.5 |
| Toronto Raptors | 23-43 | 33.5 |
| Utah Jazz | 36-30 | 43.5 |
| Washington Wizards | 20-46 | 28.5 |
You will see a few teams with dramatically different expectations from last season, but the ones that immediately jump off the page are the Orlando Magic, Brooklyn Nets and Chicago Bulls.
The Bulls, who had a league best 50 wins in the shortened season, will be without Derrick Rose for a majority of the season as he rehabs from a torn ACL and are projected to win 2.5 fewer games despite the longer season. The Magic not only lost Dwight Howard, but also second leading scorer and rebounder Ryan Anderson (16.7 points and 7.7 boards per game last season) who signed with the Hornets during free agency.
As for the Nets? After adding Gerald Wallace late in the season, the former Jersey boys added Joe Johnson (and his absurdly oversized contract) via trade, re-signed point guard Deron Williams, and will welcome back Brook Lopez who missed a significant portion of the 2011-12 season with a broken right foot.
Interestingly the Minnesota Timberwolves, who will be without stars Ricky Rubio (ACL) and Kevin Love (Hand) to start the season, are expected to make a significant improvement with a projected win total of 41. On the flip side, oddsmakers are anticipating the Rockets will take a step back after adding James Harden, Jeremy Lin and Omer Asik but losing Kyle Lowry, Courtney Lee, Marcus Camby, Luis Scola, Goran Dragic and Kevin Martin.
With +175 odds to win the Larry O'Brien trophy and a league-high 61.5 projected wins, the Heat are clearly the cream of the crop, but how will they fair tonight? According to our NBA Betting Trends, Miami opened as a 7-point home favorite at CRIS and are currently receiving 57% of spread bets. Despite this public edge, the line has dropped a half point to 6.5. Additionally, as underdogs the Celtics are 76-52 against the spread (ATS) for +22.11 units and a 17.3% return on investment (ROI) since the Big Three came together prior to the 2007 season. But will this trend continue now that Ray Allen has left town?
It should be an exciting night in the National Basketball Association and we seem primed for a phenomenal season, but where is the value for bettors? Are there any win totals you have already taken? Who are the most over and undervalued teams in the league? Make sure to leave your comments in the section below, and keep an eye out for our NBA Betting Against the Public report for the upcoming season.