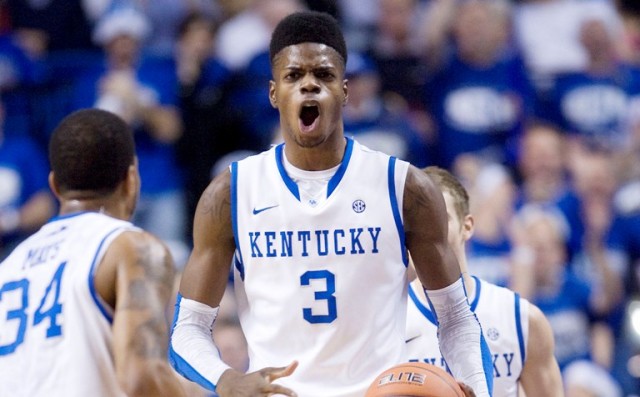 2013 NBA Draft Props: A Study in Contradictions
This Thursday at the Barclays Center in Brooklyn, New York, players from across the globe will eagerly wait to hear NBA Commissioner David Stern announce their names as they move onto the next stage in their basketball life. However, this draft class is widely considered to be one of the weakest in league history with a consensus feeling among fans, GM's and analysts that there are no franchise-altering talents on the board. That may be the only consensus about this draft.
With the draft just two days away, there is still no clear cut favorite for the number one overall pick. Nerlens Noel — the 6'11" F/C who averaged 10.5 ppg, 9.5 rpg and 4.4 bpg before suffering a season-ending knee injury — has long been considered the front-runner to be selected first. But the tides are changing. There have been rumors that the Cavaliers, who own this year's top pick, are high on Maryland center Alex Len and Georgetown F Otto Porter. There have even been rumors that the Cavs would entertain a trade for their pick, although in such a weak draft there doesn't appear to be much of a market.
That uncertainty at the top has a ripple effect on the rest of the draft, while also making it nearly impossible for draft experts like ESPN's Chad Ford or NBAdraft.net's Aran Smith. The same can be said about offshore sportsbooks whose 2013 NBA draft props are all over the place.
SportsInteraction (SIA) has released a number of NBA draft prop bets which can help us see how the oddsmakers anticipate the draft to unfold. Nerlens Noel is the favorite to be selected first overall at -159.
The Magic, who own the second overall pick, are thought to be deciding between the aforementioned McLemore (+145) and Indiana G Victor Oladipo (+175).
With the third pick, SIA believes Porter is the frontrunner to be drafted by the Wizards (+150) with Len a possible darkhorse (+225). This is particularly interesting because Sportsbook.com is currently offering "Who will get drafted first?" prop bet where Porter (-180) is expected to go before McLemore (+140).
Additionally, SIA lists Oladipo as a -175 favorite to be selected with the 5th pick or later. This runs in direct contrast with the odds at Sportsbook.com where they have set the over/under for Oladipo's draft position at 3. As you can see in the table below, both analysts have the athletic guard going number two to the Magic.
| Team | Chad Ford (ESPN) | NBADraft.net |
| --- | --- | --- |
| Cleveland Cavaliers | Nerlens Noel | Alex Len |
| Orlando Magic | Victor Oladipo | Victor Oladipo |
| Washington Wizards | Otto Porter | Ben McLemore |
| Charlotte Bobcats | Anthony Bennett | Nerlens Noel |
| Phoenix Suns | Ben McLemore | Anthony Bennett |
| New Orleans Pelicans | Alex Len | Trey Burke |
| Sacramento Kings | Michael Carter-Williams | Otto Porter |
| Detroit Pistons | Trey Burke | Michael Carter-Williams |
| Minnesota T'Wolves | Kentavious Caldwell-Pope | Cody Zeller |
| Portland Trail Blazers | CJ McCollum | Kentavious Caldwell-Pope |
| Philadelphia 76ers | Cody Zeller | Steven Adams |
| Oklahoma City Thunder | Steven Adams | Lucas Nogueira |
| Dallas Mavericks | Sergey Karasev | CJ McCollum |
| Utah Jazz | Lucas Nogueira | Shabazz Muhammad |
BetOnline has also posted a number of NBA prop bets where their opinions seem to be at odds with our NBA draft experts. They believe it is essentially a coin-flip as to who will be selected first between Syracuse G Michael Carter-Williams (-113) and Lehigh G C.J. McCollum (-117). However, both mock drafts have Carter-Williams going several picks before McCollum — who missed a majority of the last season with a foot injury.
Another similar prop involves a pair of big guards. Although he has flown under the radar, SEC Player of the Year Kentavious Caldwell-Pope has seen his stock skyrocket and is now seen as a likely top ten pick. On the flip side, Shabazz Muhammad was considered to be a big disappointment in his lone season at UCLA after being ranked as the top recruit in the nation coming out of high school. Although Chad Ford has Muhammad falling out of the lottery entirely, SIA lists Muhammad at a -135 favorite to be selected before KCP at +105.
Another interesting potential bet involves Russian SF Sergey Karasev. SIA is currently offering a bet concerning the first European player to be selected (not including Alex Len), where Karasev has the third best odds at +400 — trailing German G Dennis Schroeder -135 and French C Rudy Gobert +250.
While there have been rumors that the Celtics may have made a promise to Schroeder at pick #16, Chad Ford has the Mavs taking Karasev at #13. Ford (alongside many other basketball insiders) has indicated that Dallas will likely trade their pick or select a foreign player that they can stash overseas, thus saving their cap space to make a run at free agent C Dwight Howard.
Last year we saw various NBA insiders drastically change prop betting lines based on their insights, so we would highly recommend following the work of Yahoo's Adrian Wojnarowski (@WojYahooNBA) in the days leading up to the draft.
Who do you think your favorite team will select? Which players will free-fall on draft night? Will any team pull of a blockbuster trade? Please leave your thoughts and comments in the section below.