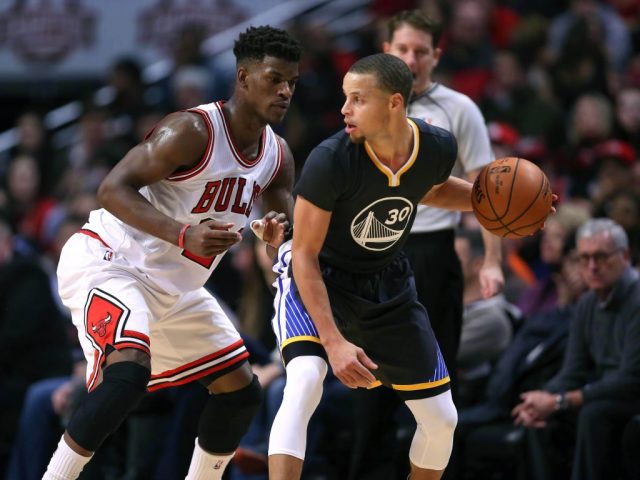 How is Public Money Affecting the Warriors-Bulls Line?
When the Warriors (50-10 SU, 28-30-2 ATS) face off against the Bulls (30-30 SU, 30-30 ATS) this evening, it will be the team's first game since Kevin Durant suffered a sprained MCL and tibial bone bruise in Tuesday night's loss to the Washington Wizards. That injury will likely sideline the eight-time All-Star for at least four weeks. The only game Durant has missed this season came last Saturday when the Warriors (closed -21) defeated the Nets 112-95. Amazingly, that represents the largest spread of the season despite Durant's absence.
Durant could potentially return in time for the playoffs but, with just 22 games remaining in the regular season, the Warriors are forced to deal with adversity for the first team all year. Their first test will come on the road against a Bulls team that has won four of their past five games, including impressive victories over the Eastern Conference's top three teams (Boston, Cleveland, and Toronto).
These teams previously faced off back on February 8th, but the rosters for both teams looked dramatically different. After opening as 13.5-point road underdogs, the Bulls announced that Jimmy Butler and Dwyane Wade would both be sidelined due to injuries. This caused the line to drop 4.5-points, from Chicago +13.5 to +18. That was the fourth biggest spread of the season, but the Bulls still failed to cover.
The screenshot below, which is available to Sportsbook Insider subscribers, displays public betting information from our historical archive.

The Bulls are much healthier now than they were when they faced Golden State last month, while the Warriors will be playing without one of the top five players in the league. In preseason conversations with several oddsmakers, I found that Kevin Durant and Jimmy Butler are both worth roughly 2-3 points to the spread, depending on the matchup. Despite public perception, Dwyane Wade actually has limited impact on the spread. If we assume NBA home court advantage is worth about 2.5-points, it's reasonable to expect the line for tonight's game would be at least 10-points closer than their previous matchup.
As expected, Golden State opened as 6-point favorites at the market-setting Bookmaker.eu and public money hasn't been shy about hammering the Warriors. According to our public betting trends, 84% of spread tickets and 88% of total dollars wagered have taken the road favorite. This one-sided public betting has caused Golden State to move from -6 to -8.
[click image below to enlarge]

Bettors have been steadily pounding Golden State since the line opened on Wednesday afternoon, which makes it look like public money is solely responsible for this 2-point line move. That's simply not the case. There has actually been a highly profitable steam move triggered on Golden State -7.5, which shows that sharp bettors like the favorite this evening.
Heritage is one of the sharper offshore sportsbooks, and their NBA steam move has gone 72-59-4 ATS (55.0%) with +7.4 units won this season. That means $100/game bettors would have won $740 by simply following this steam move. During the 2015-16 NBA season, the Heritage NBA steam move went 150-118-5 ATS (56.0%) with +20 units won. This indicates that sharps and squares are actually on the same side.
"With Durant, the line would have been [Golden State] -10 on the number," according to Scott Cooley, a spokesman for Bookmaker. "Public still siding with Golden State sans Durant, and we've even taken a few smart bets on the Warriors thus far, which has moved the number to -8."
Of course, it's hardly surprising to see Golden State receiving overwhelming public support. The majority of public bettors typically gravitate towards the favorite, and the Warriors have been favored in every single game this season. In fact, the Warriors have received a majority of spread tickets in all but one game this season (they received 49% of spread tickets in their November 3rd showdown against the Oklahoma City Thunder). During the 2015-16 season, Golden State received the majority of spread bets in 76 of 82 (92.7%) regular season games.
Since the start of the 2005 NBA season, a majority of spread bets have been placed on the favorite in more than 75 percent of all regular season games. Oddsmakers understand this bias and shade their lines to account for the inevitable influx of public money. These tendencies are magnified in games involving the league's top teams, and the resulting shaded lines have created additional value on the underdog.
My research found that teams receiving at least 70% of spread tickets have gone 1,814-1,913 ATS (48.7%) since 2005 and 114-119 ATS (48.9%) this season. That shows the dangers of taking the league's most popular teams, but it doesn't win at a high enough rate to cover the standard -110 juice charged by sportsbooks.
It's important to know which side is receiving the majority of tickets, but it's far more crucial to understand which side is receiving a majority of the money since books are far more likely to adjust their lines if they have significant liability on one side. By waiting until public money has artificially inflated the line, bettors can often capitalize on public perception and find additional line value.
My research also found that teams receiving at least 70% of spread dollars have gone 125-163 ATS (43.4%) and teams receiving at least 75% of spread dollars have gone just 63-104 ATS (37.7%) this season. It's a small sample size, but betting against our money percentages has been a very effective strategy. Although this trend indicates that Chicago is offering contrarian value, it's never a wise move to bet against the sharp money. In order for betting against the public to be profitable, there can't be any sharp money indicators on their opponent. For that reason, taking a contrarian stance may not be advisable this evening.
Sportsbook Insider Pro subscribers have access to real-time odds, public betting trends, money percentages, bet signals (including steam moves and reverse line movement alerts), injury alerts, value meter, line watcher, line predictor, and many other unique features.
The only plays we officially endorse are our Best Bets, and we will be releasing our picks later today. Those are only available to Sportsbook Insider Pro subscribers, so sign up now for a 4-day trial and start winning today!
Have any questions for the staff at Sports Insights? Make sure to utilize our live chat or call us directly at 877-838-2853.