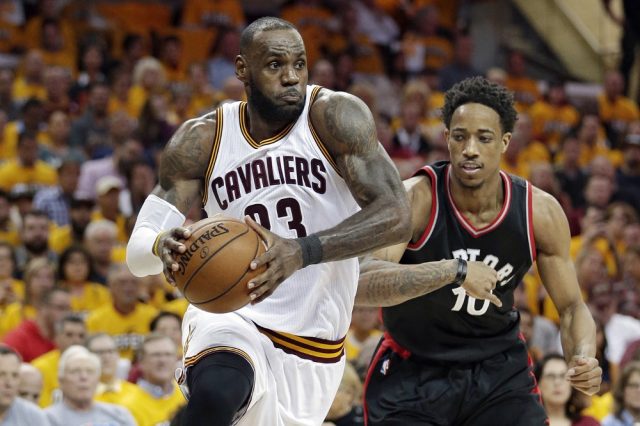 How Has Sharp Money Affected the Raptors-Cavs Game 2 Line?
In tonight's most heavily bet sporting event, the Cleveland Cavaliers (39-46 ATS) will host the Toronto Raptors (47-40 ATS) in Game 2 of their second-round playoff series. LeBron James (35 points, 10 rebounds), Kyrie Irving (24 points, 10 assists), and Tristan Thompson (11 points, 14 rebounds) all posted double-doubles in Game 1 as the Cavs cruised to an 116-105 victory, and bettors are confident about the Cavs prospects this evening.
Cleveland opened as 7.5-point favorites at the market-setting Bookmake.eu, but public betting has been fairly one-sided with 70% of spread tickets taking the home favorite. Although betting is more lopsided at the public sportsbooks we track (like SIA), the Cavs are receiving the majority of spread tickets at all seven of our contributing sportsbooks.
[click image below to enlarge]

While the Cavs are receiving 70% of spread tickets, they're receiving just 48% of spread dollars. This indicates that large wagers (presumably placed by sharper bettors) have taken the Raptors. It's also worth noting that our best sharp money indicator on this game (a smart money alert at CRIS) was triggered when Bookmaker momentarily adjusted the line from Cleveland -7.5 to -8. Public money caused the line to move a half-point, but sharp bettors quickly snatched up Toronto +8.
[click image below to enlarge]

"Not a lot going on in the Raptors-Cavs matchup as of yet," stated Scott Cooley, a spokesman from Bookmaker. "We moved to -8 momentarily due to the same sharp money we saw in Game 1, but are already back down to the opener. The public likes Cleveland to the tune of almost 75 percent."
Assuming this level of one-sided public betting continues, the Raptors will fit the criteria mentioned in our 2016-17 NBA Betting Against the Public Report. Since 2005, visitors receiving no more than 30% of spread tickets have gone 514-446 ATS (53.5%) during the regular season and 20-10 ATS (66.7%) during the playoffs. When that team also played their previous game on the road, the overall win rate improves from 53.9% to 56.5%.
Additionally, we've seen some sharp money on the under in tonight's matchup. According to our public betting trends, 78% of tickets and 80% of money have taken the over, yet the total has dropped from 213.5 to 213 at Bookmaker. This reverse line movement indicates that sharp money has taken the under.
[click image below to enlarge]

The line graph above, which is available to Sportsbook Insider subscribers, shows how public betting has affected the total at Bookmaker. One-sided public betting caused the total to increase from 213.5 to 214 on two separate occasions, but sharp bettors immediately pounded the under both times. Although Bookmaker has dropped the total to 213, there are actually some books (including SIA) hanging 214.5. This highlights the importance of having access to multiple sportsbooks and always shopping for the best line.
Sportsbook Insider Pro subscribers also have access to real-time odds, public betting trends, money percentages, bet signals (including steam moves and reverse line movement alerts), injury alerts, value meter, line watcher, line predictor, and many other unique features. Looking to try our service? Sign up now for a 4-day trial and start winning today!
Have any questions for the staff at Sports Insights? Make sure to utilize our live chat or call us directly at 877-838-2853.